Will Senator Kamala Harris join the 2020 presidential run? Sources are saying she is and her announcement is coming real soon! Get the deets, plus see how the AKAs had to gather a white reporter for her ignorance inside...
Kamala (pronounced KAH-ma-la) Harris - the first woman elected as California's attorney general - is possibly considering to join the 2020 presidential run. Last year, she told everyone she would make a decision by the holidays. A few days ago, she appeared on "The View" and said she was "not yet ready" to make her announcement.
Now, it's being reported Senator Harris - who is California's third female U.S. Senator - will be making an announcement about entering the 2020 presidential race real soon.
Sources told Bay area radio station KCBS that the 54-year-old political leader will make her announcement "on or around" Martin Luther King Jr. Day.
While on the promo trail for her new memoir "The Truths We Hold," the media has been questioning her about whether or not she's running for president. She kept her answer pretty vague, revealing that she hadn't made up her mind entirely and that she would make a decision soon.
While chatting with the ladies on "The View," Kamala (who explained you pronounce her name "comma-la") said she felt America is ready for the female president of color.
"Absolutely. And I'm not saying that about myself. I'm saying that about the capacity of the American public and we need to give the American public more credit. Give the people more credit. They are smarter than that," she said.
She explained how people are looking to find commonalities with their leaders because we're actually more alike than different.
Before it was recently reported that she WILL enter the 2020 presidential race, she told the ladies (at that time) she hadn't made up her mind just yet.
Check it:
Sen. Harris also addressed the government shutdown over Trump's wall, and she showed love to fellow Democrats Alexandria Ocasio-Cortez and Rashida Tlaib. Peep the clips below:
Continuing her rounds...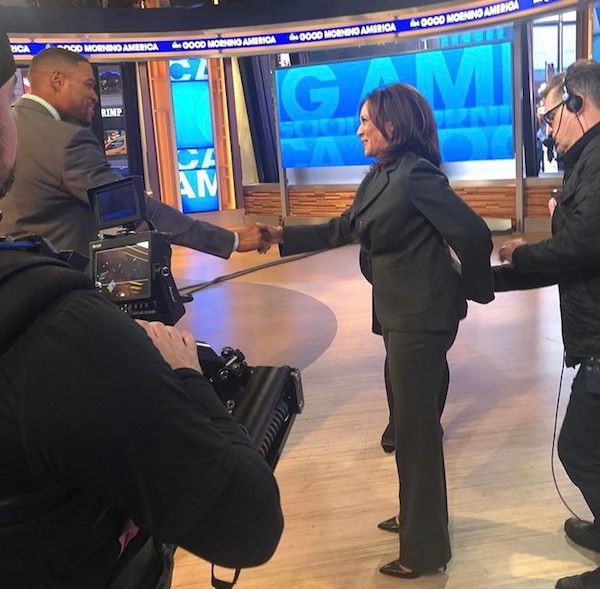 Sen. Harris stopped by "Good Morning America" to talk about Trump's wall, which she dubbed his "vanity project":
We need to stay focused on the issues that matter — the 800,000 federal workers who are furloughed or working without out pay right now because the president shut down the government over his vanity project. pic.twitter.com/aJVYo9FNMd

— Kamala Harris (@KamalaHarris) January 9, 2019
Also....
So, THIS happened.
Chelsea Janes, national reporter for the Washington Post, attended a book event of Kamala's where several of her Alpha Kappa Alpha, Inc. sorority sisters were in the mix. She was live tweeting from the event and when Kamala's sorors shouted out a few "Skee Wees," she failed at trying to describe what actually was going on. Chick said she didn't expect to hear "screeches" during the event.
Girl.
It didn't take long for Twitter to gather her life and school her on Greekdom.  More importantly, school her on an organization that is over 100 years old and consists of a quarter of a million people, and part of a larger NPHC organization made up for a few million people.  We expect reporters to research on demand or simply be well rounded enough. 
Tip for reporters covering Senator Kamala Harris: the sound you may hear from Sorors (sorority sisters belonging to the oldest African-American sorority) at her events is "Skee Wee", not a screech. You may also see a lot of pink and green. #themoreyouknowhttps://t.co/Tp1SgyBxDy

— Robbin Simmons (@RobbinSimmons7) January 10, 2019
Whew chile! Soror Kamala Harris is a member of Alpha Kappa Alpha Sorority,Inc. That "screech" is actually an ear-piercing skee wee! This is our sorority call. Delete this. https://t.co/277I2CYFuC

— Alexis Sykes (@Alexis__Sykes) January 10, 2019
I spent years and years as a freelancer who couldn't get a full time writing gig but a white person who doesn't do basic research about a presidential candidate gets a plum assignment with a front row to history and she ain't even look at Kamala's Wikipedia. That's not okay.

— Zerlina Maxwell (@ZerlinaMaxwell) January 10, 2019
I'd never heard a skee wee so I looked it up on YouTube because I thought I could make the same mistake she did. But it's such a specific and purposeful sound, I can't imagine mistaking it for a screech even not knowing what it was.

— Jennie (@angrybooklady) January 10, 2019
Yep. Google is our friend. The racism isn't necessarily in not knowing in the first place, but in assuming it's something stupid and nonsensical instead of, "hmm... there's something here that I obviously don't understand; let me do some research."

— Hazel Wheaton (@hlwheaton) January 10, 2019
Well, she quickly hopped back on Twitter to apologize for her ignorance:
This is precisely why diversity in newsrooms is IMPERATIVE.  Hmph.
Photos: Instar/Kamala's IG