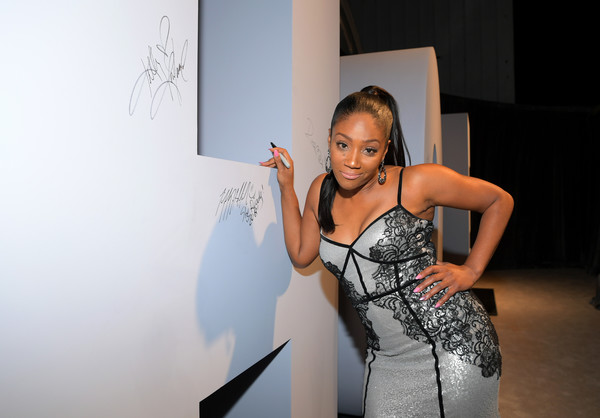 Tiffany Haddish may have turned up too much because she totally bombed her New Year's Eve stand up comedy performance. And folks were PISSY. More inside...
2018 was a monumental year for Tiffany Haddish's career as she became the breakout star of the Girls Trip movie. From there, her career exploded as she had all of Hollywood calling her up for roles, nabbed some endorsement deals, released a memoir and more. The 39-year-old comedienne has been riding on cloud 9 all year long...until now.
Last night, the Night School actress performed a stand-up comedy routine at the James L. Knight Center in Miami to ring in 2019. However, her performance was less than stellar. In fact, it was so bad, fans literally started walking out on her performance. She stumbled through the whole performance. With an iPad.  People at the show said she forgot her jokes and she didn't seem her usual self.
It's rough to watch. Peep a small clip below:
I went to go see if @TiffanyHaddish was actually funny. I ended up doing this. Conclusion: She is not funny. Horrible show. In her defense, she said she was having a rough night. She didn't have to be up there. She ended up inviting me up on stage to tell jokes. pic.twitter.com/Ze1BPzeY9S

— Andrew Chestnutt (@AndrewChestnut1) January 1, 2019
People are walking out of @TiffanyHaddish show. #MeltDownpic.twitter.com/xaElgJ5Ke1

— Sean (@datson1992) January 1, 2019
Damn Tiff.
People in the audience quickly took to social media to blast Tiffany's sub par performance:
My cousin went to see Tiffany Haddish and apparently she was terrible. People walked out, she jept saying "well i thought that was funny", and she read her set off an ipad. pic.twitter.com/qlrrasoyUB

— trump is racist. (@thepeytonrowe) January 1, 2019
— Surelle (@Indomitable1908) January 1, 2019
I don't know what I'm currently witnessing on stage from Tiffany Haddish...she is almost having a mini breakdown? Maybe?

— Brandan Craft (@brandanCraft) January 1, 2019
Tiffany Haddish is having her Lauryn Hill moment right now. I hope she's OK.

— Brandan Craft (@brandanCraft) January 1, 2019
She'll be on Iyanla Vanzant...no doubt. #noJoke. Still one of my faves.

— Brandan Craft (@brandanCraft) January 1, 2019
@TiffanyHaddish#horribleshow in@Miami for @new year pic.twitter.com/UuU48CyikC

— YETicket (@yeticket) January 1, 2019
Before she hit the stage last night, the EMMY winner posted a video on her Instagram telling her fans how she had been partying nonstop since she touched down in Miami a few days ago:
Hey, we've all had one of THOSE type days.  But we're not about to risk our own bags because of it chile....
Oh, and that's not the only thing that has folks coming for her....
"The Last O.G." actress said she's starting a protest where she's going "to wear fur every day until they stop killing black people."
"When the police stop killing black people, I'll stop wearing fur," she said. Y'all already know PETA is dragging her all over social media for this.
Peep her announcement above.
Photo: Getty