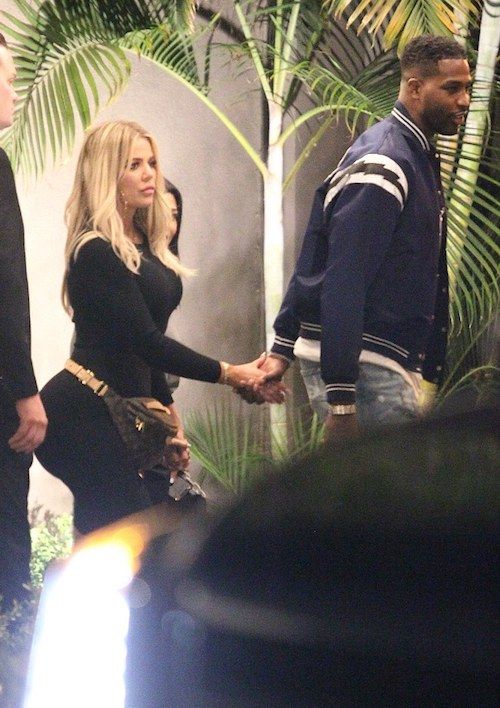 As "Keeping Up WIth The Kardashian" fans watched Tristan Thompson's cheating scandal unfold on television, Khloe Kardashian was busy live tweeting. See her reactions and recent pics of the couple together inside...
Khloe Kardashian opened up to the world for the first time since Tristan Thompson was caught on several videos slobbing down three different chicks in the club.
Last night's episode of "Keeping Up With The Kardashians" centered around what was going on behind-the-scenes when the cheating scandal leaked, and Khloe decided to live tweet as the episode aired, sharing how she handled the news of learning her daughter's dad cheated while gearing up to have his baby.
In the episode, fans saw the reactions of the Kardashian-Jenner clan when they first learned about the videos. Momager Kris Jenner and Kim Kardashian West hopped on the first plane out of LA to Cleveland when they learned Khloe was having contractions, following the news. Soon after, the rest of the Kardashian-Jenner gang booked flights to be there for Khloe.
Peep a clip below:
The cheating scandal leaked back in April. While Khloe said she loves shooting the show, she would like the shows to be aired closer to real time. She said reliving the whole situation was a lot on her, "but maybe I need to." Hmm...
Days after the videos leaked, she gave birth to their daughter True Thompson.
Fans were sending Khloe love and offering up their opinions where one fan said the cheating situation should have never made it on the show. However, Khloe blamed Tristan for making it public in the first place:
True.
Another fan tweeted that Khloe handled it better than her, saying how Angela Bassett's character went total bad a** in Waiting To Exhale when she found out her man was cheating on her. The "Keeping Up With The Kardashians" star hinted at giving him a taste of a woman scorned: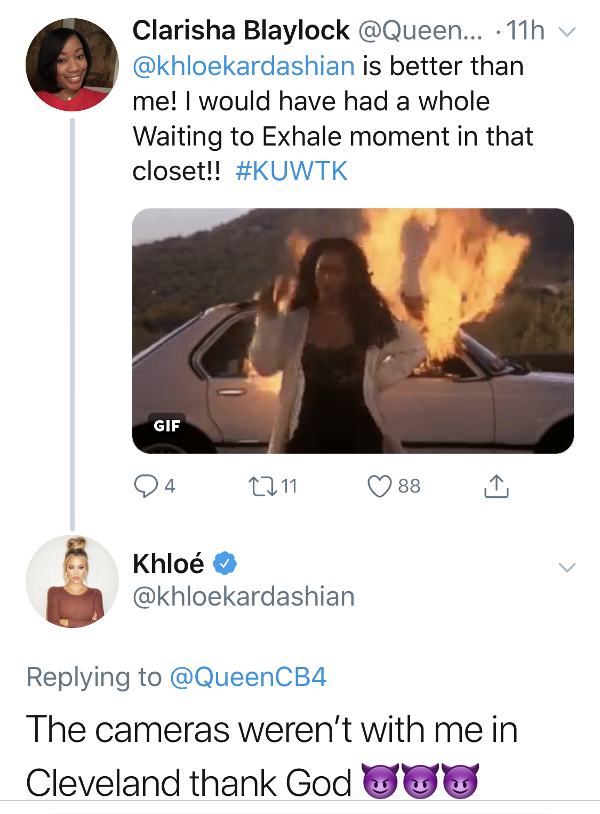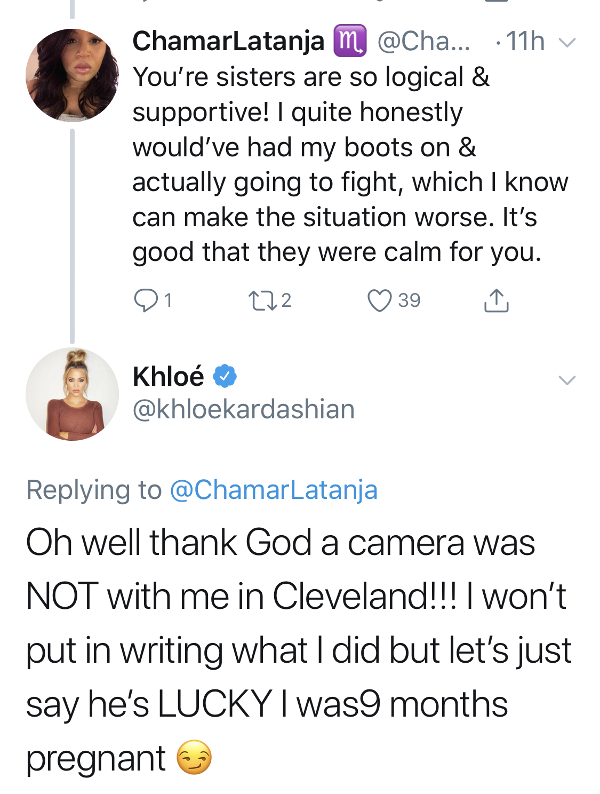 Hmm...we wonder what she did.
As she continued tweeting, Khloe said she allowed Tristan in the delivery room and pushed her feelings towards him to the side for the sake of welcoming their daughter in a positive environment. She said she wasn't going to let anyone ruin that for her: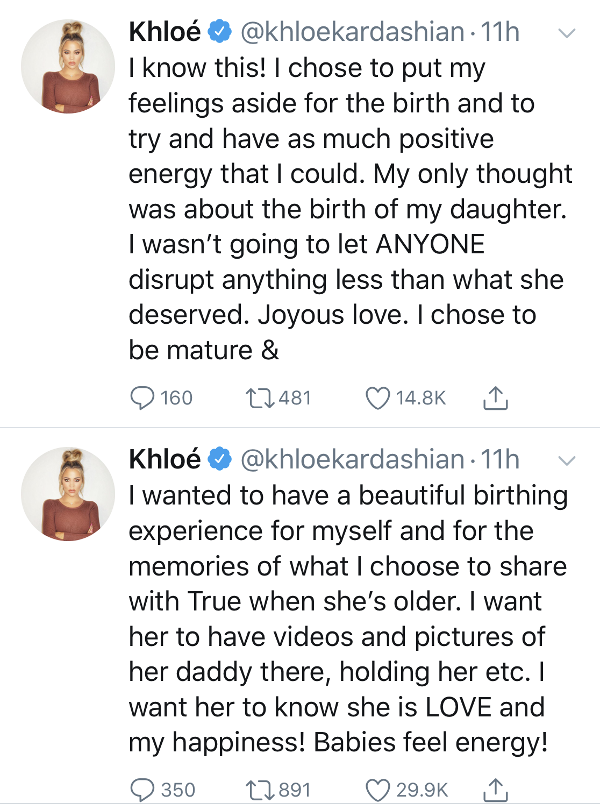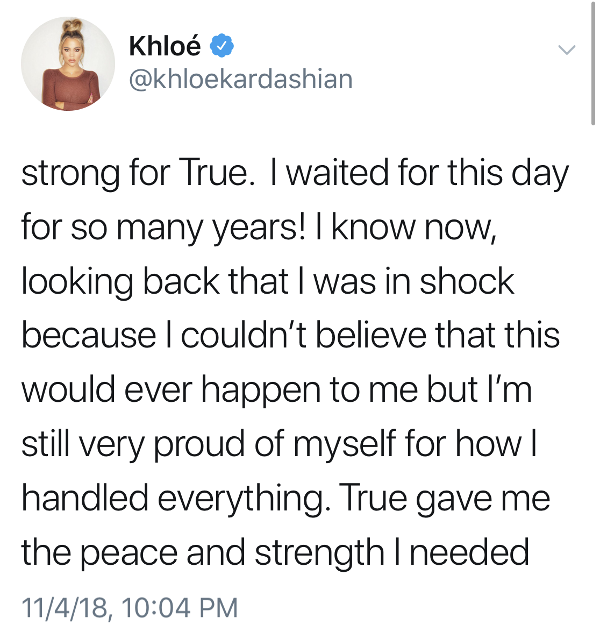 She was responding to fans and revealed Tristan wasn't watching it with her. Maybe she should have made him watch it because, trash.
Last week...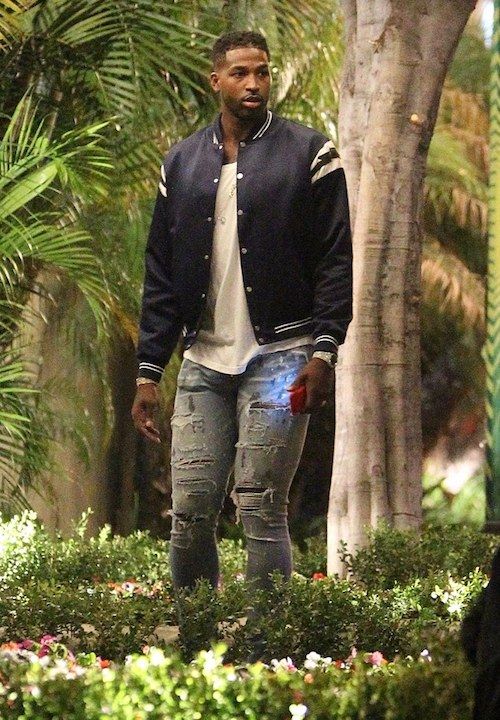 Tristan, who shares a son with ex-Jordan Craig, and Khloe held hands as they were headed to her sister Kylie Jenner and Jordyn Woods' makeup launch in Studio City.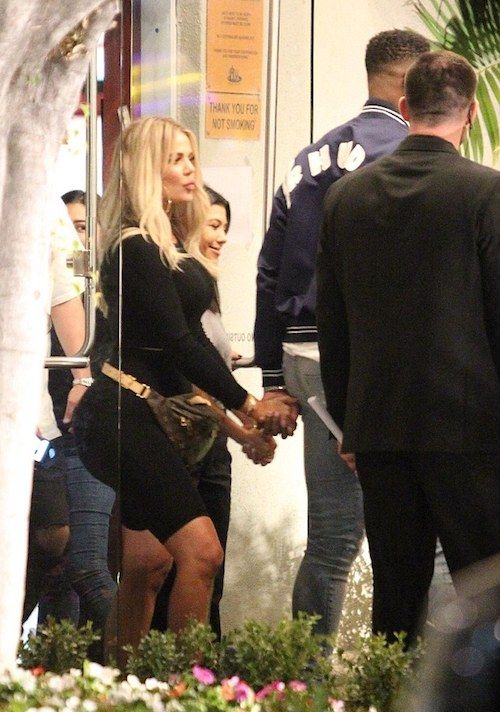 These skinny jeans...
Looks like they're still working towards being together. She has reportedly moved back to Cleveland to work on being the family she so desparately wants.
Baby True is the absolute cutest.
Photos: Backgrid