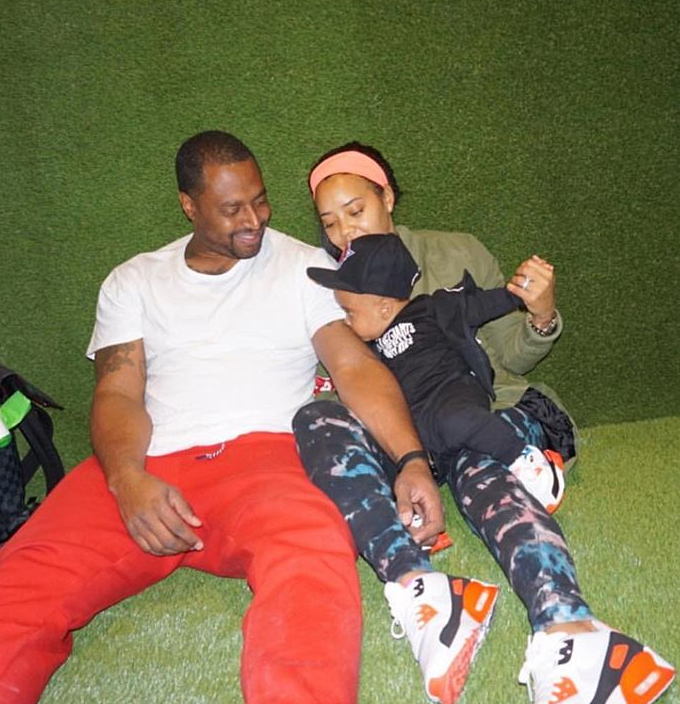 Angela Simmons has been pouring her heart out on what would have been her ex-fiance/son's father Sutton Tennyson's birthday. Plus, details on her custody battle with Sutton just days before his death have been made public.
Today is a hard day for Angela Simmons.
She's mourning the death of her ex-fiance/son's father Sutton Tennyson after he was shot and killed in the garage of his Atlanta home on Saturday (November 3rd). Today would have been his 38th birthday, and it's also the original due date of their 2-year-old son, Sutton Jr.
The "Growing Up Hip Hop" star posted a tribute to her son's father revealing she's "numb" after learning of his untimely death. She thanked him for "leaving behind the greatest gift," and said she promises to "hold SJ down in every way."
Heartbreaking.
Angela's sister Vanessa Simmons and her brother JoJo Simmons also posted up heartfelt messages following his death: 
According to the AJC, Sutton is the victim of a homicide. He was reportedly found dead with multiple gunshot wounds inside an open garage on Jewel Drive in southwest Atlanta.
Atlanta police spokesman Officer Jarius Daugherty shared Sutton was talking with a man in the driveway when "the conversation escalated" and the man shot Sutton multiple times. The suspect left the scene in a car. The shooting is still being investigated.
To make matters worse, Angela and Sutton were in court days before he was shot as they were trying to come to an agreement on the custody of their 2-year-old son. A source told Page Six, the former engaged couple was in Manhattan Family Court on October 30th. He was paying over $1,000/month in child support, but Angela reportedly wanted more. Before they http://theybf.com/2016/11/19/angela-simmons-fianc%C3%A9-sutton-baby-sutt... ">called in quits in December 2017, Angela had filed for an order or protection against Sutton and she also had temporary custody of Sutton Jr.
The site provides the details:
It wasn't lovey dovey, there's a reason people go to court," the source said. Tennyson was paying around $1,250 a month in child support, but Simmons — the shoe designer daughter of Run D.M.C.'s Rev. Run — wanted more money, the source said.

She'd received temporary custody of Sutton Jr. in July after filing for an order of protection against Tennyson in December 2017, the source said. Simmons had made domestic violence claims against Tennyson in December when the couple split, the source said.

Just ahead of his untimely death, Tennyson was preparing a bid for joint custody while enjoying nightly FaceTime with his son, the source said.

"He tried hard to be in the child's life," the source added.

Tennyson's attorney, Daniel Nottes, said, "It's devastating to hear about this tragedy. Mr. Tennyson was a loving father. It's very sad his son will grow up without him."

Simmons' lawyer, Daniel Lipschutz, declined to comment on the matter.

"Ms. Simmons has no comment and thanks the media for respecting her privacy as she grieves the tragic loss of her son's father," he said.
So sad. Prayers up for everyone involved, especially Sutton Jr.
Photos: Angela's IG