Future and his most current baby's mother Joie Chavis looked way more chummy at their baby shower than folks originally thought. Now his "queen' Brittni has another explanation for the shenanigans.  Also, the mystery woman Future hit a party with right after the baby festivities has been id'd.
Over the weekend, Joie Chavis and Future had a shower for their new bundle of joy, and we've now learned it was actually a gender reveal (maybe both).
While, of course, we would expect the daddy to be on hand for the celebration, we also expected him and Joie to be solely in a co-parenting situationship since he's publicly claimed his Brittni as his "queen" and "the love of his life."  He took her on a yacht birthday trip (he took Joie on trips too back when they were dating) and has been posting her on social media.  She thought she won.  But we didn't expect him to look this chummy with Joie in the new pics she posted from the baby's shindig:
Hmph. Obvi, folks have questions. And Brittni thinks she has the answers.  She posted up another "explanatory IG story" after Monday's earlier post telling people to mind their business. This time, she claims Future's just doing what he has to do because of all the money at risk:
Is this what he told you, girl? Oh...ok.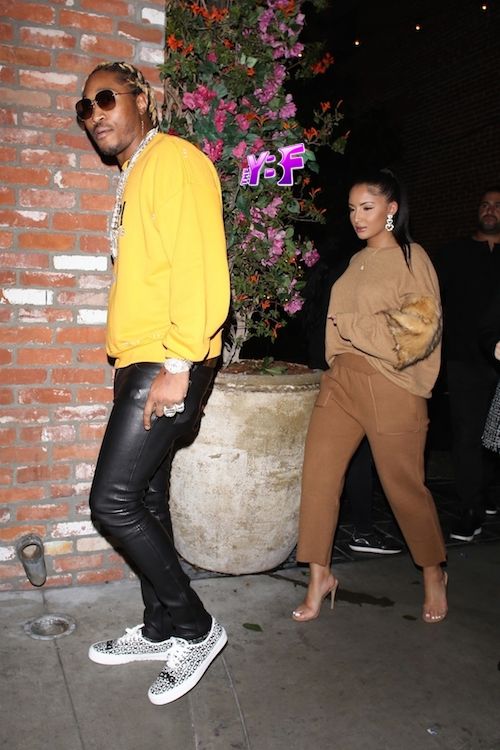 Meanwhile, immediately after the baby shower Future hit the club.
As we told you previously, a mystery chick was spotted accompanying him or possibly an unpictured group he was a part of. We now know her identity.  Her name is Lycia, and she's being followed by other celeb like Soulja Boy, Fabolous and Trey Songz.  Go figure.
We also hear Lycia may have been one of the "Instamodels" who happened to be on that August yacht trip with Brittni as part of her squad.  Dang, gotta compete with your own folks in this Futurehive-sisterwives-style drama?
Story developing...