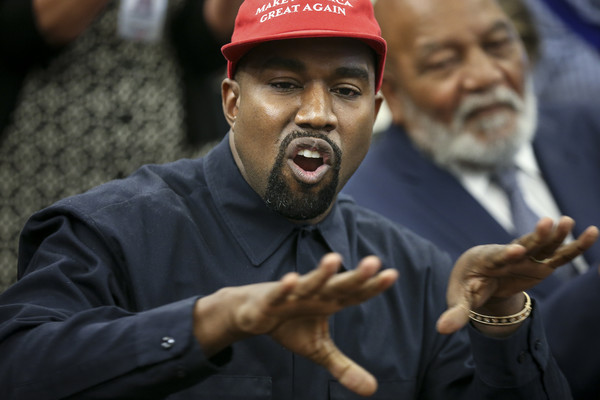 Kanye West says he's done with politics following a "misunderstanding" with Candace Owens. Get those deets, plus see the Twitter exchange between Candace and Bigot Barbie Tomi Lahren inside...
Kanye West has been singing "Make America Great Again" praises for months. Now, he doesn't want anything to do with politics. Oh? 'Ye claims his eyes are now "wide open" to the fact that people have used him to spread messages he doesn't believe. Do tell, Kanye. Do tell.
He recently tweeted (read from the bottom up):
Following his tweets, conservative commentator Candace Owens hopped on Twitter and then wrote a lengthy blog post to address Ye's tweets. Candace previously said Kanye was the one who made designs for her BLEXIT t-shirts. In the tweets, Ye said he didn't create anything, he "introduced Candace to the person who made the logo."
#BLEXIT is about the beautiful stories of so many black people who have awakened themselves to the possibilities of our future, as Americans.

The press is trying to use Kanye's name to create drama and further divisiveness which is WRONG.

Here is statement of clarity from me: pic.twitter.com/PJSdM2PRFi

— Candace Owens (@RealCandaceO) October 29, 2018
"I never once said that Kanye designed the t-shirts for BLEXIT. This is a lie that seems to have made its way around the world," she tweeted. She must have forgot they listed the PABLO rapper as the designer for the t-shirts. The Blast nabbed the screenshots: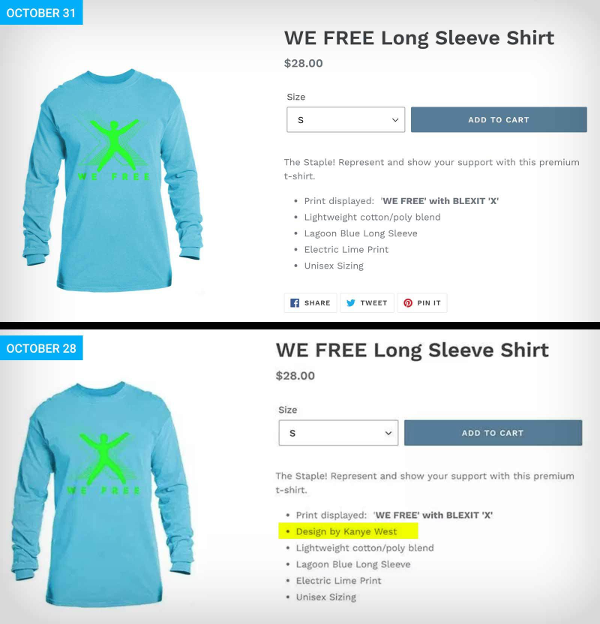 She apologized to Ye for any "stress" or "pain" she may have caused. She also apologized to Trump, writing, ""I would also like to publicly apologize to President Trump, as I know that Kanye's tweets were rapidly misinterpreted as a shot to this administration … His tweets were aimed at me and me only, rightfully, for my personal failings. I bare full responsibility."
Now, conservatives are blaming Cadace for losing Kanye. Oop!
The Twitter wars didn't stop there. Bigot Barbie Tomi Lahren also joined in on the Kanye talk: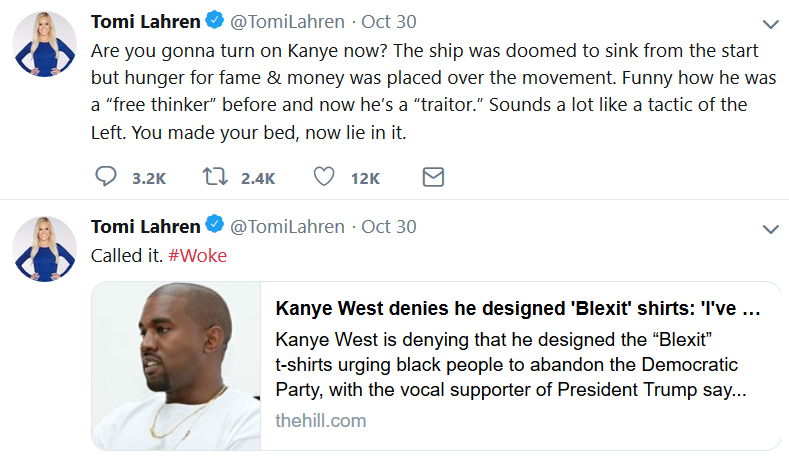 Then, she and Candace got into it: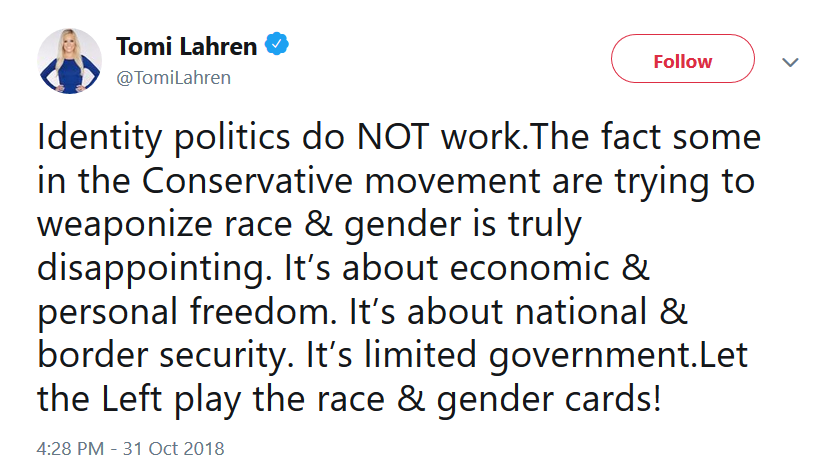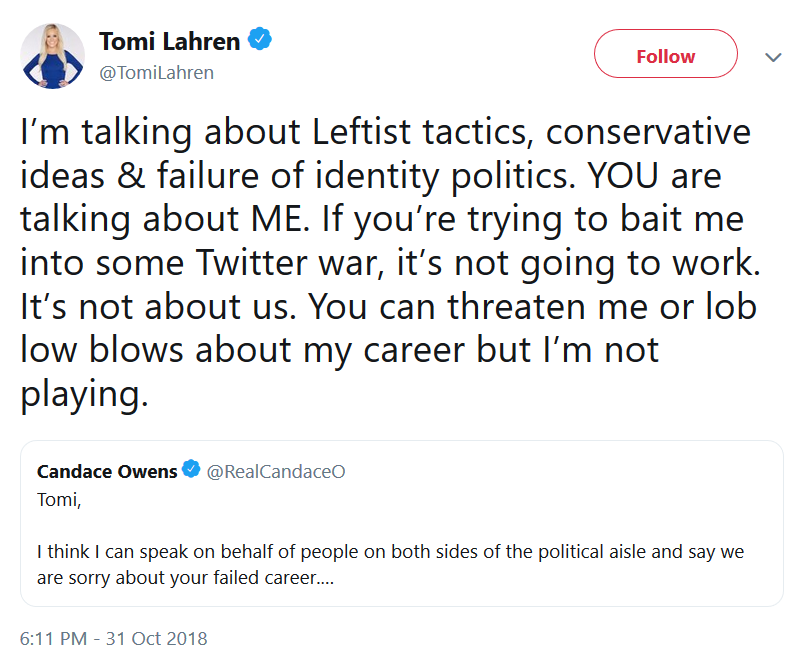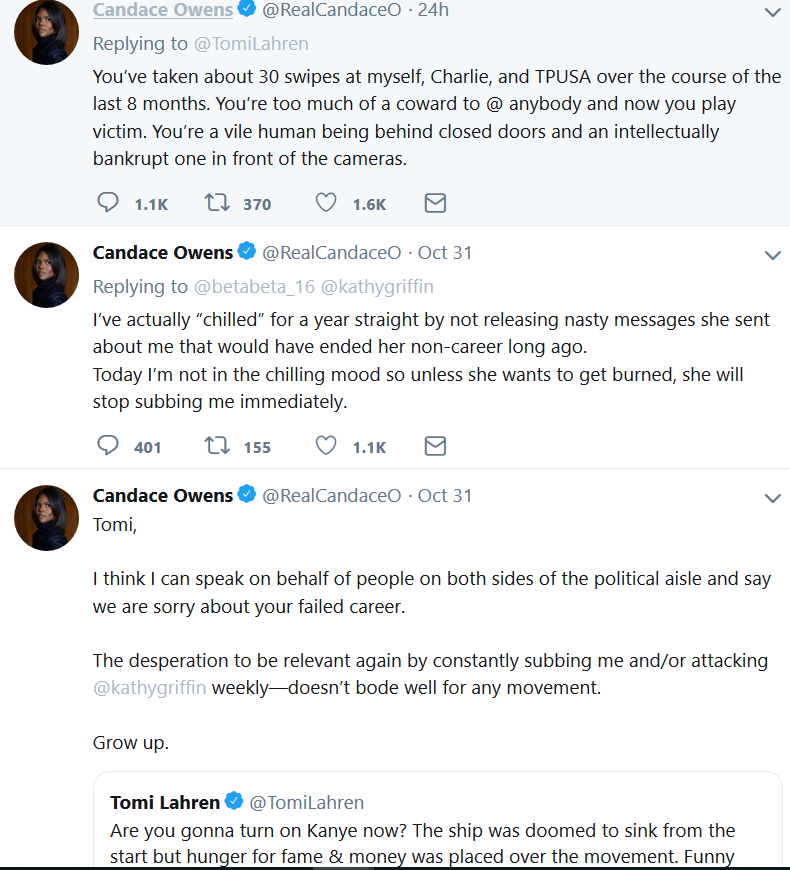 They're really out here acting up before these midterm elections, aren't they?
Be sure you make your vote count on November 6th! This is all the proof you need that we need a change!
Photo: Getty