Halloween is over, but not the round up of who dressed up as what.  Check out tons of pics of your fave celebs putting on their fab & foolywang costumes....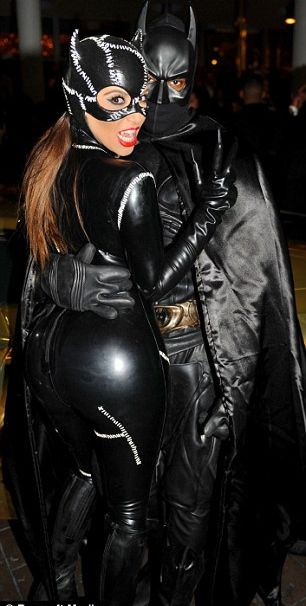 Kim and Kanye celebrated Halloween at her own superhero style bash at LIV nightclub in Miami last night.  Kim's family & friends did a whole Batman theme--which, of course, made Kanye Batman and her Catwoman.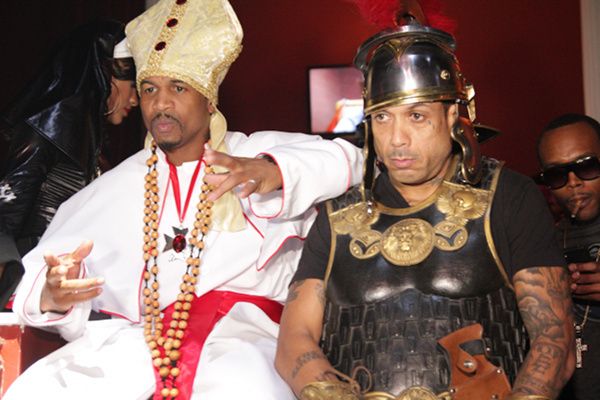 Over at Mansion in Atlanta, Stevie J & Joseline (who people used as costumes themselves) went as the Pope and a nun.  How totally appropriate....
By the way, WTF is going on Benzino?  Let's get some pep in our step please.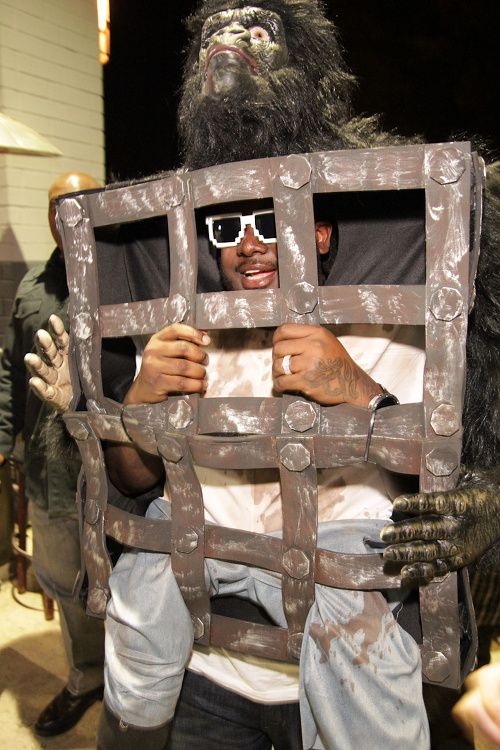 T-Pain was also there in a funny decked out scary costume...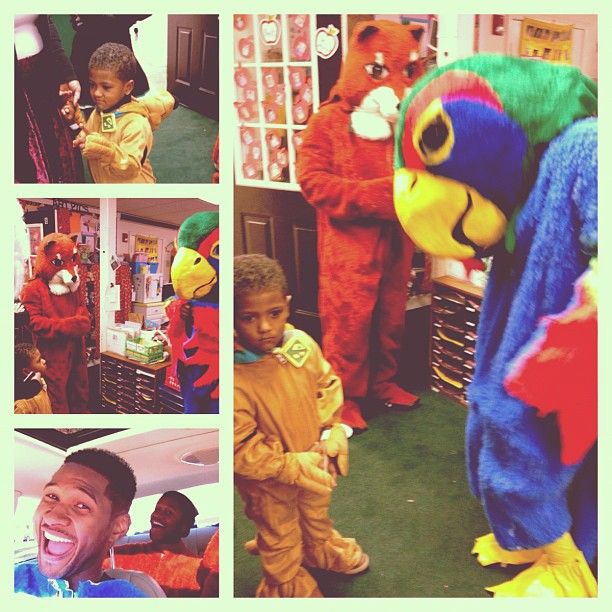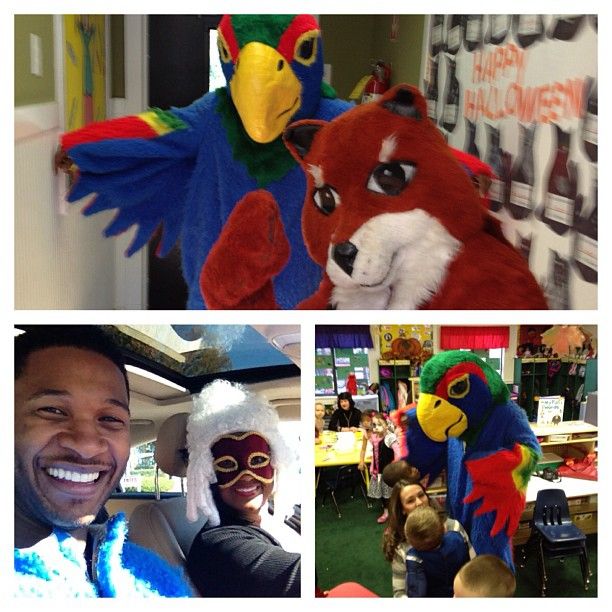 Usher surprised his son Naviyd at school by dressing up as a colorful pelican (likely the star of Rio) and he brought Grandma Patton along.  Naviyd looked surprised...but scared as all get out.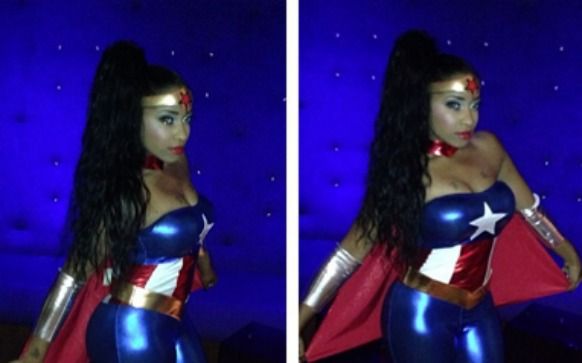 Toya Wright went as Wonderwoman...and isn't losing that high side ponytail anytime soon apparently.
Ludacris and his girl Eudoxie ixnayed the couples' theme for costumes, but still kept it fun:
Luda went as New Orleans Hornets baller Anthony Davis (ha!), while his girlfriend Eudoxie went as a zebra:
Or possibly just rocked a zebra print catsuit from American Apparel to be a video vixen/groupie or something.  Chick is gorge though.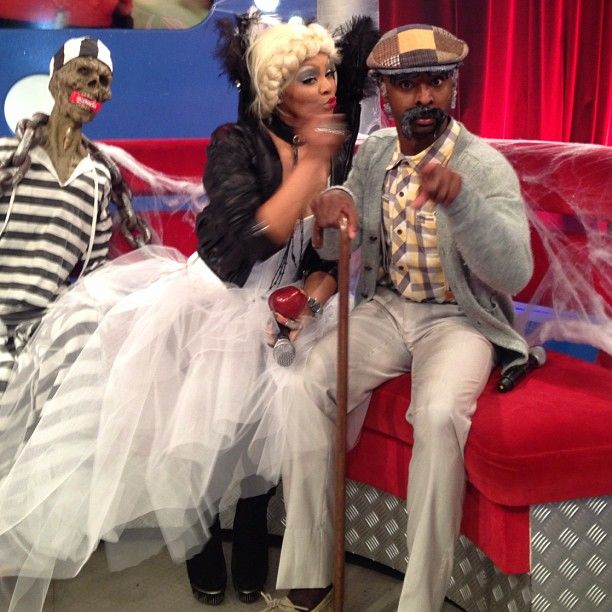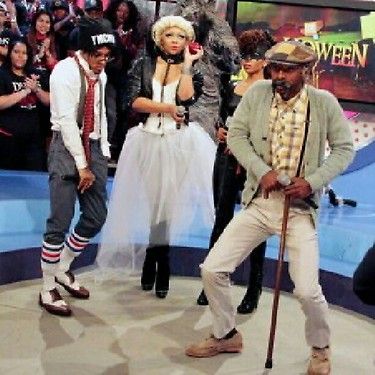 Over on "106 & Park", Bow Wow & Shorty Da Prince went as old men, while Paigion went as an Evil Queen.
Meek Mill popped up to kick it with the crew too.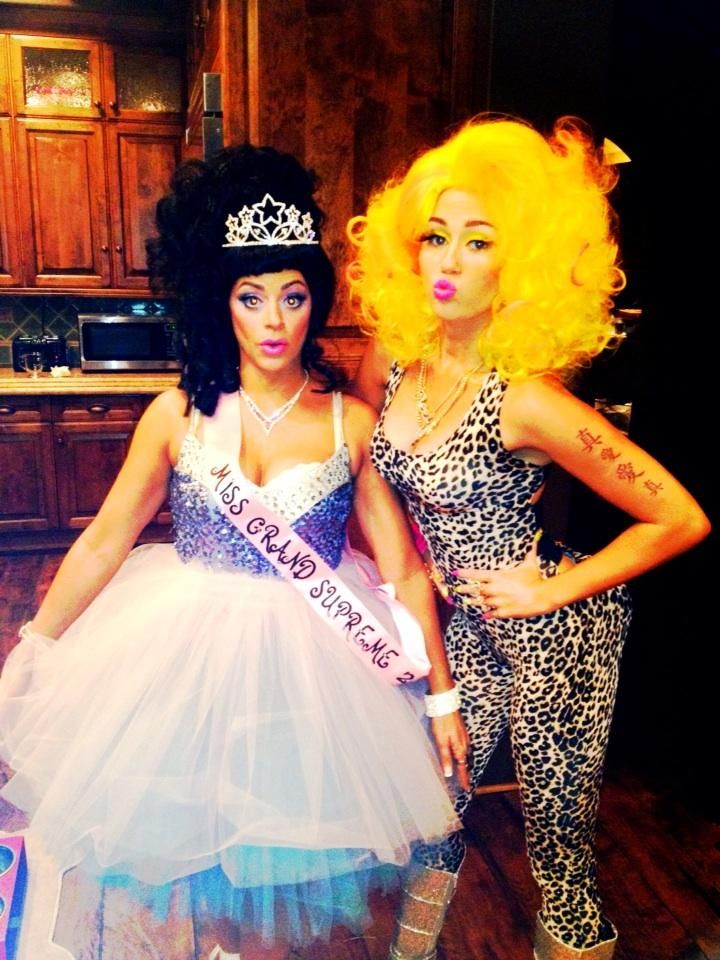 Just for S's and G's...Miley Cyrus went as Nicki Minaj.  Those square butt pads are on point.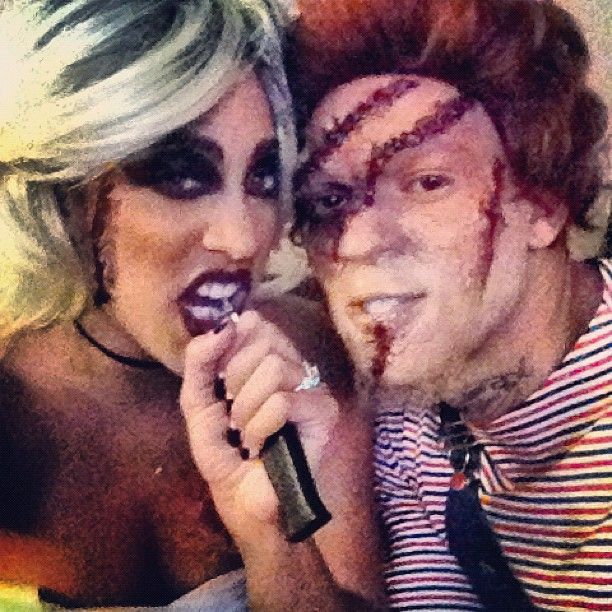 Natalie Nunn and her husband Jacob kept it zombie inspired.
Monica posted her kiddies Rocko & Romelo looking adorbs.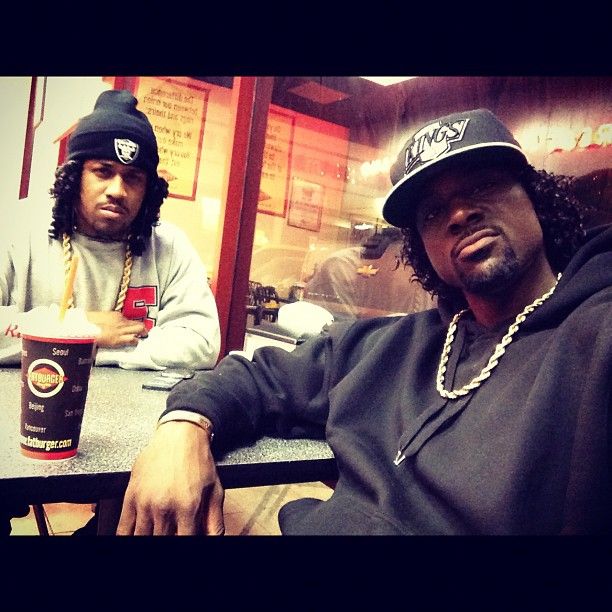 Lance Gross took it back to the early rap days in Cali with that jheri curl.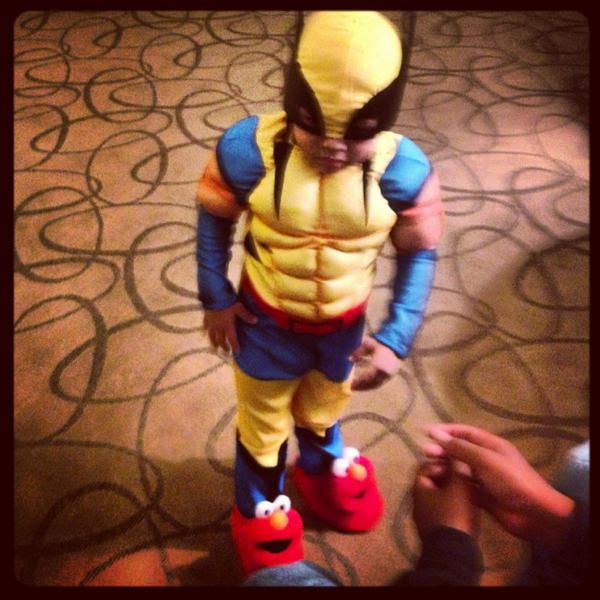 Keyshia Cole's son DJ was in all his super hero glory.  And mom and dad got in on the festivities as a baby and a pimp...apparently: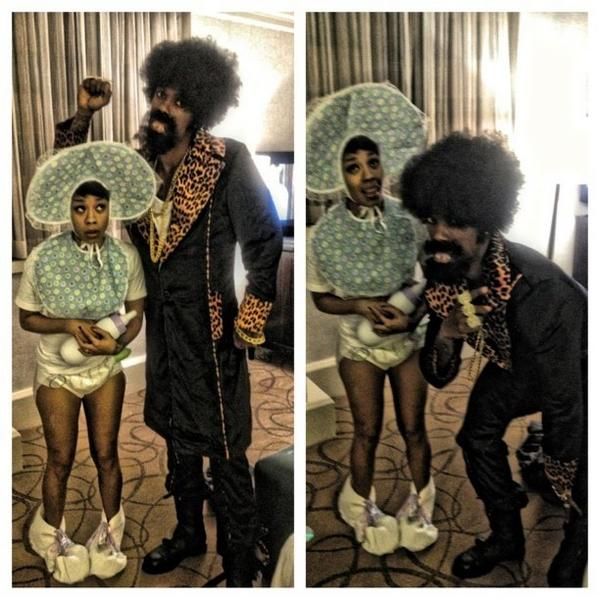 Braylon Edwards hit up a party looking like a Chippendale dancer or playgirl stripper.  How are YOU doin Bray Bray?
Holly Robinson Peete went as Prince for the day.
Faith Evans posted a cute pic of her son as Spongebob.
Not sure what Eva Marcille is, but she was having fun with a little cutie on Halloween.
Mariah, Nick and Dem Babies Roc & Roe went as the 3 bears with MiMi as Goldilocks: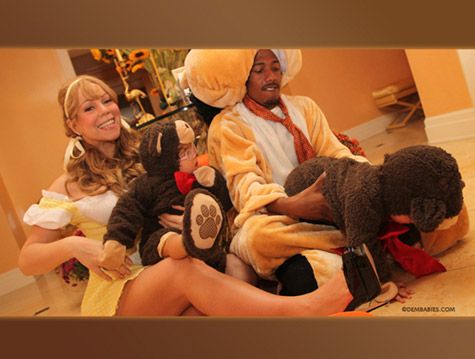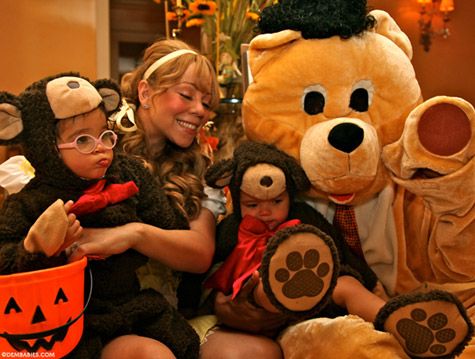 So cute!
Christina Milian partied it up with her mom who put on a sassy costume herself, while Chris tapped into her sexy vampire ways:
Someone was serious about that face.
Over in Sydney, Australia, Mel B. and Stephen took the kids out trick or treating: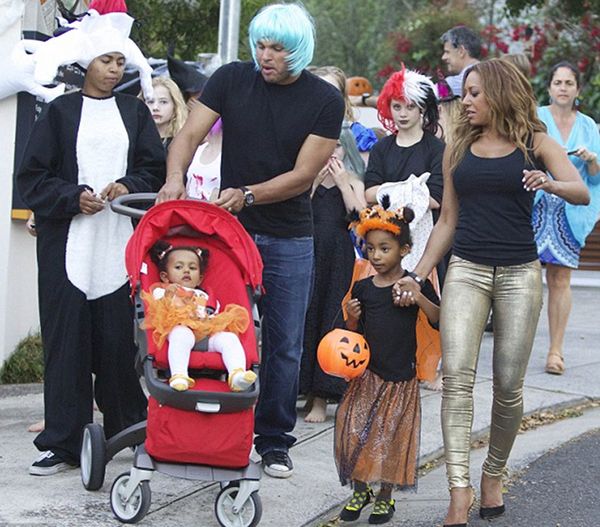 Phoenix went as Sylvester while Angel and Madison put on cutesy Halloween gear with Stephen in a blue wig: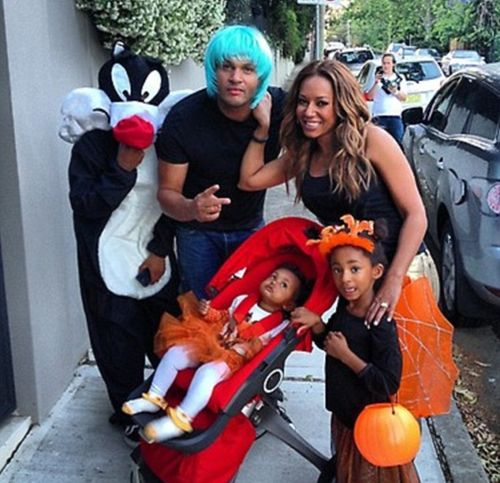 Fun times for the family!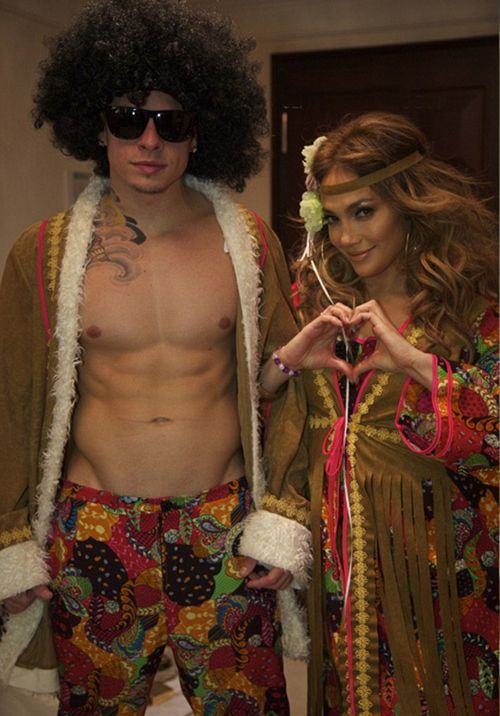 J.Lo and Casper went as a 70's hippie couple.  They also celebrated their 1 year anniversary this week and tweeted love dovey messages to each other about it.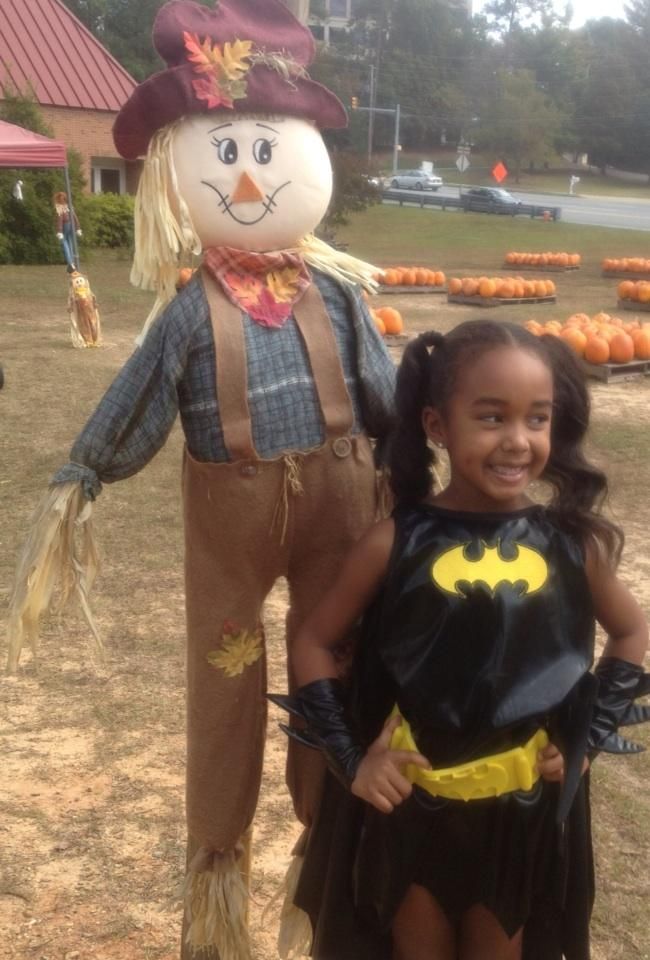 Diddy's cutie Chance Combs went as Bat Girl: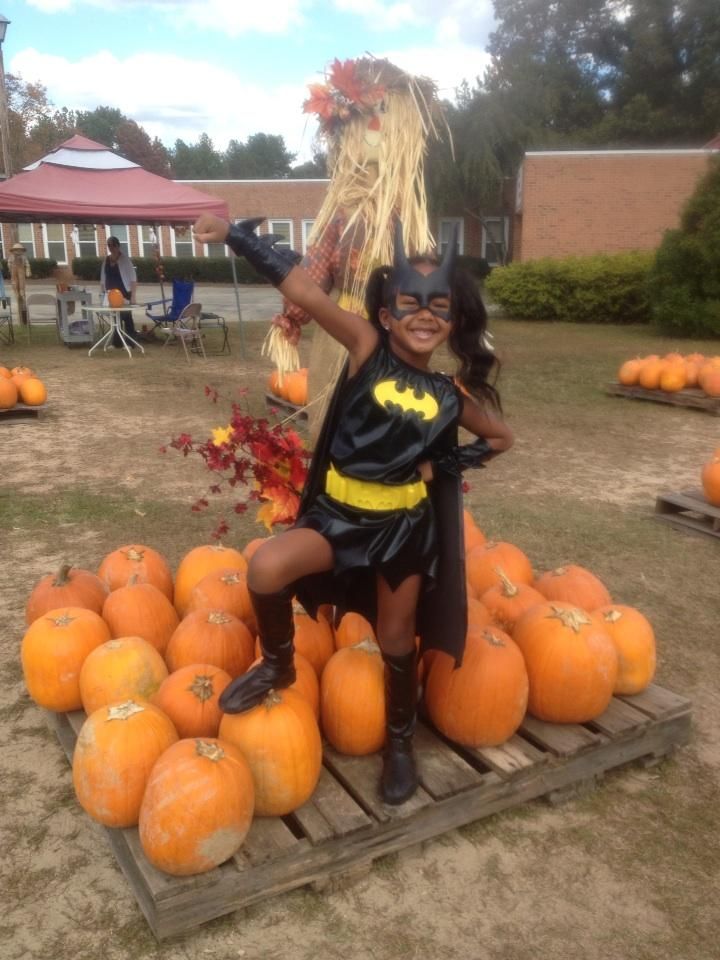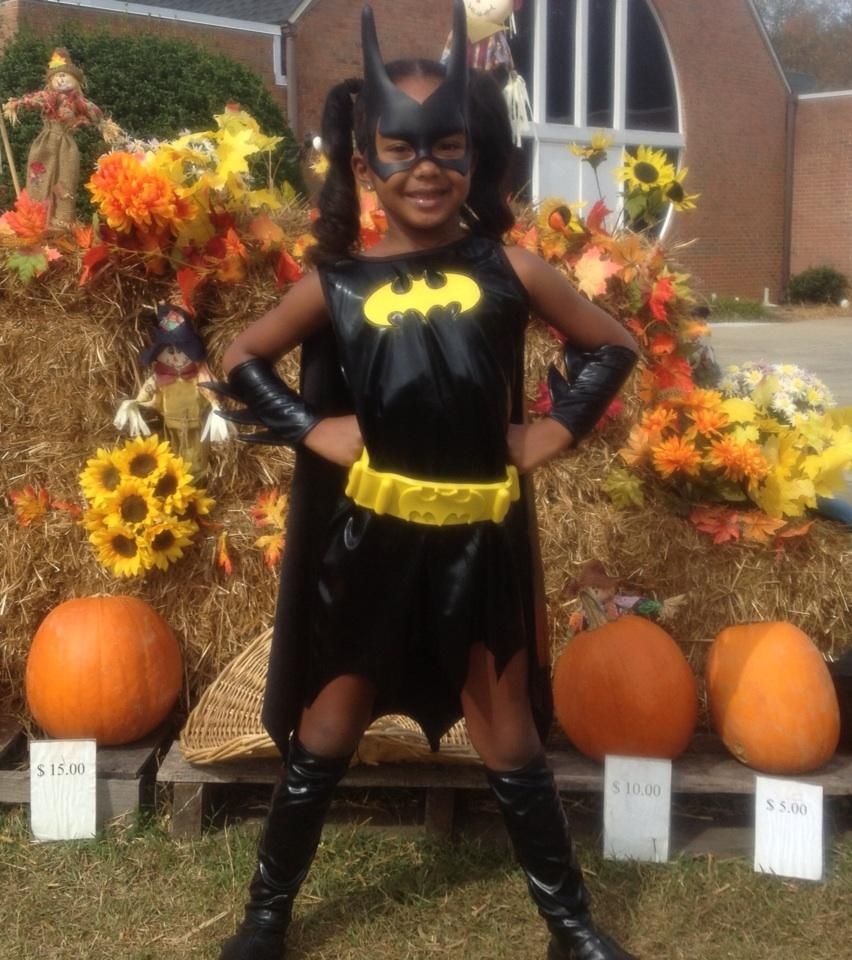 Absolutely adorable.  And she looks just like her mom.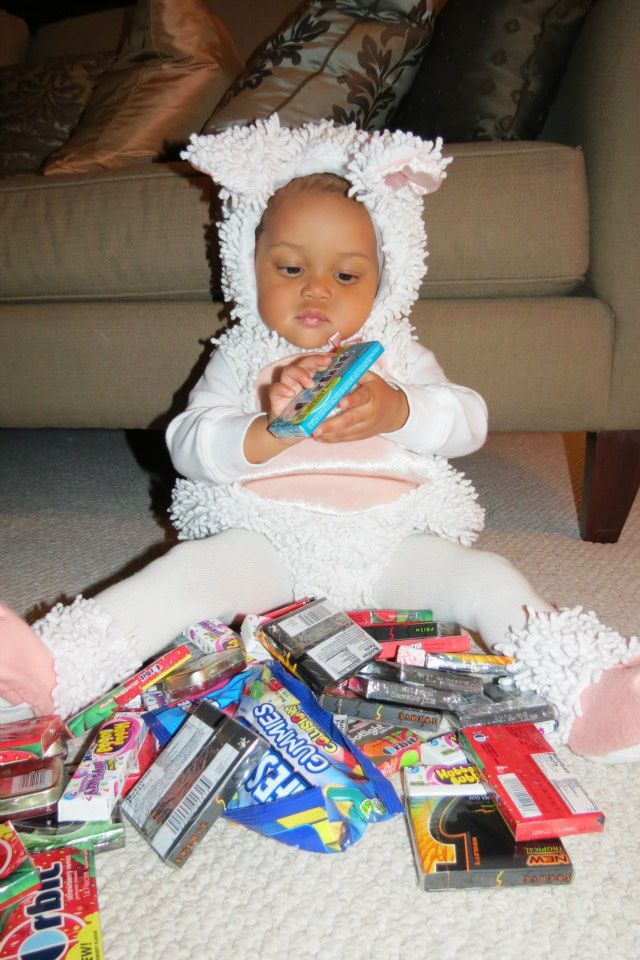 Radio Personality Egypt showed off her baby girl Kendall on her first Halloween.  Cute!
Kevin Hart kept it hilarious & 70's style with his girlfriend Eniko.  These two...
And Deelishis showed her T&A in a gold leotard.  All to become...Flavor Flav!  I see she's paying homage to who made her.  SMH.
Check out our previous posts on Rihanna & Chris Brown's costumes HERE & HERE in case you missed them.
Photo Credit: Napoleon Meadors, Twitter