Azealia Banks breaks down why she longer bumps to Cardi B, why she supported Trump and her thoughts on RZA speaking on that incident involving Russell Crow. Get it all inside...
Azealia Banks makes her first appearance on Power 105's "The Breakfast Club" where she readily discusses any controversy surrounding her. The Harlem native stays in the headlines for her outspoken opinions, however, she said she wishes folks would stop caring so much about her "shitty" opinions.
Interesting.
Speaking of opinions, the"212" rapper was asked to explain why she called Cardi B an "illiterate, untalented rat." The 26-year-old rapper said she felt a "culture shock" when Cardi started glowing up because we went from having meaningful conversations when Beyonce dropped Lemonade to reciting Cardi lyrics.
"When I look at black women's culture as a whole thing and then you think about the media and the power that the media has," she said. "How the media had the power to get rid of me and the media has the power to make anyone the forefront."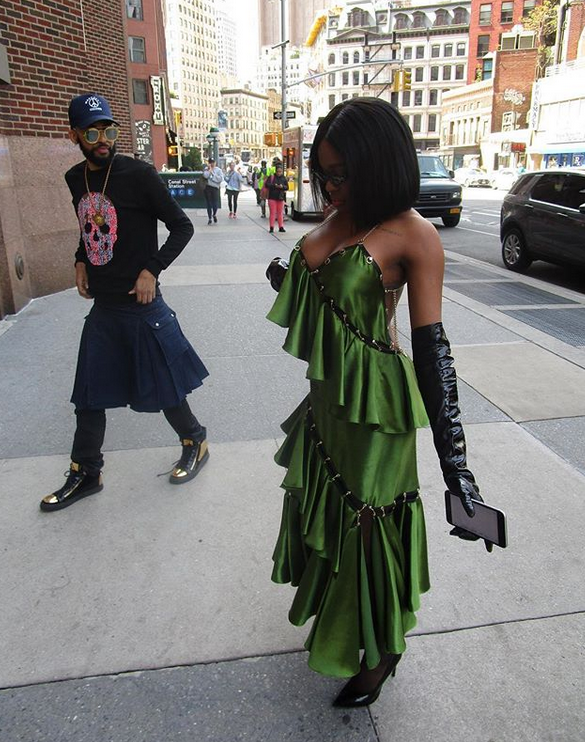 She said Cardi is able to be a representation of black women, but a different type of black woman could never get away with what she gets away with.
"I think that it's very concerning to me that this conversation surrounding black women's culture," she explained. I feel like maybe two years ago, the conversation surrounding black women's culture was really reaching an all-time high and we were really like discussing our power amongst ourselves, Beyoncé came out with Lemonade. There was just this really, really, really intelligent conversation going on nationally and then everything just kind of changed and then it was like Cardi B, you know what I mean?"
"I'm just talking about this caricature of a black woman that black women themselves would never be able to get away with. Like if my spelling and grammar was that bad, I'd be canceled. If Nicki Minaj spelled like that, they'd just be ragging on her all day."
"I think that when it comes to this female rap thing that we have, I just don't understand how we go from like...or just, not female rap thing, this black women's culture thing, I just don't understand how we go from Beyonce, Lemonade, Solange, Black Lives Matter, all these great conversations to....this."
The Harlem native said it's unfair for the women who are REALLY about the craft.
"I just don't understand like the extreme lack of couth. I've never seen that at the forefornt of female rap. I didn't know that the bar would be lowered so much. It's kind of like a culture shock. The bar went from Beyonce, Lemonade, this very extremely intelligent conversation..."

"When you're talking about this female rap thing. B*tches that really push their pen. Girls that live, sweat, breathe this art thing. I just feel like it's unfair to the real institution of female rap."
Hmmm.  Every industry can be unfair, and being a star is VERY different than being an artist.  Azealia's messages aren't necessarily wrong, generally speaking, but who she applies them to, the overgeneralizations and constant negativity that many folks complain about, don't necessarily always make them right either.
Check it:
With the backlash Kanye West has been receiving over his Trump bromance, Charlamagne brought up the fact that the "Anna Wintour" rapper was one of the first black artists he remembered who supported Trump.
"I just wanted a tax break. Everybody keeps wanting to pin this love for Trump on me but that wasn't the point. Either way you go, you're getting f*cked. Wouldn't you want to get an extra $30,000 on your tax return?"
After he became president, she said Trump was being "sloppy" and that he's "cheapening the presidency." She said Trump reminds her of the adult Eric Cartman (South Park cartoon character).
So basically, like many Trump supporters, you got what you wanted and now you don't like it.
Check it:
The "Ice Princess" rapper responded to RZA finally coming forward to admit that Russell Crow did in fact spit in her direction. He originally said it didn't happen when Azealia told everyone about how he spit AND choked her. The situation caused Azealia to not want to promote the movie she and RZA starred in, titled Love Beats Rhymes, and cut ties with the rapper/actor.
"I don't give a f*ck about RZA. He can call me when he has some money for me. If RZA was smart he should have just shut the fuck up...We have a movie to promote. Who's gonna wanna see a movie in which the director has slandered the lead actress? Like, what the fuck are you thinking?"
Peep the clip below:
Recently, Banks took to her Instagram Stories to reveal she was sexually assaulted. She ended up deleting it, but the radio hosts asked her about it.
"I got GHB'd at a bar. I was staying at a hotel because I was doing press...I was just drinking and some guy came over and started buying me drinks.

"Envy: White guy?

"Banks: Of course...I highly doubt a black guy would drug me. Maybe he would. I don't f*cking know...so white guy comes up. I'm already tipsy and he's just buying me drinks. And I guess between then and there he dropped something into my drink. We get upstairs to the room and we're drinking some more...So I keep trying to kick this guy out but he keeps sticking his tongue in my a**...And every time I tried to kick him out, he just went and started eating my a**...When someone's tongue is in your butt, what the f*ck are you going to do?...and one thing led to another and things just—I just started getting heavy. My body just started getting heavy and I realized something was wrong. And I just started screaming and I kind of stumbled and kicked him out. And then I f*cking collapsed on the bed. And cried. Once I realized that I was on drugs that I didn't know I was on. I never felt anything like that.
Lordt.
Take a listen to her full interview below:
Speaking of Cardi B...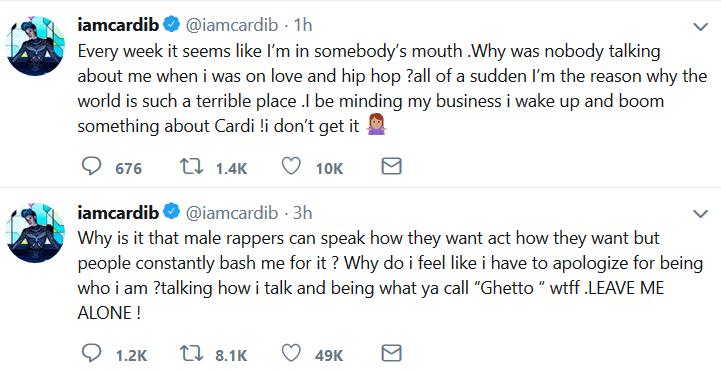 She is seemingly responding to Azealia Banks' interview in a new series of tweets. Read above.
Photos: Azealia's IG