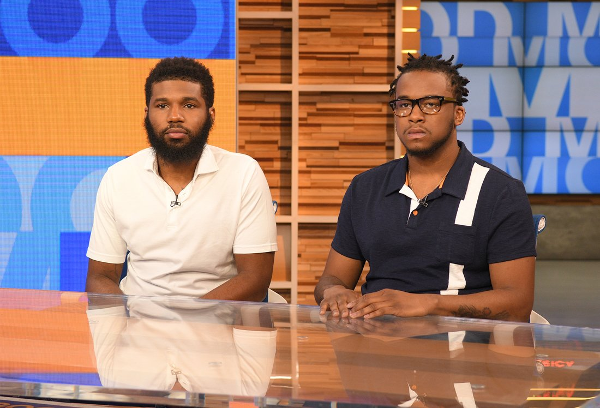 The two black men who were arrested in a Philadelphia Starbucks (for nothing) are speaking out and they continue to amaze us! Find out what they said inside…
A week after two black men, named Rashon Nelson and Donte Robinson, were arrested in a Philadelphia Starbucks, the guys are speaking out for the first time. In case you missed, see our post on Rashon HERE.
You'll recall, Rashon and Donte were arrested while waiting on their colleague, Andrew Yaffe, for a real estate meeting. Donte asked if he could use the restroom but was told he couldn't since he hadn't purchased anything. Next, the store manager (who no longer works at the Starbucks) allegedly asked the guys to leave. When they didn't, she called the police and law enforcement came in and arrested them with no questions asked.
Now, the guys are speaking out about what went down, and they share some telling information.
In an interview with "Good Morning America" co-anchor Robin Roberts, we learned the men LITERALLY were there for TWO minutes before Starbucks Becky called the police. According to the police report, the men entered the Starbucks at 4:35pm EST on April 12th. Now, get this. The manager called the police on them at 4:37pm EST! They weren't there 2 minutes before the police were called on them.
Robin Roberts pointed out that Rashon and Donte claimed the manager NEVER asked them to leave the establishment, just he couldn't use the restroom since he hadn't purchased anything. They said when the police arrived at the Starbucks, they didn't think they were there for them. However, the police approached them, and they claim the police told them they had to leave and never asked any questions about what happened.
Not only that, when they were arrested they never were read their Miranda rights.
"We weren't read any rights. Nothing. Just double locked, handcuffs, behind our back. Escorted out and put into a squad car," Donte explained. To the people who are saying they shouldn't have violated Starbucks' "policy," here's what they had to say about that: "I understand rules are rules, but what's right is right and what's wrong is wrong. And that's with any situation whether its race involved or anything," Donte said.
Their lawyer Stewart Cohen confirmed the guys are NOT considering civil suits against the coffee company or the city. "I want to make sure this situation doesn't happen again," Donte said. "So what I want, is for a young man or young men to not be traumatized by this and instead be motivated, inspired."
"Take this opportunity as a stepping stone to really stand up and show your greatness," Rashon said about what he wants to come from the situation. "And that you are not judged by the color of your skin as our ancestors were or anyone else. This has been going on for years, but everyone is blind to it, if you know what I mean. That is not just a black people thing. It's a people thing."
All facts.
Peep their first televised interview since the arrest below:
Following the arrests of these men, Starbucks announced they were closing 8,000 of their stores on May 29th for "racial bias training" sessions for its employees. Thankfully, they hired a team of black leaders, including former Attorney General Eric Holder, to create the curriculum for the sessions. Starbucks CEO Kevin Johnson went on television to personally apologize. And now, the Philadelphia Police Department is apologizing.
Philadelphia Police Commissioner Richard Ross, a black man who at first backed his officer's actions, is now backtracking. He fully acknowledged that he played a significant role in making the situation worst and he admitted to making a mistake.
"I should have said the officers acted within the scope of the law, and not that they didn't do anything wrong," he said. "Words are very important."
The police commissioner also said the police department did not have a policy for dealing for such situations, but does now, and it will be released soon.
Philly's mayor, Jim Kenney, also issued an apology.
Peep the clip below:
Philadelphia Police Commissioner and Mayor apologizing, as outrage grows after Starbucks arrests of 2 black men: https://t.co/ANbBUJL2Cm@LinseyDavis is live Times Square pic.twitter.com/e7ikaqoWgE

— Good Morning America (@GMA) April 20, 2018
These two black men are #BlackExcellence personified. 
Photos: ABC