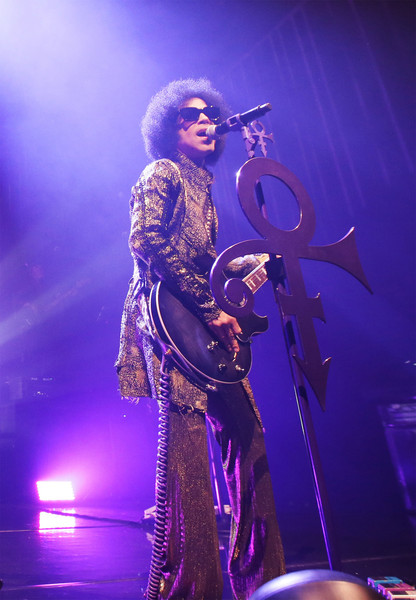 Two years after we lost singing icon Prince, new information and videos surrounding have surfaced. Get the deets on Prince likely not knowing he was taking a deadly counterfeit drug, plus peep new videos of the Purple One inside…
Days before the 2nd anniversary of Prince's death, new information surrounding his untimely death has been released. We now know the 57-year-old legendary singer reportedly didn't know he was taking Fentanyl, the powerful drug that killed him inside his estate, Paisley Park on April 21st, 2016. Apparently, he thought he was taking the painkiller Vicodin, but in reality he was ingesting a deadly dose of Fentanyl.
Carver County Attorney Mark Metzheld at a press conference days before his death anniversary in Prince's home county.
"The evidence demonstrates that Prince thought he was taking Vicodin and not Fentanyl," he said.
He said police found several pills in Prince's possession that did not have prescriptions written on them. However, they don't know where they came from.
Since they can't figure out how Prince got his hands on the pills, no criminal charges are being filed in his death.
"Nothing in the evidence suggests Prince knowingly ingested Fentanyl. In addition, there is no evidence that any person associated with Prince knew Prince possessed any counterfeit pills containing Fentanyl," he continued. "In all likelihood, Prince had no idea that he was taking a counterfeit pill that could kill him."

"Others around Prince also likely did not know that the pills were counterfeit and containing Fentanyl. There is no evidence that the pill or pills that actually killed Prince were prescribed by a doctor. There's also no evidence to suggest any other sinister motive, intent or conspiracy to murder Prince. The evidence suggests Prince had long suffered significant pain, became addicted to pain medications, but took efforts to protect his privacy."

"Despite the intensive law enforcement investigation, there is no reliable evidence showing how Prince obtained the counterfeit Vicodin laced with Fentanyl or who else may have had a role in delivering the counterfeit Vicodin to Prince."
The bottom line is, they don't have enough evidence to proceed with charges against anyone. He said the fact that criminal charges were not brought up, does not mean some person or persons associated with Prince did not assist or enable Prince in obtaining the counterfeit pills. People will have their suspicions, but you can't support criminal charges on suspicions.
Peep the full conference below: 
A day before his death...
The singer was filmed entering a clinic to see Minnesota doctor Dr. Michael Todd Schulenberg along with his bodyguard. Dr. Schulenberg was accused of illegally prescribing painkiller Percocet to Prince in his bodyguard/longtime friend Kirk Johnson's name. The singer asked to have the prescription written in Kirk's name to protect his privacy. Dr. Schulenberg has agreed to pay $30,000 over a federal civil violation, however the settlement is not an admission of wrongdoing. Mr. Metz confirmed that during his press conference.
Peep the video below:
Also, cops have released video from inside Prince's home moments after they found him dead. The blacked out cricle in the clip is Prince's body. Check it:
Thoughts?
Photos: Getty/AP