Eva Marcille and her fiancé Michael Sterling are new parents to a bouncing baby boy! Get all the baby deets, plus see some adorable shots of John Legend and Chrissy Teigen's ridiculously adorable baby girl Luna Stephens celebrate her 2nd birthday inside…
Blessings on blessings on blessings! He's here!
Luckily, "Real Housewives of Atlanta" star Eva Marcille didn't go into labor during the taping of the reunion. That would have been something.
On Friday, the "Top Model" alum and her fiancé/politician welcomed a healthy baby boy into their family fold. Baby Michael Sterling Jr., made his arrival at 5:59pm EST, weighing in at 7 pounds 3 ounces.
It's their first child together and Eva's 2nd. The YBF model has four-year daughter Marley Rae (whom she kinda shares with singer Kevin McCall).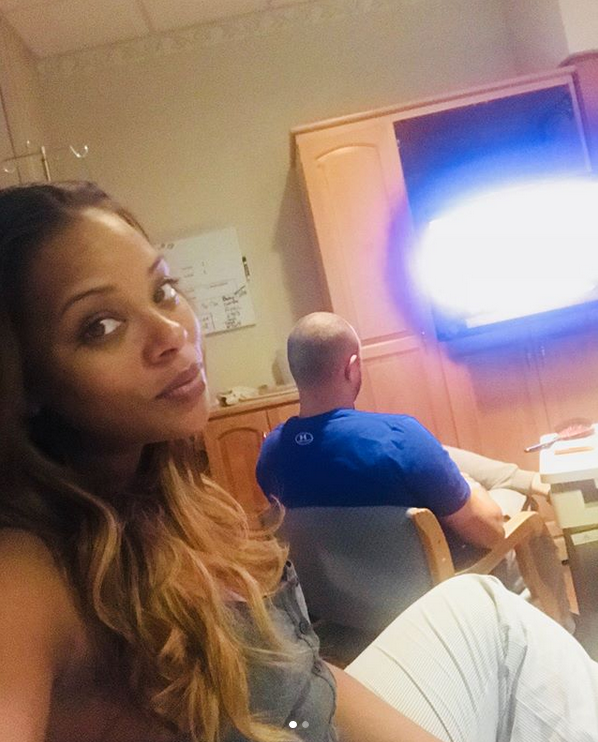 "All praises be to God!," Eva captioned on Instagram.
After welcoming Baby Michael Sterling Jr., the new parents --who got engaged in November-- sat in the hospital room watching television. Eva's beau was glued to screen while watching the NBA playoffs.
"New parents, old habits watching the NBA playoffs while the Young Prince sleeps," Eva shared.
Y'all know how new (and seasoned) dads be...
Meanwhile, daddy Michael Sr. shared his emotions on social media while waiting for his Prince to arrive:
Congrats to the couple!
In other baby news...
It's Luna Stephens' last birthday as an only child!
John Legend and Chrissy Teigen pulled out all the Sesame Street stops to celebrate their baby girl's 2nd birthday.
The pregnant "Lip Sync Battle" commentator and R&B singer, who will welcome their 2nd child together in June, shared a few shots from Luna's birthday bash that went down on Saturday.
She so cute it hurts.
On Instagram, Chrissy noted Pampers, who sponsored the party, made a special donation in honor of Luna's birthday to the Southeast Llama Rescue. "Thank you @pamperspure for helping celebrate our big girl's 2nd birthday! Luna's rocking her llama diaper under this birthday suit! Aaaaaannnnd Pampers made a donation to the Southeast Llama Rescue in honor of this day. Thanks for making her day so special! #llamabutt forever!," Chrissy captioned.
Even after the birthday festivities, Luna is still "cheesing":
Adorbs!
Photos: Eva's IG/Chrissy's IG/John's IG