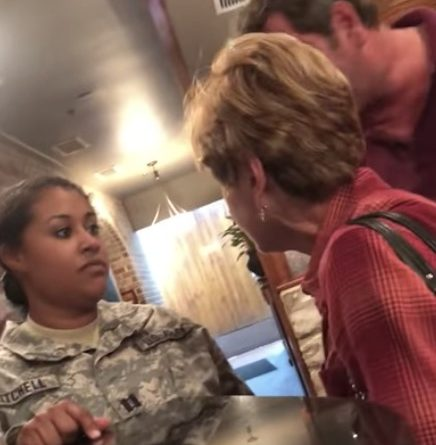 This white woman thought she was going to get away with putting her hands on a black woman, but surprisingly, she was sadly mistaken. Deets inside…
Thank God for cameras on cellphones!
A 71-year-old white woman in Macon, GA was arrested after she assaulted two black female military service members, one of them pregnant, in a restaurant. And it was all caught on camera. Thankfully. Especially since the white woman tried to lie about what really happened when police arrived.
In the video, you see Judy Tucker– who was there with her husband, daughter and son – lunge at 34-year-old Stephanie Mitchell and 27-year-old Treasure Sharpe at Cheddar's Scratch Kitchen in Macon on Saturday. She got upset that one of the women started recording her during their verbal altercation and ended up hitting Treasure in the face!
Check it:
According to reports, Stephanie told police it ll started over insults being hurled their way. The ladies were backing into a parking space when Judy's son, Robbie Tucker, walked up to them and told them they should learn how to park. Then, he proceeded to call them "dum b*tches."
After the military women, in full uniform, went inside the restaurant, Robbie approached them again hurling homophobic insults, calling them "black lesbian b*tches," according to the police report. It was also remarked that Judy and her husband said things, overheard while they walked into the restaurant, like "I didn't know they allowed lesbians in the military."
However, Judy told police the argument started over a parking space and because she's white. Of course she said that.
"With all the lunging and slapping happening, it was never shown through cell phone video that Mrs. Mitchell or Mrs. Sharpe did anything wrong," the report said.
Judy was labeled as "the primary aggressor" so they locked her (seemingly ignorant) self up! She was taken down to the Bibb County Jail where she was charged with battery. She was later released on a $650 bond.
Her arrest was also caught on video.  And we find it interesting her husband, who seemed equally mad he was being tape recorded during the altercation, quickly whipped out his phone to record the arresting black police officer.
Darden Restaurants — which owns Cheddar's — released a statement addressing the altercation saying they are"appalled by the behavior of the individuals who confronted the two female service members. Such behavior flies in the face of our values and those individuals are no longer welcome in our restaurant." 
Not too long after Judy's arrest, Mercer University issued a statement regarding her previous employment. The statement reads:
"Judy Tucker is not currently employed at Mercer University. She has occasionally taught an art class in the past, but will not be teaching at Mercer in the future."
Bloop.  Serves her right! Next time, maybe she'll think twice before turning up (on black women) and acting a fool.
Photos: Screenshot