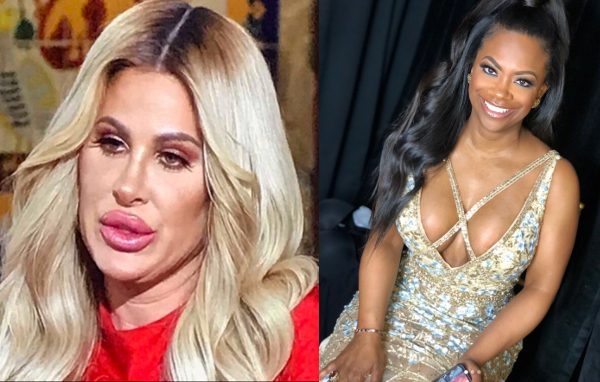 Kim Zolciak gets everybody's panties in a wad.  The "Housewife" is going at it with folks before she even pops up on the next reunion show. And the shenanigans are plentiful.
Everybody's coming for Wig! Y'all know her face has been looking mighty extra lately, so Marlon Wayans just said what we're all thinking.
While Kim keeps insulting our intelligence by telling us her face is au natural, Marlon said NAH.  The comedian posted a hilarious comment under a screenshot of her upcoming appearance on part two of the "RHOA" reunion.  And she wasn't happy about that ish.
Teeeheeee.  Kim always has some shade for somebody else (and throws it well too, we can't even lie), so the fact she couldn't handle this truth serum is quite interesting.
Kim did what Kim does and went the victim route.  Not only did her husband Kroy Biermann defend her, but the couple then had "sad face" in front of the paparazzi cameras....and had the audacity to mention the Me Too movement.
Chile!  Now that's a TRY, Kim.
Marlon was asked about the debacle, and...just watch:
We die.
Marlon's not the only one beefing with Wig.  Kandi Burruss came for that a** once again immediately after Sunday's show that Kim wasn't even on.  Kim previously said some slick ish about the singer's spinoff ratings and such, so Kandi whipped out every receipt.
Didn't Kim get enough of a read from "I'ma Drag You"-shaky-voice-Kandi on one of the last episodes of the season?  Guess not.
Next Sunday should be interesting...
Photos: Instagram/Bravo