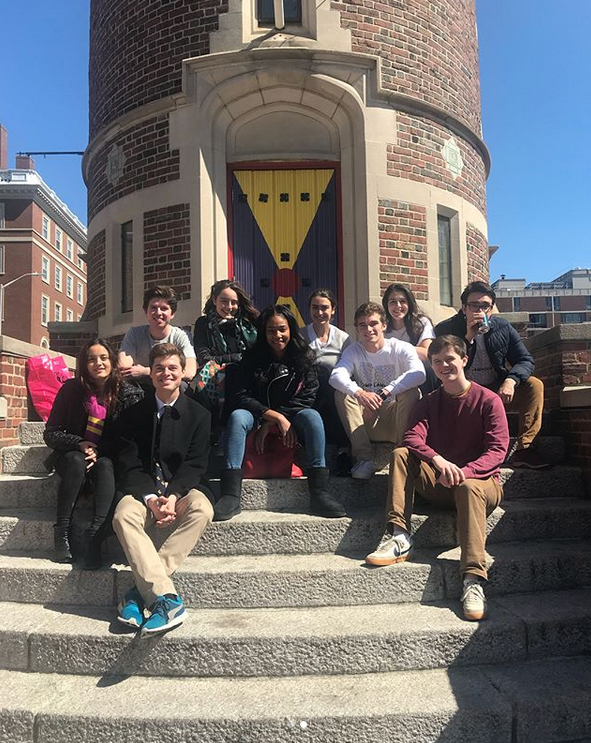 Tiffany Haddish had some fun with Harvard University students after news that she's executive producing a new show about Instagram influencers. Get those deets, plus info on Chance The Rapper hitting the stage (but not rapping) at Dillard University inside…
Hanging with the cool kids!
Tiffany Haddish may not have gotten the chance to go to college, but now she's experiencing what campus life is like.
"The Last O.G." star stopped by Harvard University to give out some jobs! Well, not exactly. The Girls Trip breakout actress linked up with a few students on campus and they gave her a tour of the Lampoon Castle, the headquarters of the school's magazine, Harvard Lampoon.
The students must have impressed Tiffany since she gushed about one day offering at least two of them a job to write for whatever project she would be working on at the time.  Nice!
She captioned,"I am in Boston and The Great Students of Harvard offered me a tour of the Lampoon Castle. And it was Great I Love these kids they are the future I am sure I will hire at least two to write for my Tv show one day.#sheready #thelastblackunicorn #harvardlampoon"
We wonder if she bumped into former First Daughter Malia Obama on campus. Nevermind. If she did, y'all know she would have posted a picture or at least told us about it.
Speaking of jobs...
The comedienne has booked yet another one. Except this time, she'll be working her magic behind the scenes.
The 38-year-old actress will executive produce a new series titled "Unsubscribed," which is in development at HBO. According to The Hollywood Reporter, the series will "examine female blackness, beauty, and identity through a behind-the-scenes look at the Instagram hustle."
Hmm...this show should be quite interesting.
On top of starring in "The Last O.G." and being the face of Groupon, Tiffany will also star opposite Kevin Hart in Universal's Night School, she's set to star in The Temp and she's lending her vocals for Netflix's animated series "Tuca and Bertie."
In other #YBFu news...
Chance The Rapper is ready to drop some gems on the college grads!
The Chi-town rapper has been tapped to deliver this year's commencement address to graduates of Dillard University in New Orleans.
Dillard President Dr. Walter M. Kimbrough had nothing but good things to say about the Grammy award winner. She said Chance is a part of a "new wave of artists who can openly talk about faith while being in hip hop, balancing the secular and the sacred."
"He's not signed but a multiple Grammy winner," Kimbrough said, noting that Chance often gives away his music, movie tickets, Jordan-brand tennis shoes and awards to school teachers. "He's the artist that your grandmother would love." No lies told.
No surprise that the 24-year-old rapper will deliver an inspirational speech to our future leaders. Makes total sense to have someone who they look up to and is close to their age to give them words of wisdom that they'll actually pay attention to.
God's plan.
Photos: Tiffany's IG/Getty