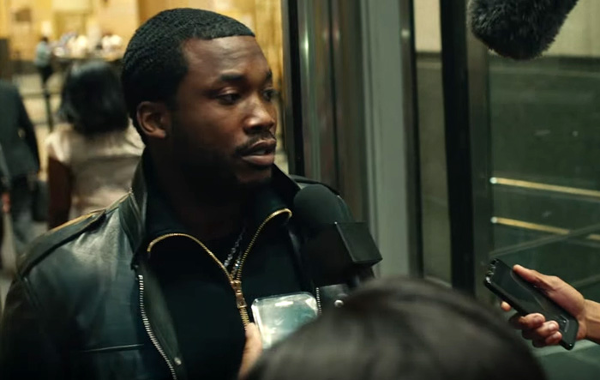 Meek Mill brings his real life woes to life in his new video treatment for his track "1942 Flows." Peep the clip, plus see how TV host Joy-Ann Reid had to put Killer Mike in his place after he came for her inside…
Over the last five months, Meek Mill and his team have been trying their damnedest to get that "Get Out Of Jail Free Card." But, he's still behind bars. Just a few days ago, the District Attorney in Philadelphia co-signed his release so the Supreme Court can decide his release instead of Judge Genece Brinkley. Meek and his team are pissed at Judge Brinkley for keeping him in jail due to her "bias" ways.
With all that going on with his legal issues, the Philly native just gifted his fans some new musical material. No "biased" judge or dirty cop is going to keep Meek from his first love.
The rapper just released the video treatment to his song "1942 Flows," a cut from his latest album, Wins and Losses. The visuals are art imitating life - well, what Meek hopes will be his life.   The introduction shows Meek being bombarded with questions from reporters as he exits the courthouse after his release. We also see Meek supporters holding up #FREEMEEK signs throughout the video. And MMG honcho Rick Ross even makes a cameo.
Check it:
"1942 Flows" was released on Meek's website Justice4Meek.com. On the site, it asks vistors to sign a petition demanding his release from jail. Not only that, the petition calls for the release of all incarcerate people with pending PCRA petitions. Click here to sign.
In funnier news...
When trying to check a bout-that-life black woman goes all the way wrong! 
Rapper/activist Killer Mike hopped on social media to try and check MSNC correspondent Joy-Ann Reid for supporting H&M. But, he had it ALL the way wrong. Joy-Ann posted a picture of herself with her glam squad, thanking them for the hair and makeup, but she shortened it to H&M."
Killer Mike saw her post, was clearly still bitter about his own recent dragging, and thought he was going to get points for slandering a black woman to get the heat off himself.
He assumed she was referring to the retail giant H&M, who came under fire for putting a black boy in a monkey shirt for its most recent campaign.  And his comment (see it above) was straight up disrespectful. And factually incorrect.
Joy-Ann had time and gathered his ENTIRE life. It ended with Mike apologizing and saying he would come on her show to talk about black gun ownership. Nothing like that NRA interview he just did. He apologized for that too. Swipe through above for the exchange.
Photos: Screenshot