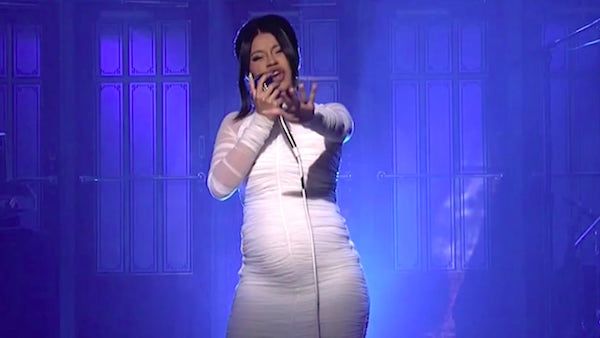 Just as we exclusively reported she would, Cardi B. finally stopped the hide-and-seek game with her baby bump during her "SNL" gig. We've got her pregnancy announcement that just happened inside...
Issa Bartier Baby!
While doing her musical guest duties Saturday on "SNL," Cardi unveiled her pregnant belly in a form fitting white dress during her second performance of the night.
This baby news has been the worst kept secret in the game for the last several months with Cardi wearing ridiculously oversized looks to cover up her bump.  She also has flat out denied she's carrying her and her fiance, rapper Offset's, seed.
But there's no more denying it now.  Check out her big reveal during the performance of "Be Careful" off her brand new alum Invasion of Privacy:
She ran through a medley of her latest hits earlier in the night during her first performance. She mostly stood in one place throughout that performance, with her belly being covered by her dramatic, shaggy, black & white outfit:
Offset posted that he and Cardi are looking forward to this next chapter together.
C A R D I A N D I L O O K F O R W A R D T O O U R N E X T C H A P T E R T O G E T H E R pic.twitter.com/C1QizKV3Cb

— OFFSET (@OffsetYRN) April 8, 2018
And her backstage celebration said it all:
This baby will be his third child and Cardi's first. Congrats to the couple!
Photo: NBC