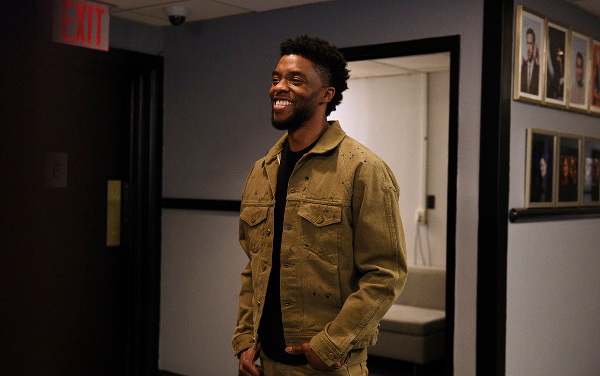 Chadwick Boseman hosted "Saturday Night Live" last night for the first time and he did no disappoint. Get into his hilarious skits, plus news about Black Panther breaking more box office records inside…
Looks like that money Denzel Washington coughed up for Chadwick Boseman to study at Oxford is paying off.
Not only can he lead the box office, he can also hold his own as host of "Saturday Night Live." And we all know "SNL" is sort of a big deal with its grueling rehearsals that lead up to the big night.
Well, it was nothing for hottie Chadwick because he breezed through his monologue effortlessly as he was tapped to host the late night comedy sketch show two months after Black Panther hit theaters. He made a good joke about that as well, especially since his co-star Sterling K. Brown, who died in the 1st scene of the movie,hosted the show before him.
The 42 actor started naming off all of the historical African-American icons he has portrayed, such as Jackie Robinson, James Brown and Thurgood Marshall and that's when Kenan Thompson popped up on stage alongside Chadwick dressed as Panthro from "ThunderCats" to remind everyone he's the first to do this superhero ish.
Check it:
Serving up T'Challa vibes, Chadwick played a game of Black Jeopardy that took us OUT. In fact, we're still laughing at the skit. Peep it below:
Chadwick had to come out of character to teach a few white dudes how to do the Wakanda Forever salute:
And then R. Kelly (played by Chadwick) oddly pops up during a Disney Princess skit:
Ha!
In another skit...
The "Bartier Cardi" rapper has everyone tapping into their inner "Cardi B." During her debut appearance on the show (where she was tapped to perform), Cardi appeared in a skit with "SNL" star Aidy Bryant (which we told you previously "SNL" writers were creating).Apparently Cardi's Bronx persona has inspired Aidy to stop censoring herself with a filter and to let everyone around her know exactly what's on her mind.
Introducing "Aidy B":
In case you missed, check out Cardi B's pregnancy announcement HERE.
This week's "SNL" episode saw a rise in ratings. According to Deadline, this week's episode came in with a 4.5 Live+same day rating in the metered market households and a 1.9 adults 18-49 rating in the markets with local people meters.
In other Black Panther news...
The superhero film is STILL making box office history.
Nearly two months after it hit the box office, Black Panther is now the third highest-grossing film in the U.S.behind Avatar ($760 million) & Star Wars: The Force Awakens ($936 million).
The Ryan Coogler-directed film hit $659.2 million sinking the Titanic which grossed $659.4 million back in 1997. Nice!
By the way...
We told you previously that Chadwick is taken.  Now, Granny is spelling some tea!  27-year-old singer Taylor Simone Ledward's grandmother has confirmed she's dating the 40-year-old actor.
"They respect each other," Taylor's grandmother told INSTYLE. "She's very happy, and he is, too." Aww! We wish them the best.
Photos: NBC/SNL