We're usually bored to tears by the "drama" in Potomac, but we're always here for shade about a new Housewife, tea on somebody not paying taxes, and rumors of engagements, divorce and open relationships. Sue us.
Get into the previews for the new season of "Real Housewives of Potomac" and the epic drama on "Braxton Family Values" inside...
Wooooo there is A LOT going on in this new supertrailer for the upcoming season of "Real Housewives of Potomac."
Gizelle Bryant, Karen Huger, Ashley Darby, Robyn Dixon and Monique Samuels (Charrisse Jackson-Jordan returns as a friend) are all back for more shade with class."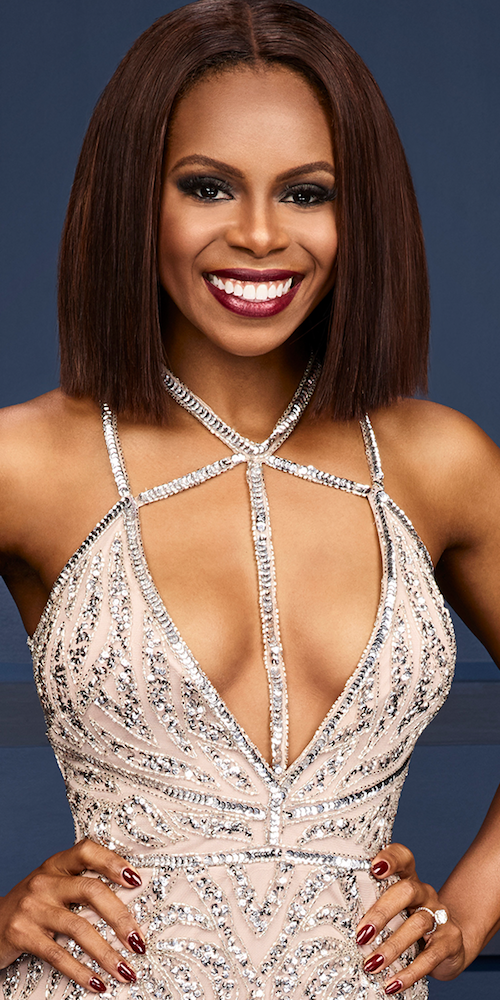 They're also throwing plenty of it toward new housewife Candiace Dillard (above), an engaged, 31-year-old former Miss United States was born in Biloxi and grew up in Atlanta. She calls herself an entrepreneur as the founder and CEO of Candiace Dillard Pageant Consulting, co-founder of Prima Hair Collection by Candiace Dillard, and co-owner of Chateau Salon Suites.
This season, it sounds like Karen has a blue-eyed boy toy on the side, after she reveals her husband wants a divorce.  She also claims she's not a debt despite all the broke AF rumors and tax debt surrounding their marriage. Ashley's gotta choose between her man and her mama, while Robyn seems to be back to kissing on her live-in ex-husband.
Here's the full drama:
This season the ladies are dealing with the high and lows of friendships, and marriages are being challenged. Karen and Ray are the talk of Potomac after the Washington Post breaks the story on Ray's tax debt. Karen is trying to keep her head high and support her man, but when the women see her living beyond her means, accusations of creating smoke and mirrors are thrown out, and the grande dame comes undone. Meanwhile, Ashley and Michael are working to get back on track, but Ashley's need to be financially responsible for her mother drives Michael to give her an ultimatum she can't bear. After many disappointments, Gizelle has found a man who can handle her big personality and is living on cloud nine with Sherman, but will balancing motherhood, a new relationship, and her cosmetic line prove to be too much? Potomac gains a new resident, as Monique and Chris officially move into their home. They want to expand their family but Monique is so overwhelmed with all her endeavors, she questions being able to add more to her plate. Robyn and Juan are starting to piece their life back together. Their finances are finally back on track, and they moved into a bigger home, but not everyone is sending positive energy their way. Ashley continues to judge the way Robyn and Juan choose to live their life, causing a rift between the ladies. And new housewife Candiace Dillard is a former Miss United States who knows Ashley from the pageant circuit. She's newly engaged and is planning her dream wedding, but when she meets the other women, entering this inner circle proves to be no easy feat.
"The Real Housewives of Potomac" premieres Sunday, April 1 at 10pm ET/PT. Beginning Sunday, May 6, the series moves to its permanent timeslot at 8pm ET/PT.  Are y'all over it?  Or are you tuning in with snacks?
Speaking of previews:
The Braxtons are back, and we guess we're about to get the full cup of tea about Tamar's divorce debacle and Toni's engagement to Birdman.
The new season premieres Thursday, March 22nd at 9/8C!
Photos: Bravo