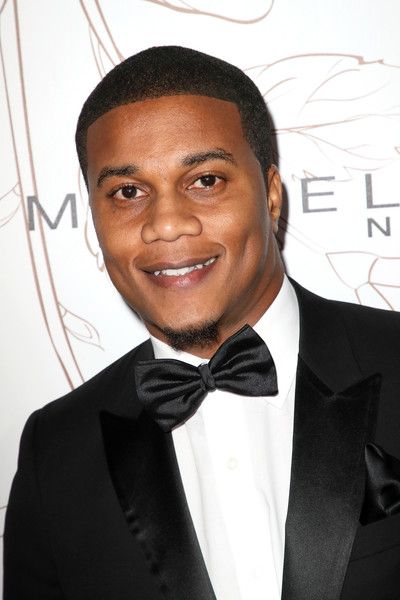 Cory Hardrict plays a dirty cop in the new series "The Oath." He dishes to TheYBF.com about his new role and how it ties into the teachers with guns debate. Also, the soon-to-be new dad again let's his softer side show, serving up all #DadGoals feels. Get it all inside…
Cory Hardrict is gearing up for the release of Crackle's new crime thriller, "The Oath," executive produced by 50 Cent. And it's going to be a good one.
The 10-episode series explores a world of gangs, but this isn't your usual gang movie. These gangs are made up of those sworn to protect and defend and sheds light on corrupt and secret societies that are nearly impossible to join—only a select few make the cut—but once inside, members will do what they must to protect each other from enemies on the outside and from within their own ranks.
Cory will play a dirty cop named Officer Cole Hammond. His character is a "cop whose cool and composed demeanor conceals an underlying sense of paranoia. Raised by white foster parents, Hammond is fueled by an intense dedication to protect the only family he has ever had — putting him at odds with the other members of the Ravens gang."
"The Oath" will give viewers a behind-the-scenes look at the corruption that runs rampant in police departments. And a lot of it is based on actual facts. Former Los Angeles County Sheriff's Deputy Joe Halpin, who was involved in a police gang while on the force, created the series and was very hands on during production.
Now that he's on a show exposing cops, gangs and social injustices, and he has a son he's sending to school everyday, we had to ask him how he felt about the current climate of school safety with reports of school shootings and whether or not he believes teachers should be armed in schools.
"I'm more conscious with him, going to school and coming home," Cory tells TheYBF.com about sending his 6-year-old son Cree Hardrict to school everyday. "He's in private school but it can happen anywhere. It's tough in today's world. All I can do is keep faith and pray."
As for how he feels about teachers having guns in school, he's absolutely against it. He says politicians need to be more concerned about putting human lives first before anything else. We def agree with him there.
Not only does he have to worry about his son, he'll also be daddy to a baby girl soon as his wife Tia Mowry Hardrict is pregnant with their second child. It's been a tough road for them for baby #2, as Tia has had fertility issues. But, Cory has always remained positive that things will work out as they should.
"I just keep it in prayer," he said about Tia's fertility complications. "I pray about everything and just know what's meant to be will be and will work out. I wasn't worried because I knew one day it would happen if it were supposed to. It affected me, but it kind of didn't because I knew it would all work out. "
The Hardricts are still juggling names for the new baby. However, the American Sniper actor made it clear he wants his daughter to "have a name with strength and power." She's due May 5th!
He revealed having a daughter has him letting his guard down more and showing his softer side. His eyes even water up when he thinks about having a baby girl. Aww! #DadGoals
As for how the Brotherly Love star juggles being a husband, a father and his career, he seems to have it all figured out.
"A lot of traveling back and forth and a lot of Facetiming," he told us.
He said his family will come out wherever he is shooting scenes and he travels back home a lot. Cree even comes on set with him sometimes. Cute.
Check out the gritty trailer for "The Oath" below:
You can download the Crackle app to stream "The Oath," which premieres all 10 episodes on Thursday, March 8th.
Photos: Getty