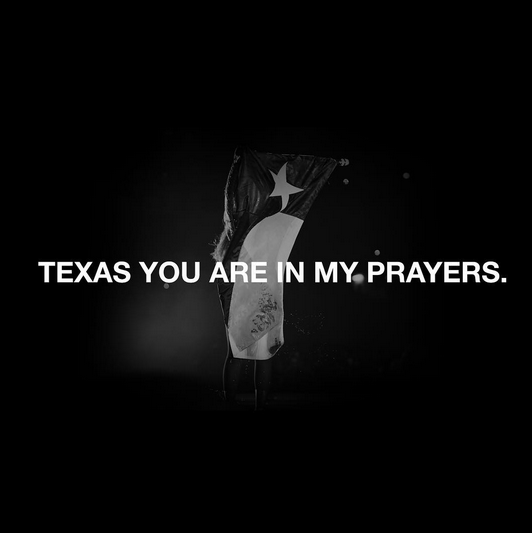 Kevin Hart is calling out his celebrity friends to donate thousands of dollars to help those affected by Hurricane Harvey. Singer Carl Thomas and his dogs got caught up in the storm and had to be rescued. Meanwhile, Beyonce sends her prayers to the people in her hometown. Get it all inside…
Prayers up for Houston!
Over the weekend, tropical storm Harvey (Category 4 hurricane) touched down in Houston and has wreaked havoc all over the city. It's the hardest hitting hurricane that has hit the U.S. in a decade. Floodwaters have inundated roads vehicles, and even bridges and buildings, causing thousands of people to be rescued, many waiting for help from their rooftops.
And the rain still hasn't stopped.
According to the National Weather Service, more than 30 inches of rain has fallen on parts of the Houston area since the storm kicked off late Thursday. At least five people have reportedly died and more than a dozen people are injured due to the storm.
Now, Houston locals need help!
Funnyman Kevin Hart is putting his money where his mouth is and he's donating $25,000 to help the hurricane victims. Not only that, he's challenging some of his celebrity friends -- including Beyonce, Jay Z, and Chris Rock -- to do the same.
Peep his #HurricaneHarveyReliefChallenge:
Singer Carl Thomas had to be rescued from the flooding streets, and his dogs were rescued too.
Houston native Beyonce sent love and light to those affect by the storm:
Houston is like a second home for Drake, so he's sending up prayers for the people in the city:
Houston native Paul Wall is springing into action and organizing events to help the people in his city:
We are planning some hurricane relief events. If u want to help please contact @papforlife protectchild1@yahoo.com Every little bit counts. Even if all you can give is a prayer, that still helps a lot. We have a few drop off locations already set. If u want to donate you can go to: @johnnydangandco 6234 Richmond ave @paradiseglassgallery 45/north main @texanwirewheels Northside Acres Homes @g6_tattoos @stateoftheartsupply 4000 Telephone Rd Houston TX 77087 @htxtactical 13831 Northwest Fwy Suite 125, Houston, TX 77040 @tshirtspot6500 TShirt Spot 6500 MLK @e_donedeal iFix Gadgets: 88 e crosstimbers 77022 @8thwonderbrew 2202 Dallas St @mixfitzstudio 250 Patton street @trahanswings 12303 Westheimer Road, Houston, TX 77077 North Main Church of God And Christ 7206 N Main Houston 77022 @nineinnovations @houstonchiros
And "Love & Hip Hop" star Tara Wallace sent her prayers, although she caught mad flack in the comments for the picture choice:
LeToya Luckett is reposting ways for her fellow Houston folks to get help:
And Tracee Ellis Ross is sharing the spirit of the folks who have lost everything, and still smile:
Stay strong, Houston!
Photo: Beyonce's IG