J.R. Smith is tired of his peers speaking against his other peers so he's speaking up and defending Colin Kaepernick. Meanwhile, LeBron James is coming to Isaiah Thomas' defense. Receipts inside…
Cleveland Cavaliers baller J.R. Smith is sick and tired of athletes speaking negatively about their peers in the media. And he's not afraid to call them out on it.
First, he aired out his frustrations in a video on UNINTERRUPTED where he discussed people criticizing Colin Kaepernick for kneeling during the national anthem.
"We supposed to be all in the same boat," he said."Everybody come from their own struggles and their own situation. Everybody trying to prosper and do better in life. We don't need to drag one another down. That's corny to me."
"We don't need to drag each other down." — @TheRealJRSmith with on athletes who are speaking out against @Kaepernick7, others. pic.twitter.com/B1c9VqRzne

— UNINTERRUPTED (@uninterrupted) August 25, 2017
Following the video, the NBA baller hopped on Twitter to continue sharing how he feels about athletes speaking down on other athletes. He didn't name any names, but it's obvious he's referring to athletes speaking out about Colin. He also made it known that he's standing with Kap.
Peep the tweets (read from the bottom up):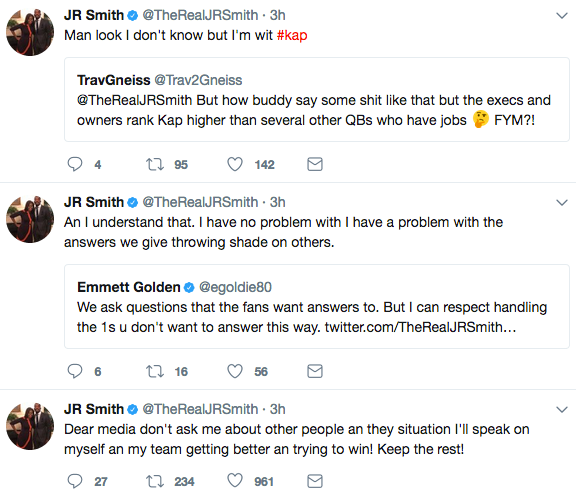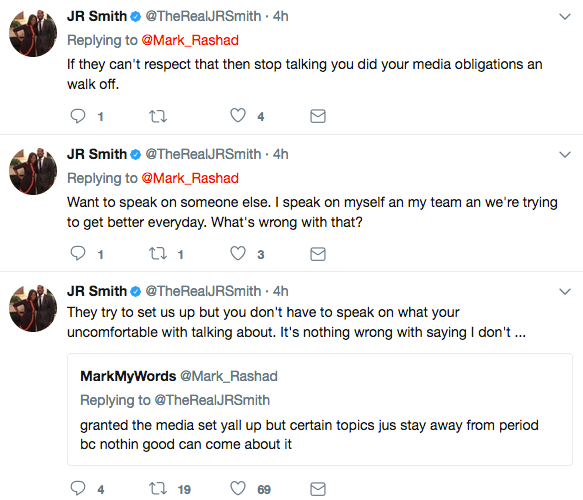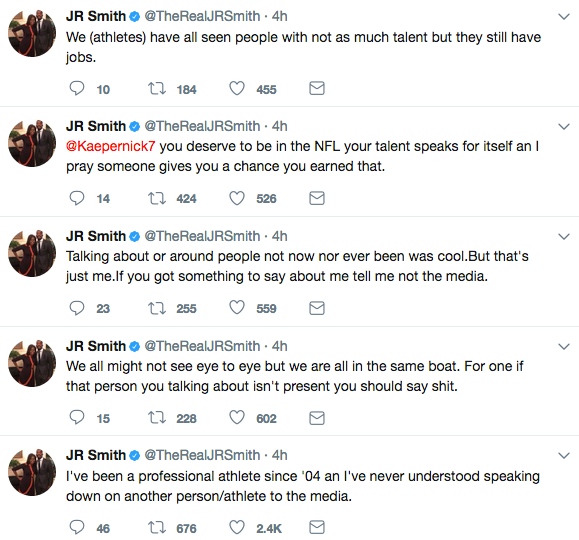 We so agree with all of this. 
Another athlete speaking out...
LeBron James knows how it feels to have his jersey burned, so we're not surprised he feels empathy for another NBA star who's currently going through the same thing.
The four-time NBA MVP took to Twitter to defend his new teammate Isaiah Thomas. In a big blockbuster deal, Isaiah was traded to the Cavaliers and Kyrie Irving was traded to the Boston Celtics. Celtics fans have been burning Isaiah's jerseys in response to the trade. Well, King James has something to say about it.
Peep the tweets he posted (and deleted) below: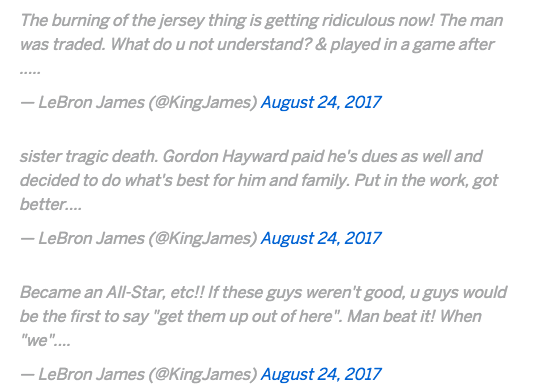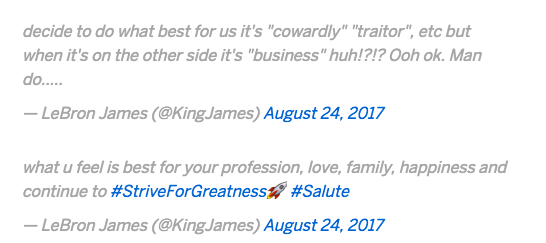 Nice to see our YBF athletes standing up for one another!
"Undisputed" co-host Shannon Sharpe responded to those who say Colin Kaepernick isn't good enough for a job in the NFL and wonders why when black people do anything it's questioned."Why is it when a black athlete does something, it's a personal agenda and not for the betterment of their community?," he asked. Peep the full clip above.
BONUS:
Colin Kaepernick took to Twitter to thank everyone for the outpouring of love and support during the #UnitedWeStand rally outside of the NFL offices this week:
Thank you to everyone who went out to support yesterday. My faith always has been and always will be in the power of the people! pic.twitter.com/T7IWCOCm4K

— Colin Kaepernick (@Kaepernick7) August 24, 2017
Thank you to @msladyjustice1@lsarsour@tamikadmallory@womensmarch and @nyakappas for the support! pic.twitter.com/gLYjnz996B

— Colin Kaepernick (@Kaepernick7) August 24, 2017
It's amazing to see the strength, courage, and understanding our youth have! I am energized by their character and hopeful for the future! pic.twitter.com/wmxs9Ut5Ni

— Colin Kaepernick (@Kaepernick7) August 25, 2017
Photos: Getty