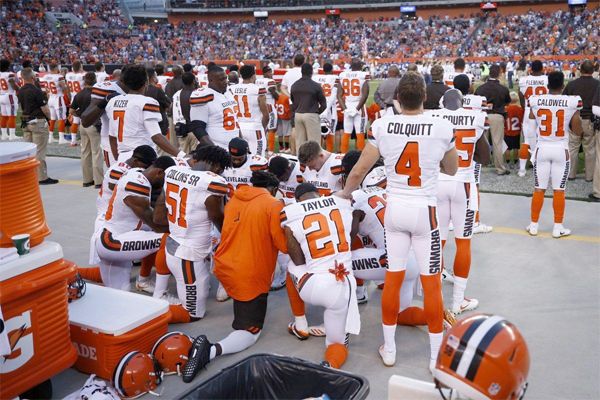 A white NFL player has finally joined the black players who are carrying out Colin Kaepernick's national anthem protest. Meanwhile, George Foreman is out here being the biggest coon ever. Find out what we mean inside…
A year later and finally someone who is not black is making a stand.
Cleveland Browns second-year tight end Seth DeValve decided to take a knee during the national anthem during a pre-season game making him the first white NFL player to do so.
The Princeton alum joined a group of black Brown players who were kneeling before the Browns hit the field against the New York Giants for a preseason game a few days ago.
The 24-year-old NFLer explained why he decided to join in on the peaceful protest, revealing:
"The United States is the greatest country in the world," Seth said after the Browns defeated the Giants. "It is because it provides opportunities to its citizens that no other country does. The issue is that it doesn't provide equal opportunity to everybody. And I wanted to support my African-American teammates today who wanted to take a knee. We wanted to draw attention to the fact that there's things in the country that still need to change.
Seth revealed the protest is something he holds near his heart because he's raising children that don't look like him. He's married to a black woman and they have biracial kids together.
"I myself will be raising children that don't look like me," Seth explained. "I want to do my part as well to do everything I can to raise them in a better environment than we have right now."
If only all the white celebs and public figures, especially those who are also raising kids who don't look like them, could do the same. 
The guys were huddled together and said a prayer for the country as the national anthem was performed.
"We took the opportunity to pray for our country and for the men and women in this country during that time," said Seth.
It's nice to see someone who isn't black stand up for the social and racial injustices. Whether one likes it or not, it's necessary.  Hopefully, his actions will open the eyes of others to understand what the protest is really about since they can't seem to grasp the concept when Colin speaks up.
In cooning news...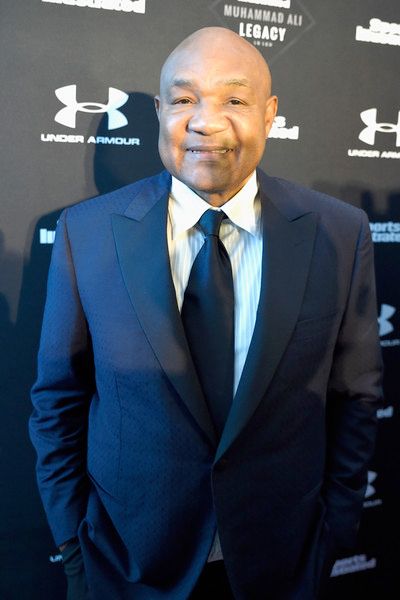 Former boxing champion George Foreman has us throwing our whole Foreman grill away.
The entreprenuer sat down for the "Offended America" podcast to address how he feels about former 49ers quarterback Colin Kaepernick's silent protest and Golden State Warriors baller Kevin Durant skipping out on the White House visit.
He said Colin not standing for the national anthem was disrespectful to the men and women who died in war.
"The young man who didn't want to stand (for) the national anthem, a lot of (Americans) died in war so that they could have that privilege," George said.
Sir, we fight wars -- in part -- to protect freedoms.  Those freedoms include freedom of speech and freedom to protest, both of which Colin is flexing.  So who isn't respecting those who died in war?
George is questioning the "young" athletes' patriotism.
"They haven't been brought up with people who were patriotic to even point them in the right direction….Don't take offense to the young people. ... One thing about young is you just say anything and do anything, then you get old and say, 'I wish I hadn't said that.' "
And how exactly would he know who raised these men who are using their platforms for a greater good?
He called Kevin Durant a "sore loser" for refusing to go to the White House after the Warriors won the NBA championship.  Funny that he doesn't recognize how his fave Trump is being a sore winner.
Later, he went on to call Donald Trump a "good president," while noting that Trump helped him out financially in the past.  Go figure.
"A lot of people don't like him, but evidently more do because he was elected president of the United States," George said.
*rolls eyes*
Take a listen below:
Photos: Getty