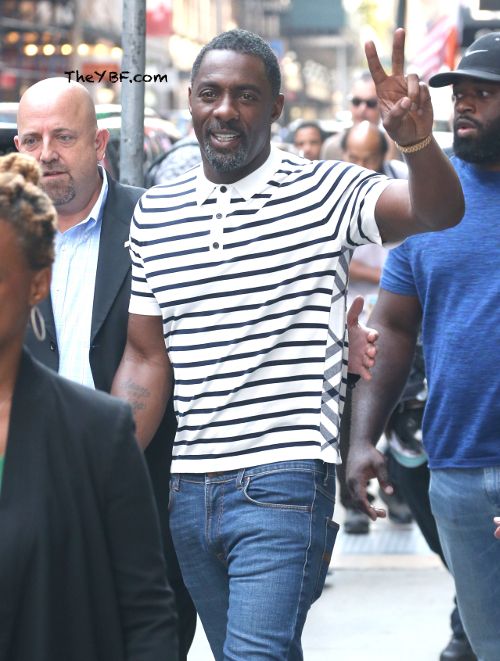 So, if Idris Elba had to choose, he's picking Cardi B over Rihanna. Find out why, plus peep Zazie Beetz's first shots as her Deadpool 2 character inside…
Say what you want, but Cardi B's glow up just keeps getting better. Even hottie Idris Elba is a fan.
The British actor is currently making rounds to promote his upcoming film The Dark Tower when he made a stop to chop it up with Cassius with his Dark Tower co-star Matthew McConaughey.
If you keep up with Idris, then you know he likes to hit the turntables. He was asked if he had to choose between DJ Khaled and Rihanna's "Wild Thoughts" or Cardi B's "Bodak Yellow" to play in the club, which would he choose? Before responding, Idris asked a few questions to set the atmosphere and he ended up choosing Cardi B's track.
The former "Love & Hip Hop" star caught wind of the interview and reposted to her social media handles, thanking him for the love.
Check it:
I'm so proud of my self :')Idris Elba thank you !!! pic.twitter.com/EP5hziyWXp

— iamcardib (@iamcardib) August 1, 2017
"Making bloody moves..."
The handsome father stopped by "Good Morning America" this morning where he dished on whether marriage is in his future: 
On late night...
The Gucci'd down Don hit up " The Tonight Show Starring Jimmy Fallon" where he got the ladies moist with his "Quiet Storm" radio disc jockey voice. Check it:
Y'all know Idris loves to play the late show games and this Google Translate game is hilarious:
Hilar.
The Dark Tower hits theaters this Friday, August 4th.
In TV news...
YBF Fly Chick Zazie Beetz is ready to make a splash in the Marvel Universe.
The "Atlanta" actress will star in the upcoming Netflix series "Deadpool 2" and the first pictures of her as her character Domino have just bee released. Her co-star Ryan Reynolds did the honors of unveiling Zazie in all her #BlackGirlMagic goodness. And she looks HOT.
Here's a little about her character (via Shadow & Act):
"Domino (a.k.a Neena Thurman) is best known as a member of the X-Men offshoot X-Force. In addition to her exceptional marksmanship and hand-to-hand skills, Domino possesses mutant probability-altering powers. She often uses her skills as a mercenary, but has also been the partner, confidante, and lover of the superhero Cable, a lieutenant in his militant group X-Force, and a member of the X-Men."
She's a bad a** with a gun and powers? Yep, we're here for it.
"Deadpool 2" will return with a new season in 2018 on Netflix.
Photos: Backgrid/Ryan's IG/Shadow & Act