History maker Olympian Gabby Douglas has been making non-stop media rounds solo and with her Fierce Five gold medalist teammates.
We've got the YBF chick's recent stops--including co-hosting "America's Got Talent--inside...
During last night's Live Elimination round for "America's Got Talent," host Nick Cannon surprised the audience with his co-host for a few segments--Ms. Gabby Douglas.
Apparently the cutie says she would love to be on tv one day (in a more formal capacity than doing promo).  So Nick gave her a chance to floss her skills.  Check out Gabby learning some hosting skills from Nick (10:00-17:00) below:
The whole team stopped by "The Colbert Report" too.  Check out their "intern" capabilities below:
LOL at McKayla Maroney.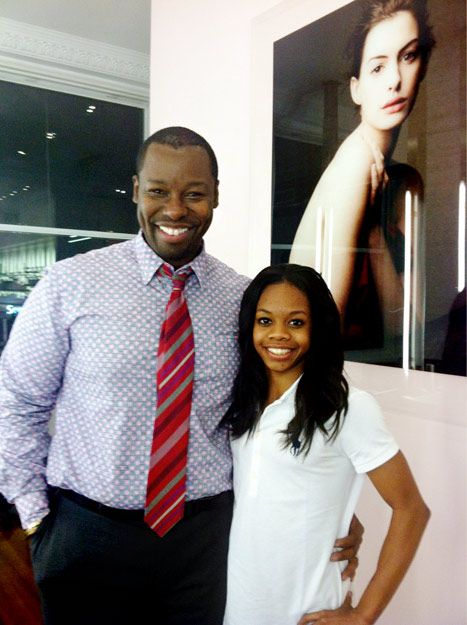 Last night, Gabby made a late night stop by Ted Gibson's hair salon in Beverly Hills to get a celebrity glam hook-up any 16-year-old girl would love. The "What Not To Wear" hairstylist and celebrity hair master invited hardworking Gabby to his studio for some much deserved pampering (and hopefully not because of that "hair" controversy--a foolish topic we have purposely not addressed).
Gabby tweeted about how great she felt afterwards:
Ted Gibson Is AWESOME!!! LOVE HIM SOO MUCH!!! A special thank you to my Gold Medal Celebrity Hair Stylist!"
Ted responded:
Gibson shared Douglas' electrifying energy by responding, "It's 3am, just left Ted Gibson NYC. Love you [Gabrielle Douglas]. What an amazing young lady you are. #award winner #gibsongirlsruletheworld."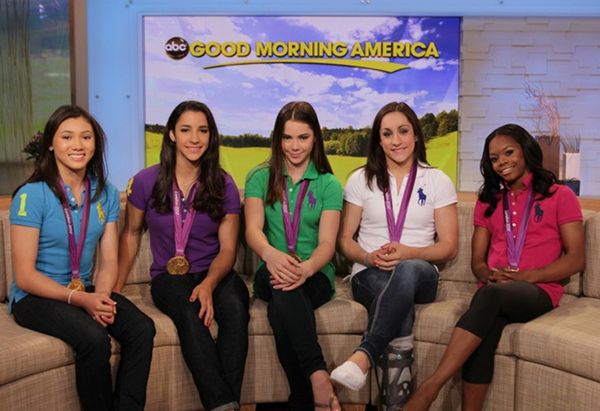 And yesterday morning before jetting to L.A., Gabby and he Fierce 5 hit up "Good Morning America" in New York.  Loves it.  And we have a feeling Gabby's going to be landing a few actual tv roles soon....