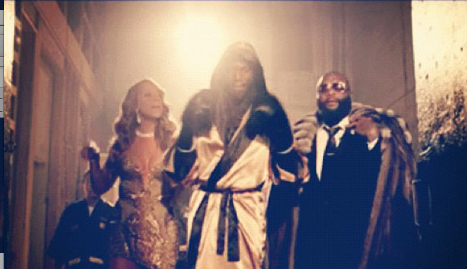 Pop singer Mariah Carey has released flicks taken on the set of her "Triumphant" video.  See the pics inside and listen to Flying Lotus and Erykah Badu team up on "See Thru To U."
Though radio reception and buzz over the new Meek Mill, Rick Ross collab with Mariah Carey "Triumphant" has been slow, the record company is still pushing the song.  Mrs. Carey Cannon recently revealed photos from the set of the video which shows Meek Mill dressed as a boxer and headed towards the ring.
Meek tweeted, "I did joints wit Mariah Carey my ni**a!!! Video coming soon it's crazy!!!!"   "Triumphant" was produced by Jermaine Dupri and Bryan-Michael Cox and kicks off Mariah's untitled upcoming album.
Also, Mariah will be named a BMI Icon at the Urban Music Awards on September 7 at the Saban Theatre in Beverly Hills.  Congrats Mimi!
In other music news......
Erykah Badu's last collaboration didn't go over so well as she and he sister both ended up exposing more to the Flaming Lips than they wanted. 
But now Erykah has teamed up with producer Flying Lotus and the result, "See Thru To U" is a quick musical journey. The single appears on Flying Lotus album Until the Quiet Comes, due October 2, and he describes the track as "a collage of mystical states, dreams, sleep, and lullabies."
You feelin' it?