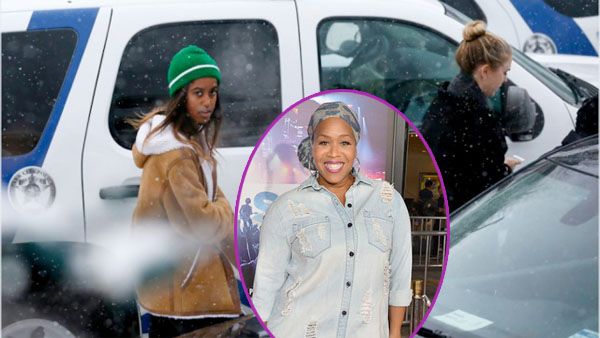 Tina Campbell is speaking out to explain why she's standing with Donald Trump amid all of the controversy he's causing. Find out her reasons why she's backing the new president, plus deets on Malia Obama taking a stand inside…
President Donald Trump is wreaking havoc with all his executive orders, but one YBF star has decided to put that all aside and stand behind him.
Mary Mary's Tina Campbell penned a lengthy open letter to explain why she has decided to forgive Trump and stand behind him as president of the United States. In the open letter posted to her Facebook page, she said instead of complaining about our new president, we should pray for him
"I understand that Mr. Donald Trump is our new president, not our God, so as a citizen I choose to have a sensible expectation of him, accompanied by much prayer for him, and a complete dependency on God to work through him, as well as the others that are in office, to secure the welfare of this nation. I choose to opt out of fear of the unknown but rather opt in to hopeful expectation because if God is for us nothing can successfully stand against us."
The gospel singer makes biblical references to back her reasons why we all should pray for Trump and trust that God will not fail us. She continued:
"I choose to believe in President Donald Trump. I choose to stand with him, and pray for him; because, as a follower of Jesus Christ and a firm believer in the Holy Bible, according to 1 Timothy 2:1-3, I have been commanded to: 'The first thing I want you to do is pray every way you know how..... especially for rulers and their governments, to rule well.... This is the way our Savior God wants us to live.' My prayer is that every person in this nation who has the unalienable right to choose their thoughts, their perspective, and their words, would make this same choice."
Read her full open letter below:
She's probably more forgiving than most folks, especially since she forgave her cheating husband.
One YBFer who isn't here for Trump...
Former First Daughter Malia Obama ditched her family vacation in Palm Springs to exercise her First Amendment right.
The 18-year-old, who nabbed an internship with Harvey Weinstein, was spotted at the Standing Rock Sioux Tribe solidarity event held during the 2017 Sundance Film Festival to protest the construction of the Dakota Access Pipeline.
If you've been keeping up with everything Trump is doing then you know he signed an executive order to resume construction of the Dakota Access Pipeline.
Actress/anti-DAP activist Shailene Woodley gushed about Malia's involvement to DemocracyNow.org. She said:
"It was amazing to see Malia. To witness a human being and a woman coming into her own outside of her family and outside of the attachments that this country has on her, but someone who's willing to participate in democracy because she chooses to, because she recognizes, regardless of her last name, that if she doesn't participate in democracy, there will be no world for her future children."
The proposed pipeline could possibly contaminate the drinking water and damage Native American cultural sites as it would cross a river near Native American land. Former president Barack Obama put a halt on the project until an alternate route could be found, but Trump has allowed the construction to continue.
Looks like the Obamas are still engulfed in politics even while they're supposed to be on vacation.
Photos: Getty/AP