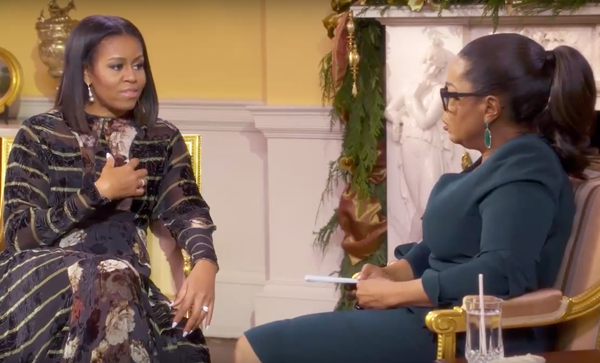 The first sneak peek of Oprah's final sitdown with Michelle Obama as First Lady has been released. And she's talking about the nation losing hope and how she felt about being labeled an angry black woman. Peep the clips inside…
Oprah landed the final one-on-one interview with First Lady Michelle Obama inside the White House. And the first sneak peek has just been released.
For her final White House interview, FLOTUS will dish to Lady O what it has been like being the First Lady for the last eight years, the legacy she'll leave, and what she has planned for the future.
In the new clip, our fabulous First Lady nails exactly how many Americans are feeling after Donald Trump nabbed the presidency -- a loss of hope.
"We feel the difference now," she told the media mogul. "See, now, we are feeling what not having hope feels like. Hope is necessary. It's a necessary concept and Barack didn't just talk about hope because he thought it was just a nice slogan to get votes."

She questioned,"He and I and so many believe that -- what else do you have if you don't have hope? What do you give your kids if you can't give them hope?"
FLTOUS reflected on her husband's time in the White House, saying President Barack Obama gave many Americans hope when tough times came about.
"I feel Barack has been that for the nation in ways that people will come to appreciate. Having a grown-up in the White House who can say to you in times of crisis and turmoil, 'Hey, it's going to be okay. Let's remember the good things that we have,'" she said.
So true. It's scary to think what the nation will be like when troubles arise during the Trump presidency.
Peep the clip below:
In another clip, FLOTUS opened up about how she felt when she was labeled as an angry black women by some media:
"That was one of those things where you sort of think 'Dang, you don't even know me.' You just feel like, 'Wow, where did that come from?' That's the first blow back because that's SO not me. Then you think, this isn't about me. This is about the person or the people who write it. Then you start thinking, we're so afraid of each other."
All FACTS!
Check it:
In another clip, Lady O persuades FLOTUS to go "glamping" with her once she leaves the White House. Remember that road trip Oprah & Gayle took? 
Mrs. Obama seemed a bit hesitant at first, but then said she's down...IF Oprah cooks.  Check it below: 
"First Lady Michelle Obama Says Farewell to the White House — An Oprah Winfrey Special," (produced by OWN Studios) will air Dec. 19th at 8/7c on CBS. A second airing will premiere on OWN on Dec. 21st at 9/8c.
We will be GLUED to the tv!