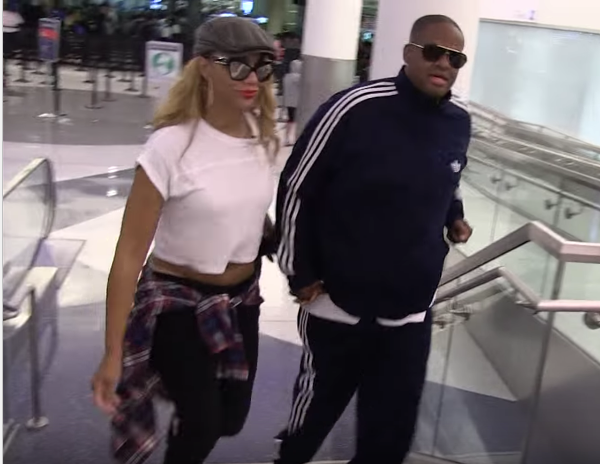 Mr. & Mrs. Braxton Herbert have been in then news all week due to allegations of domestic violence.  While they're remaining mum about it all and attempting to present a united front, this 9-1-1 call has us like 'Hmmmm.'  Deets inside....
A few months ago rumors surfaced of Tamar Braxton and husband Vincent Herbert allegedly having some serious issues.  Folks were saying they were headed for divorce due to the heavy friction in their marriage.  One would think they're (mostly) happy as pie based on their "Tamar & Vince" reality show.  So when they squashed the rumors, it didn't seem crazy to think it was just baseless split rumors popping up again.
Fast forward to earlier this week when Tamar & Vince were in Atlanta for the Bronner Bros. hair show.  A new report of witnesses at the Ritz Carlton who allegedly saw Tamar with a bleeding hand after a supposed fight with Vince has us questioning everything.
Bossip reports Vince bit Tamar's thumb so badly that blood was drawn and police were called.  Vince reportedly fled the scene before they arrived.
So, we're BITING folks' thumbs now?!  What in the cannabalistic hell....
The next morning, TMZ photogs caught up with the couple at the Atlanta airport....and they were holding hands as if nothing happened.  When asked about the reports, they said nothing.  And Vince just gave a thumbs up.
Now, the 9-1-1 call has surfaced.  It was Tamar's male friend who called the cops and the tape corroborates the original story.
The unidentified friend said Tamar didn't need an ambulance, but police were needed at the scene.  Police told media they did go out to the hotel property as requested, but no charges or reports were filed.
As for what is causing friction in the marriage, we're hearing several different stories.  Tamar reportedly fired Vince as her manager after she was dropped from "The Real" and her record label, but this has not yet been confirmed.  We've also been told this type of friction isn't new for them, allegedly.  And the more success Tamar achieved, the worse things got.  Finally, we've heard this could all be stunt-tastic moves to keep Tamar's name in the press as she prepares for her newly announced solo talk show.
Time will tell....
Photo: TMZ