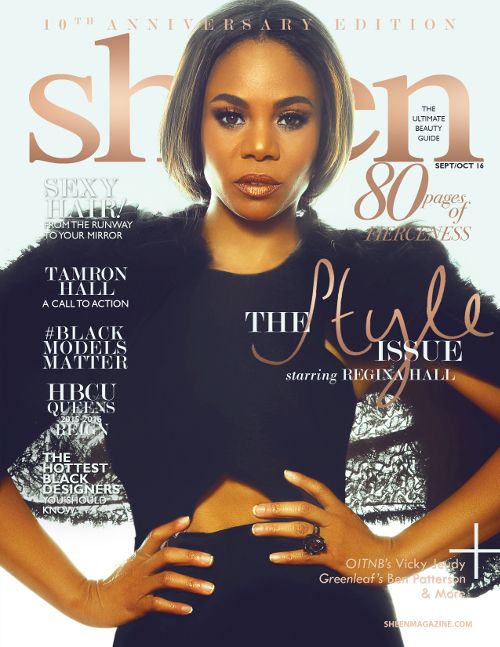 Regina Hall graces the cover of SHEEN magazine's newest issue and she's heating up the magazine circuit. Go inside to peep her new cover and what she said about starring in a dramatic role verses a comedy role inside…
Hollywood actress Regina Hall is heating up the magazine circuit with her hot new cover. The When the Bough Breaks leading star graces the cover of SHEEN magazine's Style Sept/Oct 2016 Issue.
We've come to love Regina for her comedic chops, but she's tackling a different genre with her new role in When the Bough Breaks where she reunites with Morris Chestnut.
In the cover story, Regina talks about the difference between starring in a drama than in a comedy, what it was like reuniting with Morris in a new film, and what she hopes viewers will take away from the new film.
Below are the highlights:
Were there any elements of this film that made you pause?

Well it was all good for me. A lot of people have this misconception that I do stand-up or that I do comedy and I've really never done stand up or comedy. I've only studied acting and I've been able to build a comedic character. It's kind of like the same process as I would for anything else. I wanted people to believe in the couple and the situation. It is very exciting to be able to do something other than what people expect from you.

What was it like working in a leading role with Morris?

We've worked together in The Best Man I and II, but he wasn't my guy. But we had so many group and family ensemble scenes so it was kind of like we were already [a] family. I was really excited because Morris is great. Reading the character and knowing the script, I believed in Morris and I believed in that couple. It was fun to be able to work with him in a different capacity.

What was one of your favorite parts about the film?

We had some great rehearsals and discussions. My character is a chef so I got to go into kitchens and look, cook and learn what it was like to manage a kitchen for a very large restaurant. The food was so good. It's set in New Orleans, which has a lot of great food.

Is surrogacy something you personally feel strong about?

I don't know that I have a feeling about it either way. I believe it is a wonderful option for those who cannot have children. I found out so much with doing the research on the film and there was so much about the laws and realizing that life begins when the baby is attached to the uterine wall, which is why that baby legally belongs to the surrogate even though it's not her embryo. So there were just so many things to discover. Just from talking to some people who've had to go through the struggle and some of the commitments that they have to make and then also to the surrogate and what she emotionally goes through. It's a huge leap for all parties.

What are you hoping people take away from this film?

I want them to enjoy it. I hope people get into the film and I hope that they're surprised. There are some twists and turns that they are not anticipating. So I want them to walk away like they had a great ride and I want them to root for those people. I hope they want that couple to win especially because Morris is so upstanding. Just to see the emotional rollercoaster---it's going to be great.

 
When the Bough Breaks hits theaters September 9th.
Photos: SHEEN