Wendy Williams is mourning the death of her "wigologist" Antwon Jackson who died suddenly at the age of 44. More inside…
In unfortunate news, daytime talk show host Wendy Williams is mourning the death of someone very close to her. Her "wigologist" Antwon Jackson, 44, died suddenly at the age of 44.  The news surfaced on social media earlier this week, and it was confirmed by his longtime friend Crystal Wright.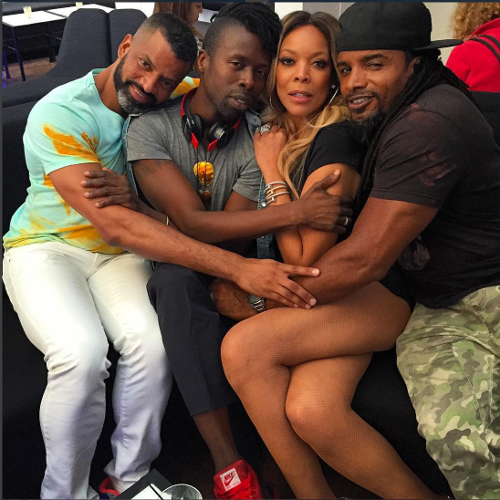 If you're a fan of the show, Wendy talked about Antwon (far right) often, giving him praise for the array of wigs he custom designed for her to wear on her talk show. And he often appeared on her "after show" segments via her YouTube account.
Wendy took to her social media accounts yesterday to pay tribute to her longtime friend and wig stylist, sorrowfully writing:
According to NJ.com, Antwon worked as hairstylist in Durham, North Carolina many years before becoming Wendy's personal wigologist. The North Carolina native won a Daytime Emmy in 2011 for outstanding achievement in hairstyling, and was nominated again in 2012.
There are very few details about what caused Antwon's sudden death. Crystal said he had recently returned from vacation with his fiancé Dontay Savoy in Mexico. There are reports that Antwon suffered from lupus, but it has not been confirmed that he died due to the disease.
"He was a joy to be around," Crystal told NJ.com. "He never had a negative word to say about anyone. He was always upbeat. He always had a smile on his face ... Antwon was the first person to jump up and say, 'I'm going to help you with that.' He was a Southern guy with New York aesthetics."
So sad.
Antwon leaves behind a 25-year-old son named DeAntwon Jackson.
We send our condolences to his family and friends during this tragic time.
Photos: Wendy's IG/@memsor's IG