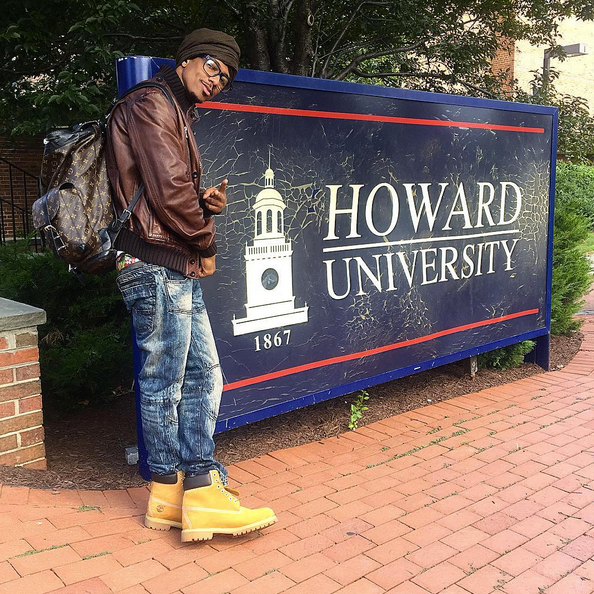 It's the never-ending battle of the REAL HU! A Hampton University student jokingly made a Go Fund Me page to raise funds for a new Howard University sign after Nick Cannon posted a pic with it. But ish went left in the comments section. Plus, find out what Nick Cannon is majoring in at Howard University inside…
It was all fun and games until folks got all in their feelings.
Over the weekend, Nick Cannon announced he would be enrolling in Howard University and posted a picture of himself in front of a weathered Howard University sign. Well, a Hampton University student jokingly decided to make a Go Fund Me page to help raise funds for a new HU sign. She pointed out that the sign in Nick's picture is drastically different than the sign posted on their website.
She said...with all the shade: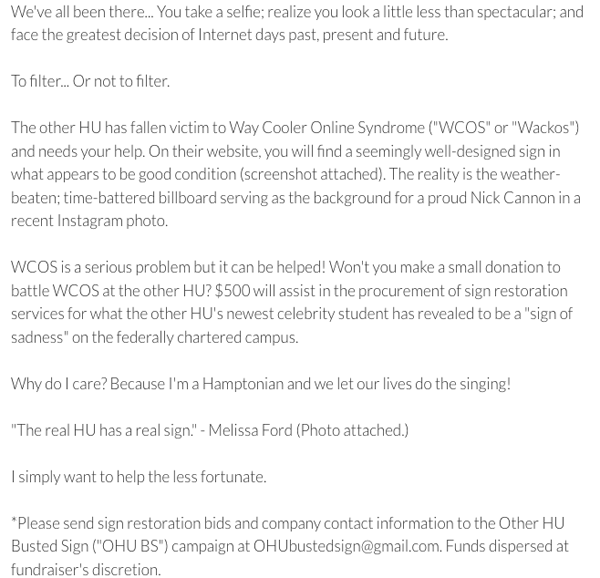 Once the Go Fund Me page started making its rounds, students and alumni from both schools hopped in the comments to rep their schools. But apparently, ish went left when folks started making personal attacks and threats to other commenters, forcing the campaign creator to disable the comments section.
She wrote: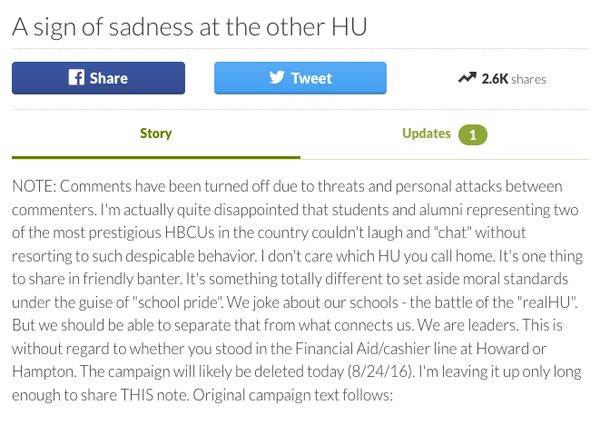 It was just a joke guys! Sheesh.
Speaking of Nick's college enrollment....
The "America's Got Talent" host is speaking out about why he chose to go to college now and what he's majoring in.
He told Entertainment Tonight attending college was something he always wanted to do, so he's doing it.
"It's something I've always wanted to do, and I truly feel like it's the next stage in my life," he said. "Entertainment is outstanding but I truly want to utilize my voice, I want to be a part of the community, and I'm always encouraging young people and being an advocate for education, so I need to make sure I get mine first."
The comedian never got the chance to attend college after graduating high school in 1998 from Monte Vista High School in Spring Valley, Cali. He got a job as a warm up comedian for Nickelodeon's studio audience and his career took off since then.
So what is Nick going to major in? "Strategic legal and management communications," he revealed.
"I felt like I was already into the communications field in doing [show business] for a couple decades," he said. "Why not get behind it? [I want to] understand the legal aspects of it, and the strategic management part so I can continue to build my empire."
Smart man. Good luck on your college journey Nick!
Photos: Nick's IG