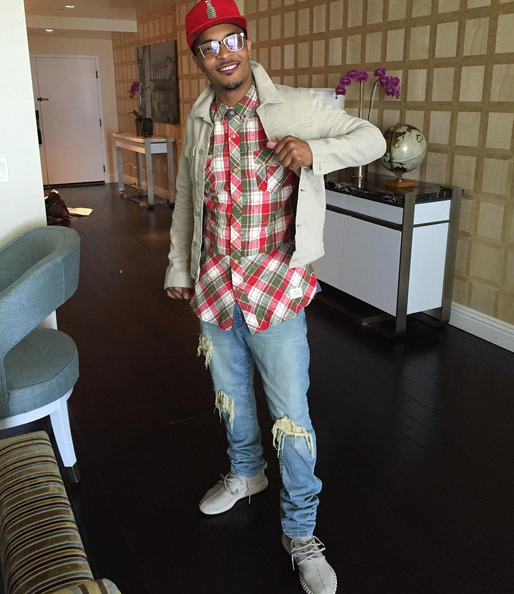 There's drama brewing on these Internet streets. T.I. has allegedly been hit with an eviction notice for his Scales 925 restaurant and R. Kelly's ex-wife Andrea Kelly rips radio personality Monie Love for talking about her children. Deets inside…
T.I. is caught up in restaurant drama!
Word on the curb is that Tip's Scales 925 restaurant was served eviction papers after the landlord claims he hasn't paid rent in months.
The landlord allegedly went on local Atlanta station WSBTV making claims that Tip and his business partner Charles Hughes are behind on rent payments and owes more than $1 million dollars. Yikes!
While he didn't address the eviction, the "Dope" rapper took to his Instagram to blast his (former?) business partner: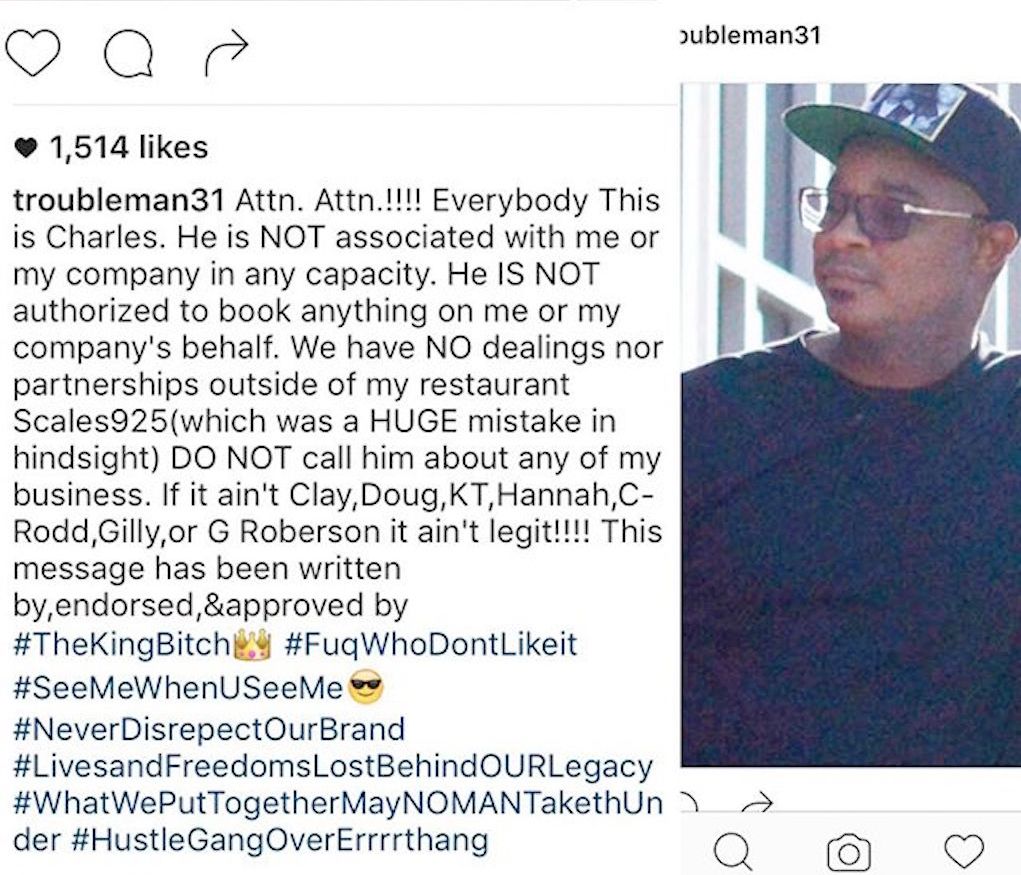 This news comes on the heels of a lawsuit fired off from some of his former employees at Scales 925.
According to the AJC:
The lawsuit was filed Tuesday in U.S. District Court in Atlanta by employees Chrysten Wright, Monique Simms, Kurel Scott, Ongeli McMillan, Whitley Middleton, Sammy Davis, Jenair Perry, Millan Rodrigo, Shomari Davis, Keandra Daniels, DeMarquis Denson, and Cashara Tate against T.I., known in court documents as Clifford Harris Jr., his business partner Charles Hughes, and the restaurant management group.

The plaintiffs have all quit due to factors they allege in their lawsuit, and say the restaurant has refused to give them their final paychecks and "threatened to call the police" when they requested payment owed them.

A restaurant manager said midday Wednesday that a response was being formulated and would be released later.

The suit cites the Fair Labor Standards Act in claiming employees were not paid properly for services rendered.

"Hughes used Scales LLC to create bank accounts for payroll. However, Hughes would deposit money from SCALES 925 into his personal account causing payroll checks to bounce," the suit claims. "Hughes has made fraudulent statements to restaurant employees concerning the hours the employees worked at SCALES 925.

For example, Hughes used a time and billing software call ALOHA for keeping track of employee hours. The software would delete hours or not keep track of hours exceeding 40 hours per week. Employees complained to Hughes but were told it was nothing he could do. Hughes also implemented the time and billing software in such a way that it caused employees to claim $35 in tips when the employees did not, in fact, make $35 in tips. Employees were also coerced to work off the clock for three hours before they were allowed to go home.
Scales 925 opened in May 2015 and now it appears it's closing up shop. Grand opening, grand closing.
Former "Hollywood Exes" star Andrea Kelly does NOT play when it comes to her kids. Apparently, radio personality Monie Love mentioned Andrea's kids while reporting on R. Kelly's new girlfriend saying one of Kelly's "harem of women" said she was in the home he shared with his ex-wife and children. The comment didn't sit well with Andrea, so she called her out.
In a Periscope clip, Andres rips Monie Love to shreads, clapping back:
"Y'all know Drea Kelly…I don't play when it come to my gotdamn eggs…now I got to rip somebody a new a$$hole…Being the mother that I am, taking my babies to school this morning, I turn on the radio and you know Ed Lover has a new show and Miss Monie Love is on the radio and so she does her Morning, Evening News…I feel like she did one of the most f*cked up things you can do as a journalist. At the end of the reporting, it said something about me and my children. Keep my gotdamn children out that stupid sh*t, ok? That's number one, I'm a mother.

At the end of the day, you are reading something on radio, which means the audience has no idea what you're reading. You could have been a responsible journalist and you didn't even have to say that part about me and my kids because, at the end of the day, you were talking about R Kelly, my ex. You weren't talking about me. So why the f*ck would you include my gotdamn kids in that? Those are still children. Those are still children at the end of the day. So whatever is going on, don't put my gotdamn kids in it.

Because guess what happens now, when my kids go to school, 'Oh I heard about your dad that said you guys were there. It was this, it was that.' Now you have opened my kids up to some bullshit that has nothing to do with them. You owe my damn children an apology. You owe me an apology."
That's just some of what she said. You can listen to the full 40-minute clip below:
LIVE on #Periscope: DreaKelly: I give ZERO F#*KS! https://t.co/2ptqj3Rm2O

— Andrea Drea Kelly (@DreaKelly) August 9, 2016
Monie Love responded saying she never said anything negative about Andrea's children and that she's overreacting:
"I didn't talk about Miss Drea's children. I have four children. I don't talk about children. There was no chatter about her children. There was no getting into her children at all. One, I don't have any personal investments in the news. You heard me say sources continue to say. I added my own opinion at the end saying, this sounds nuts. I hope this is completely off. That was my personal, motherly remorse coming out. Because basically at that point I felt like, 'Wow, if this is what's going on I'm so happy for Drea that she is no longer a part of that. The part that I do get is that she's a mom and despite the fact that her kids were not spoken about…what's interesting also, is that this was reported on several radio shows. It's interesting that my jugular is the jugular that's been come for…"
Can't say that we blame Andrea for speaking out, but at the same time, Monie didn't say anything particularly bad about her kids.
Photos: T.I.'s IG/Andrea's IG