Lamar Odom has returned to his old stomping grounds in Queens and he's living the bachelor life hitting up several strip clubs throughout the week. Oh, and he's been rocking dashikis all week as well. Has he been watching "The People vs. OJ" or nah?  More inside…
Well, Lamar Odom did make it to the east coast after an incident on a Delta flight earlier in the week.
The former NBA baller was escorted off of a flight TWICE after throwing up everywhere for reportedly being intoxicated. But now that he's back in Queens (where he grew up), he isn't wasting any time living it up.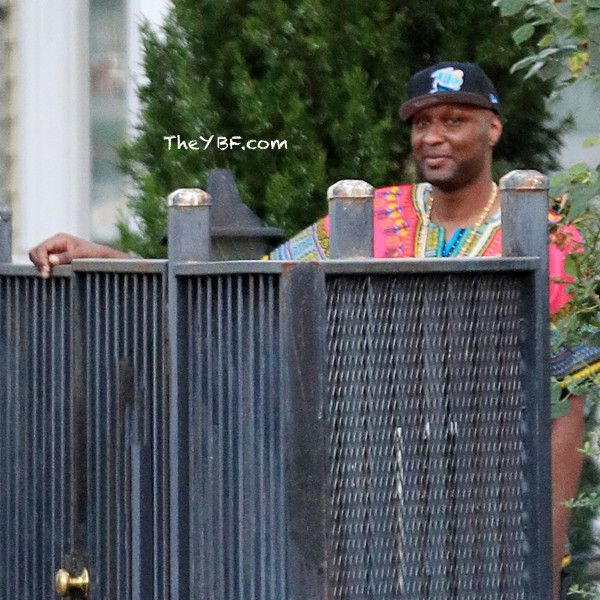 Since his soon-to-be ex-wife Khloe Kardashian kicked him out of the Calabasas, Calif. home she was renting for him to stay at, he headed back to his old neighborhood. Upon arriving, Lamar headed straight to strip club.  Actually, several strip clubs.
According to several reports, the former Lakers baller has been partying all week, leaving venues in the wee hours of the morning. He and his homies (and a few female friends) hit up Cityscapes Gentlemen's Club earlier in the week and last night he and his crew had some fun at Playroom nightclub.
Since it seems Lamar has gone back to his old drinking ways, one would assume he would have been throwing back spirits while out on the town, but Cityscapes owner (above) said he didn't drink any alcohol while there.
"He was in very high spirits," the owner told Us Weekly. He said Lamar (above at Cityscapes) didn't any drink alcohol at the venue, ordering water and cranberry juice instead. Well that's a surprise.
We also noticed Lamar has been on a dashiki trend lately. He's been spotted wearing several different prints as he made his rounds around town.  Reminds us of a certain other athelete who fell from grace, and from the praises of mainstream America, who suddenly found "his people" again....
Let's hope the stripclub owner is telling the truth about Lamar not drinking. Nobody wants another brothel episode....
Photos: INF/@Darxnyght_