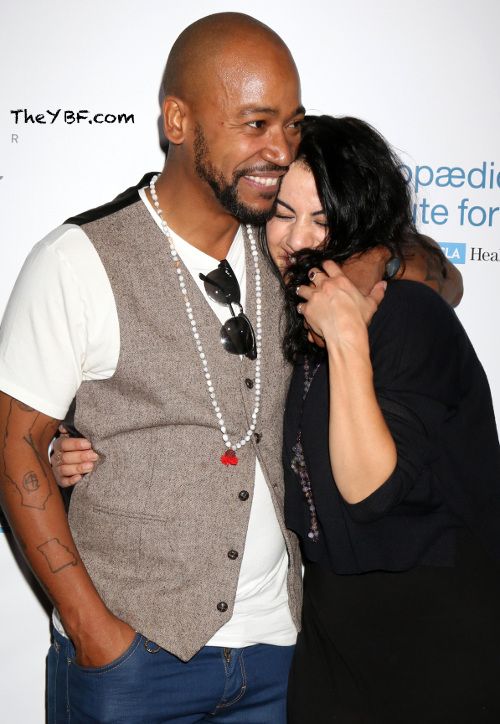 Columbus Short has a new chick and they were busy getting cutesy on the red carpet. There's a rumor that they're engaged to be married too. More inside, plus Toni Braxton and Birdman make their situationship official on Father's Day….
Well look who's all smiles and seemingly wrapped up in love.
Former "Scandal" star Columbus Short hit up the Stand For Kids gala held at 20th Century Fox Studios. He was joined on the carpet by his rumored fiancée Aida Abramyan. Rumor has it, the twosome were spotted shopping for engagement rings at a few major jewelry stores recently. We don't see an engagement ring on her ring finger, but the two are definitely an item.
Aida, who is a publicist and has worked on a few projects with Columbus, has posted a few pictures of them together on her social media accounts:
All in the family @Zulay_Henao@Aida006 the love birds in the back @DaniaJRamirez& my brother @bevland#Squadpic.twitter.com/Wl5rsidWby

— Columbus Short (@ColumbusShort1) May 25, 2016
We're scratching our heads as to how he was able to attend this event. Earlier this month, it was reported he was thrown in jail for 30 days after violating a probation sentence. As of June 9th, he had 24 days left, which means he wouldn't have gotten out until the first week of July. He was also reportedly ordered to complete a six month stint in a residential drug treatment program. Early release maybe?
These new coupledom pics come on the heels of an alleged marriage and a very public breakup between Columbus and Karrine "Supahead" Steffans. He spoke out a few months ago saying he and Supahead were never married although Supahead says otherwise. She also alleged their relationship become violent and she had a restraining order against him.
In other rumored relationship news....
Looks like Toni Braxton and Birdman are ready to put their love on front street…kinda.
The rumored couple was spotted holding hands as they strolled through Birdman's hometown of New Orleans on Sunday (Father's Day) with a huge entourage. It's alleged the twosome hit up a bar called Gladys to check out the Cavaliers vs. Warriors match up for the NBA championship game.
Above is the video one fan caught of them together. Look hard, Toni is quickly seen walking alongside the Hip Hop mogul. FYI -- It's not the woman in the crop top shirt. Toni is behind her.
And here's a pic of them for more proof that it's Toni in the video….
Mmhmm…
Rumors started circulating that Toni and Birdman are an item when a "leaked" picture of them popped up online last month. They were all up on each other backstage at the 2016 Grammy Park at Kings Theatre in Brooklyn.
Then she brought him on stage during her Atlanta show a couple weeks ago:
Things that make you go hmm….
Photos: WENN