Anika Noni Rose and Alexandra Shipp are hot on the promo trail for their brand new projects. Get the deets on Anika's hesitation about doing the "Roots" remake and Alexandra dishing on women hitting on her inside….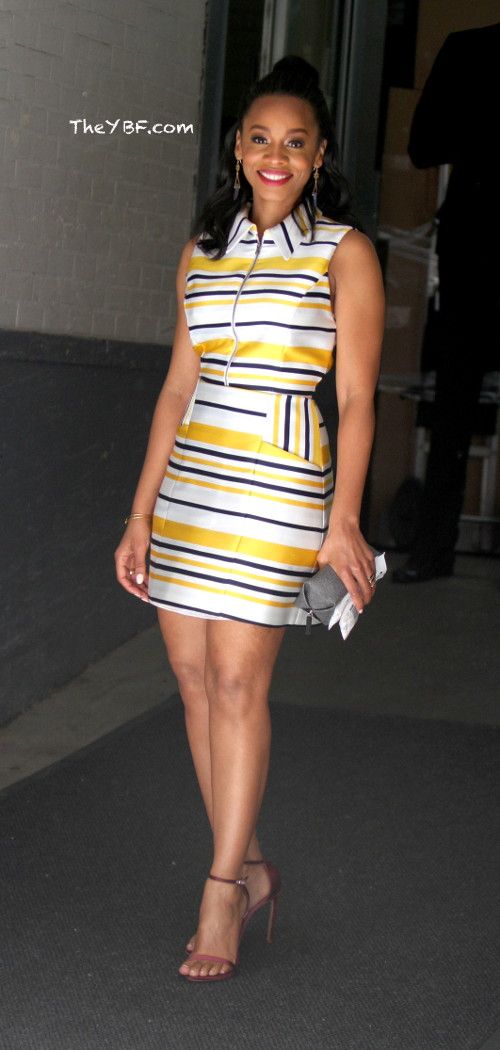 This Memorial Day weekend will bring plenty of entertainment if you're not out grilling up some food or hitting up someone's cookout.
The History Channel will premiere the "Roots" remake on Monday (May 25th) to tell the raw, un-cut and unfiltered truth of our American history. The reboot will be a reimagining of the blockbuster 1977 miniseries about several generations of a slave family in a four-part, eight-hour project. The cast includes YBF A-listers, such as Anika Noni Rose, Laurence Fishburne, Forest Whitaker, Mekhi Phifer, and Clifford "T.I./Tip" Harris.
Tony Award winner Anika Noni Rose stars in the miniseries as Kizzy, the smart and only child of Kunta Kinte and Belle. Before accepting the role of Kizzy, Anika wasn't sure if she wanted to do the role for several reasons.
In a sitdown interview with her good friend/actor Colman Domingo for the AOL Build series, the Dreamgirls actress opened up about why she was hesitant to take the role and what ultimately led to her decision to say yes.
"I was really conflicted at first," said Anika. "I wasn't sure what the background was, what the motivation was, was it the jump on the bandwagon of the so-called 'slave story/slave narrative.' I read recently that term that I didn't appreciate. Or was it a group of people that wanted to do something with integrity, truth and honesty. They requested an audition and I requested a meeting and we talked about it."
At the time she wasn't being brought in for the Kizzy role, but they needed someone to go from very young to mature. She said once she found out the core reason the miniseries was being created, that's when she decided to sign on.
Peep her full interview below:
After the interview...
The gorgeous actress snapped a few selfies with fans in a uber fab yellow, black and white stipped frock. A man with his dog all dressed up even joined in on the action.
On the magazine front....
Anika and the "Roots" cast, including Malachi Kirby, Forest Whitaker, LeVar Burton and Anna Paquin, cover The Hollywood Reporter's newest issue. In the cover story, the magazine delves into how the miniseries was created and how the cast was able to endure the tough scenes. You can read up on it here.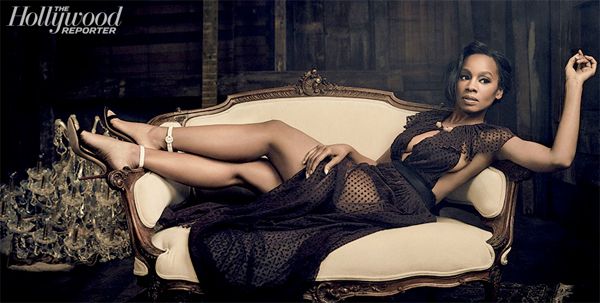 Stunning.
Another YBF chick making media rounds...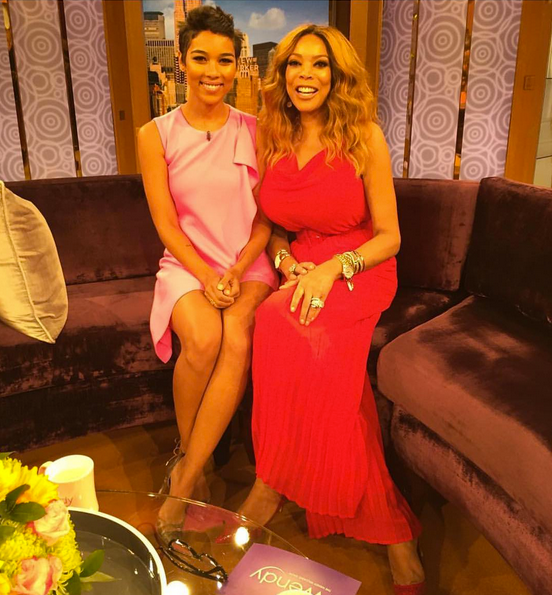 The beautiful Alexandra Shipp stopped by the "Wendy Williams Show" today to chop it up about her role as Storm (previously played by Halle Berry) in the upcoming X-Men: Apocalypse thriller.
Styled by Jason Bolden, the 24-year-old actress served up a chic look, rocking a hot pink St John Knits mini dress paired with python pumps by Choloe Gosselin.
Since shaving her head bald for the role, she revealed more women have hit on her than men! And…she likes it! When Wendy asked if she'd ever kissed a girl before, she said she has and she liked that as well.
Alexandra also cleared up rumors that she and rapper Mos Def are dating. They were spotted together in Montréal last August, but she said they are JUST friends. Show producers pulled the picture up on the big screen and she pointed out her mom's legs in the background to prove they weren't out on a date or anything. She happened to bump into him after she and her mom had just gotten massages and the photogs caught the shot.
Check it:
After the show....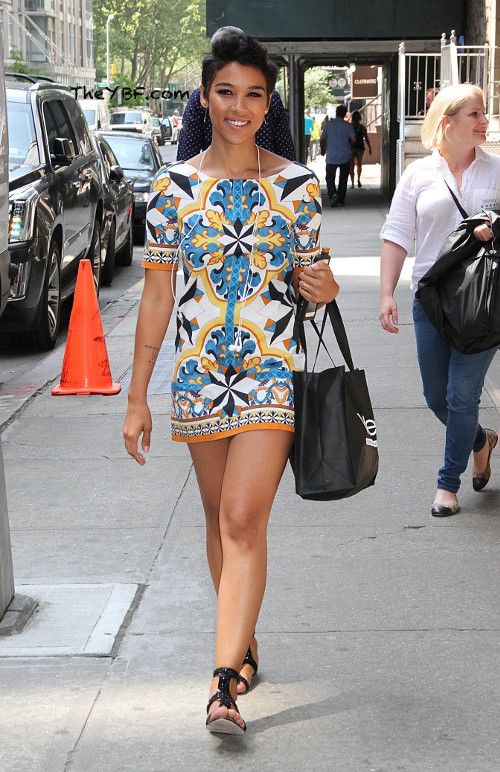 The YBF chick strolled through the NYC streets rocking a multi-printed dress and black sandals. LOVE the cut on her. She should keep it.
For another promo round: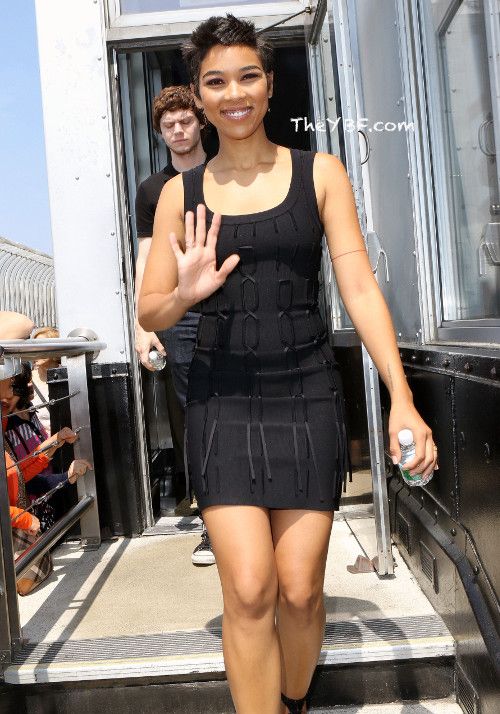 The X-Men starlet slipped into a sexy black body to join her castmates for the Empire State Building lighting event. 
Fun times.
X-Men: Apocalypse hits theaters tomorrow (May 27th).
Phots: Splash/INF/THR/Alexandra's IG