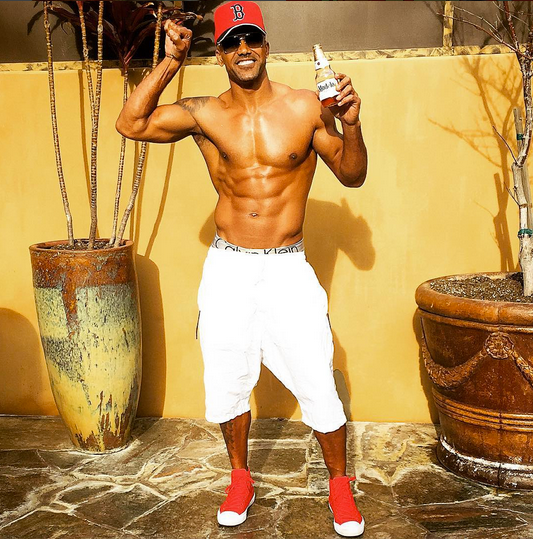 Shemar Moore is trying to calm his fans down after his finale episode of "Criminal Minds" just aired.  Deets inside on him explaining why he's ending his 11-year-run, plus his co-star Rochelle Aytes hits the grove with her fiancé...
This past week's episode of hit show "Criminal Minds" was a doozy. Derek Morgan, played by Shemar Moore for the last 11 years, said goo-bye tot he fan favorite character and show.
While Shemar's character recently got married on the show and had a near death experience after being kidnapped, it wasn't enough to keep the former "Y&R" alum there.
Fans lost it, to say the least.  With people going OFF about Shemar leaving them hanging with zero notice, the actor found himself needing to explain himself.
Basically, it came down to him wanting to take a leap of faith to grow as a person and as an actor.
Executive producer Erica Messer wrote to "Criminal Minds" fans saying it was Shemar's decision to leave the show:
"It was definitely a surprise that he wanted 'to leap,' as Shemar said, 'to try new things.' For those reasons, we have nothing but love and respect for him and his choice. But it doesn't mean we can't also be really, really sad."
Peep his videos to his fans below:
He also hit up "The Talk" to explain further. 
The actor also said he simply wants to live his life as well.  He told TV Line:
  "I love what I do for a living, I love it from 'Action' to 'Cut,' but I also want to walk my dogs, travel, get married, have kids. I want balance, and it's hard to do with the schedule that we have."
We wish him all the best!
Meanwhile, Shemar's on-screen wife Rochelle Aytes was spotted at The Grove recently with her fiance C.J. Lindsey. 
The twosome got engaged last July after a whirlwind road trip to Vancouver.  They met in college, tried dating, it didn't work, tried again years later, and here we are.
Rochelle, who also stars on the summer hit "Mistresses" dished to Hip Hollywood about the engagement saying:
"I was completely shocked because we never really talked about it," she said. Aytes continued, "We were going along the coast and we were preparing to go to the hotel for the night. He wanted to stop off at one last beach that I didn't feel like going to in my sweatshirt and jeans. He wanted to walk up towards this big rock that was like a mile away. Long story short, I went to try and find a restroom came back saw that he had he wrote it out in the sand, will you marry me." "I need balance in my life," Moore told TVLine.
Awww!  Congrats to the couple!
Photos: Shemar's IG/Splash