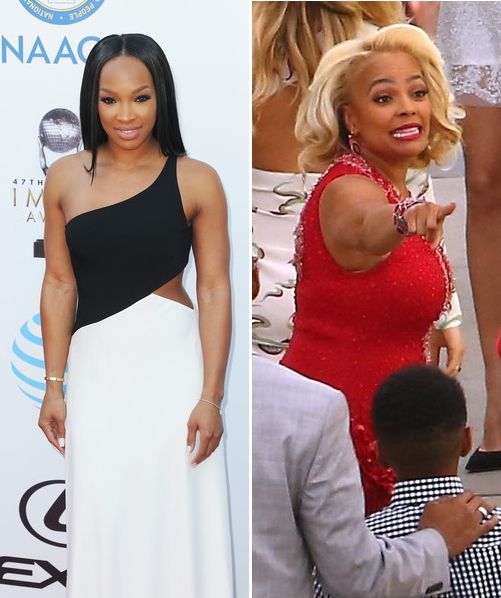 New gig alert.  Malikah Haqq is about to get another notch on her reality TV belt, plus Kim Fields is dancing her way up out of RHOA.  Deets inside...
Fresh off of "Keeping Up With The Kardashians" and "Dash Dolls," actress and Khloe Kardashian's bestie Malika Haqq just nabbed herself another reality show.
TV One announced Malika will be joining "Hollywood Divas" for season 3. Yep. This should be interesting.
Executive Producer Carlos King explained the choice saying:
"This season, I wanted to explore a different side of Hollywood and that's Young, Black Hollywood.  Malika Haqq not only represents that world; she thrives in it. She is truly a Hollywood Diva."
Oh.  Malika represents young black Hollywood?  News to us.  She's a fab chick we like to follow though, so not mad at her reality grind.
The ATL movie actress said about joining:
"One of my most challenging moves to date has been stepping out of my comfort zone.  At the same time, I know I need to grow and surround myself around other actors, so joining the cast of Divas seemed like a leap of faith in the right direction."
We're not sure if she's seen an episode of the series, but she may be in for way more than she bargained for.  The actress and 1/2 of the twin duo the Haqq Twins will be joining returning cast members Golden Brooks, Paula Jai Parker, Lisa Wu and Countess Vaughn. Elise Neal has not been confirmed to return.
We've learned the cast, who is in the middle of shooting, will be getting together next week for their sultry, Hollywood –glam photo shoot.
Here's what to expect from the upcoming season:
With the big breaks and big bucks rolling in...our divas are sitting pretty and riding high off life, love and an abundance of opportunity. While Golden juggles three huge new acting jobs while settling into her new posh , palatial new home, Paula hits a home run with a reoccurring role on a prime time hit cable show! Flawless and fierce both Lisa and Countess dish is a dose of love and happiness amidst a sea of trials and tribulations...Yet the biggest surprise of them all is the addition of our newest diva, Malika Haaq - someone who is actually Keeping Up With The Kardashians, and breaking back into Hollywood in a big way!
In other new gig news:
Kim Fields is OVER "Real Housewives of Atlanta!"  The actress/directress made the announcement this week that she won't be returning to the Bravo show, and we can't say we're surprised.
The married mom of two went on the "Ricky Smiley Morning Show" right after part 1 of the reunion show to make the announcement.  She revealed:
"It feels more like Brett Favre and the Jets, you know — I'm done.  I think about too, at the beginning of the season, what did my mama say? 'Get in and get out.' Listen to your mama."
Kim said she's definitely thankful for her time on RHOA though:
"It was for the experience," she told the radio show. "It was to be able to do a genre that I'd been asked to do before and finding a way to do it that made sense for my team and and for the family. Overall it was a really great experience."
One and done may just be the way to do it. 
Meanwhile, Kim has been spotted going to and from "DWTS" rehearsals (above) as she competes for the Mirror Ball trophy.  Night one of DWTS kicked off Monday and this show seems to be more of Kim's speed.  Check out Kim and Sasha Farber dance the Cha Cha to "Sax" by Fleur East:
Get it Kim!
Photos: Getty/FameFlynet