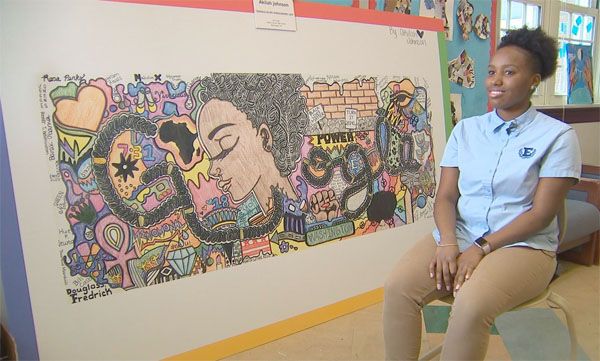 Washington, D.C. high schooler Akilah Johnson just won the "Doodle 4 Google" challenge and copped a $30,000 college scholarship along the way. Deets inside…
We love a good real-life YBF story around these parts. And this one will certainly brighten your day.
Google is recognizing 10th grader Akilah Johnson for her artistic creativity. The fab real life YBFer won the "Doodle 4 Google" challenge where her African-American-heritage inspired doodle was featured on the Internet search engine's home page on Monday. Did you notice it?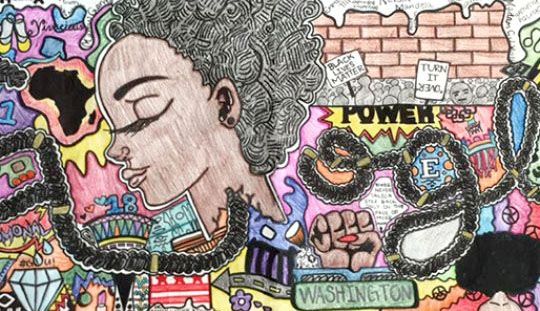 Akilah's ode to black history was selected out of 100,000 submissions from other young artists across the nation. Google challenged students, K-12, to doodle "What makes me...me." And that's what Akilah did.
The YBF teen artist blended her story in a piece titled "My Afrocentric Life."  She paid homage to Rosa Parks, Malcolm X, Nelson Mandela, Ruby Bridges, Angela Davis, Colin Powell and Bill Cosby.
"I grew up learning a lot about my history as an African American," said Akilah. "As I grew older, I realized that the black people that came before us has made us into what we are today, so of course I had to include them in my doodle," said Johnson, who happens to be the first African American to win the national competition.
The high schooler said her inspiration for the doodle came from the quote: "Be the type of person that not only turns heads, but turns souls."
Celebrity judges Golden State Warriors' Stephen Curry, soccer player and Olympic gold medalist Alex Morgan and actors Julie Bowen and B.J. Novak chose Akilah's design as the top doodle from all the submissions.
On top of having her design seen by millions, Akilah also copped a $30,000 college scholarship and her school, Eastern Senior High School, will be awarded a $50,000 education-technology grant. Nice!
The soon-to-be college student plans on studying criminal justice or business in college in hopes of becoming a CSI detective. She also wants to start an arts and crafts studio for kids.
Loves it! #BlackGirlMagic
Photos: Google/FOX 5