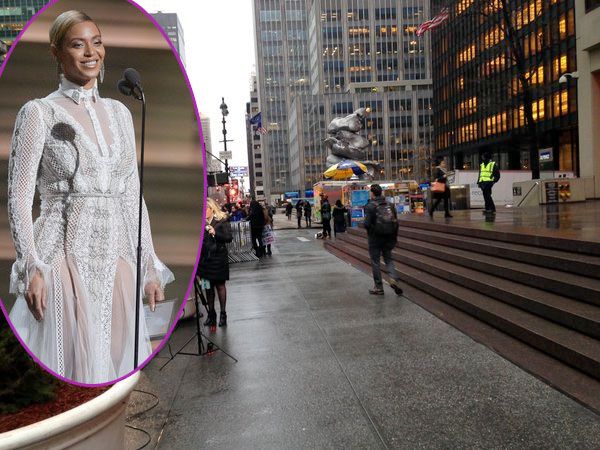 Don't come for the queen if she did not send for you! An "Anti-Beyonce" protest was supposed to go down today, but hardly anyone showed up. Get the deets and peep the pics, plus get the VOGUE highlights from Solange's new interview where she opens up about redefining sexy and her sister's "Formation" video inside….
THEY. Tried. It.
There was supposed to be an "Anti-Beyonce" protest in NYC today, but that just simply didn't happen.
Shortly after Bey's pro-black "Formation" Super Bowl halftime performance, an event popped up on Eventbrite encouraging folks who love the police to come out and protest outside of the NFL headquarters in NYC today. These so-called protesters were outraged by the international pop star's performance, claiming it was anti-police and RACIST. Sighs….
Well, onlookers headed outside the NFL headquarters to catch the action, only to find hardly anyone there! Reportedly MAYBE two people showed up. BUT, there were plenty of BeyHive members out there to counter-protest the alleged event. Bloop!
Peep the pics:
@TheYBF no one from their group showed up. But folks showed up. pic.twitter.com/eA75CaxxPu

— Jacky Johnson (@JackyJ) February 16, 2016
My favorite photo from the Anti-Beyonce rally pic.twitter.com/u5aU31JvGS

— CatchGifUCan (@CatchGifUCan) February 16, 2016
Anti-anti-Beyoncé protest growing, still no anti-Beyoncé protest. pic.twitter.com/sDcp1X6vIm

— Alex Silverman (@AlexSilverman) February 16, 2016
Outside NFL HQ, at what was supposed to be an anti-Beyoncé protest. Only a few counter-protesters have shown up. pic.twitter.com/h8EiKnX9rc

— Alex Silverman (@AlexSilverman) February 16, 2016
Coming to you live from the dueling Beyoncé rallies, aka the starting point of the Second American Civil War pic.twitter.com/SaNCa29gLO

— WriteColonWrite (@DaveCoIon) February 16, 2016
Then the "Anti-Beyonce" protest turned into a Black Lives Matter movement:
Anti-Beyoncé protest turns to Pro-Black & Black lives Matter movement.
— Beyoncé (@BeysusTea) February 16, 2016
Don't start nothing, won't be nothing.
Speaking of Beyonce....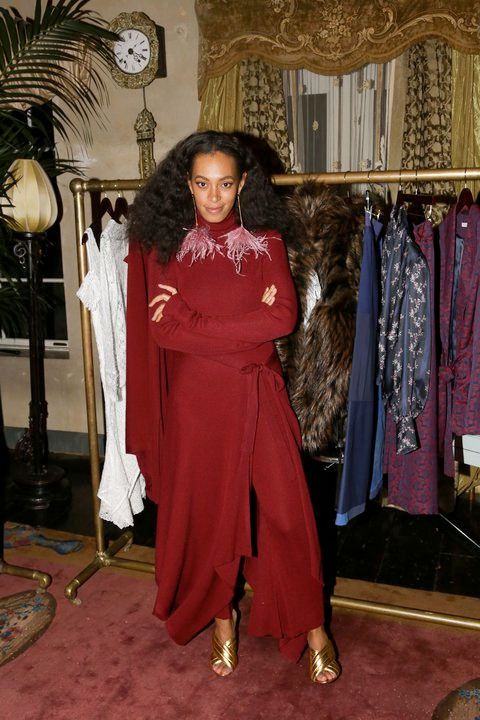 Bey's sister Solange stopped to chop it up with VOGUE as she made her rounds at New York Fashion Week. The fashionista, who's currently finishing up her new album, talked about redefining sexy as a married woman, what she thought about Bey's "Formation" video, and the hardships of being a working mother.
Below are the highlights:
On redefining sexy as a married woman: I've been with my current husband going on eight years, and it's interesting to me how I've redefined sexy through my relationship, in terms of becoming the woman that I am now. If I had to define sexy now, as Disney as it sounds, I would have to say it's about complete and utter confidence. When I first started dating my husband, I wore so much color and print, and whenever I would wear black, he would be like, "Oh, my God, you look so sexy!" Now I have learned to understand the elegance and the sexiness of black. Living very publicly and going through all of these intense phases when you feel like that is truly who you think you are, I think that's a part of your 20s.
On Beyoncé's "Formation" video: I have always had tremendous respect for my sister as an artist, as a woman, and now as a mother. It's been very interesting to see the impact that video and song have made globally, the connectivity that it had, and the power that it had. Honestly, I was just blown away as everyone else, because solidarity means so much, and there are so many different ways to communicate that. I think actually she has always communicated that.

On fashion being a vehicle for the solidarity message: For sure, fashion can be incredibly powerful. Overall from top to bottom, I think the entire messaging was heard loud and clear. The thing that I loved about it as well was that it gave a lot of homage to my parents, and the older I get, and the older my son gets, the more and more I recognize how much my parents primed us to make politics and social messages in our work. A lot of people don't realize this, but my mom was super radical as a teenager, out there with the Panthers. And my father was definitely in the thick of the civil rights in Alabama. For the world it might seem like some new statement-making occurrence, but for me, I heard this every week at dinnertime.

On being a working mom: As an artist mom, that's something I think people rarely speak about, but I know it's something that other female artists face, too: The internal conflict that happens, and how to switch it off—when you're a mother, it's challenging. I'm really grateful that I've found a rhythm, but it took some time to find it. Now, if I'm going to be part of a project, then I really have to feel it, because there's a sacrifice that I have to make to be away from my family. When [my son] was younger, he came everywhere with me, so there was a lot more freedom with that. Now my son is 11 and about to go into middle school. They grow up so fast. That's my heart and pride, and when I go home, that's all that matters.
Aww…loving those relatable working mom comments!
You can read her full interview here.
Photos: Getty/Don Colon's Twitter/VOGUE via BFA