Hot actor Stephan James is gearing up for the release of his new film 'RACE,' a biographical drama that tells the story of legendary track and field sprinter and activist Jesse Owens. In celebration of Black History Month, get into the story inside and how Stephan says #OscarsSoWhite compares to the discrimination Jesse endured during the 1936 Olympics. More inside…
As we celebrate and reflect on all of the great African-American men and women who paved the way, just in time for Black History Month, a new feature film is set to be released to tell the story of one legendary track and field sprinter, Jesse Owens.
Jesse is arguably one of the greatest athletes of all time and was once dubbed as one of the fastest. Not only was he a beast on the track, he also broke down racial barriers that tried to hold him back due to the color of his skin. In 1936, he won FOUR (yes, FOUR) gold medals at the Berlin Olympics becoming the FIRST American to do so.
Now, the life story of the Olympic track and field champion will be told in a new biopic titled RACE, starring 22-year-old Toronto native Stephan James.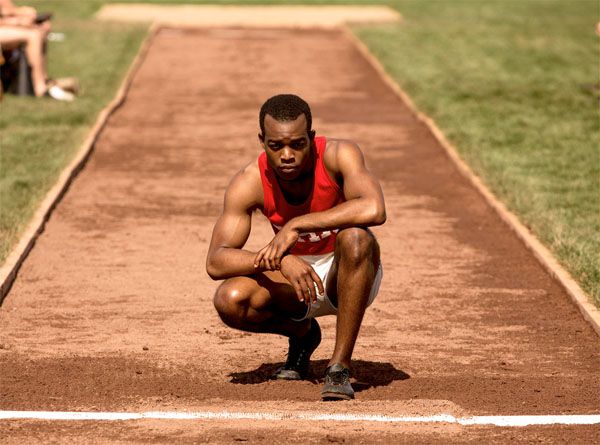 The 22-year-old actor sat down with Pop Culture Critic & TV Host Shannon Lanier(@MrShannonLanier) to discuss his new film with TheYBF.com. The SELMA star (he played John Lewis in the hit film) opened up about the #OscarsSoWhite controversy and how it compared to racism Jesse dealt with in the '30s.
The real life track and field star was put under major pressure to boycott the Berlin Olympics because of racial discrimination promoted by then Nazi Party Leader and German Chancellor Adolf Hitler.
When asked what he thought about the #OscarsSoWhite boycott, Stephan said,
"I think it's certainly an important discussion to have and to raise. I'm happy people are talking about it. For this film, we tried to show people why it doesn't matter what you look like or where you come from. You're fully able to accomplish great things. Jesse never used any of that as a crutch and he only did things for the love of his sport and that's so telling."
Very true.
The Book of Negros star -- pictured above at the RACE premiere in Toronto last week -- was asked if he will be joining in on the boycott at this year's Academy Awards ceremony. He never confirmed whether or not he will attend, but he did say he hopes the new film will help bring us closer together:
"For me, it's not about what I'll do, said Stephan. "I just really want people to see this film and get inspired by it. Stop thinking about all the things that separate us and more so about things that bring us together, and that's what this film shows."
While filming for SELMA in Atlanta, he started training for his role as Jesse Owens at the Georgia Tech track. He had to condition himself to run fast and to learn Jesse's running style in order to portray him as best he could. He opened up about the exact moment he felt he really embodied the late athlete saying:
"I was truly beside myself," said Stephan. "To walk to the Olympic stadium, the same footsteps Jesse walked. I walked in there when no one was there. He walked in there 80 years ago and there were 150,000 people there. For me, that was a real moment. That was one of the moments where I feel like I really channeled him the most."
Watch Stephan chat below about his thoughts on what we, as a people, should be doing today:
Check out the trailer below:
Last night...
RACE hits theaters next Friday, February 19th.
Photos: Focus Features/Arthur Mola/Invision