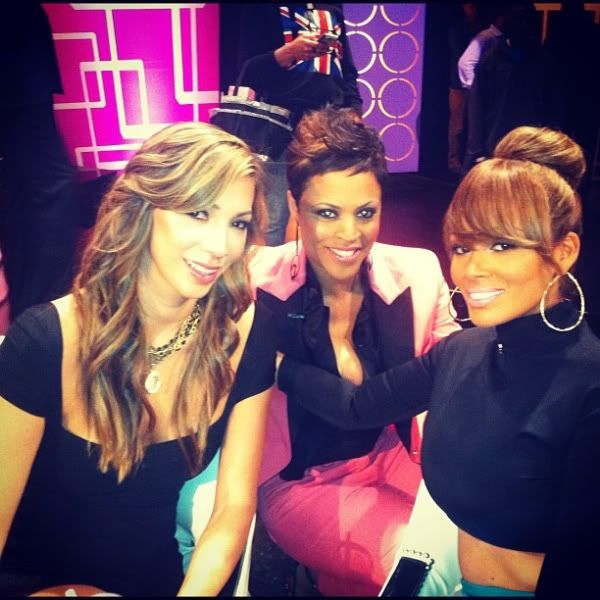 The controversial stars of "BBW" taped their reunion special recently and we have pics inside.  Also, find out what Shaunie O'Neal said as she apologized for the past season and promised more balance.
The "BBW" reunion went down recently and over course the weaves and shoes were fab.  Jennifer Williams, shown above, looked gorgeous in a Valentino gown & Chanel necklace.
Her enemy, Evelyn Lozada went with a teal skirt, Louboutins and a black top that showed off her chi chis.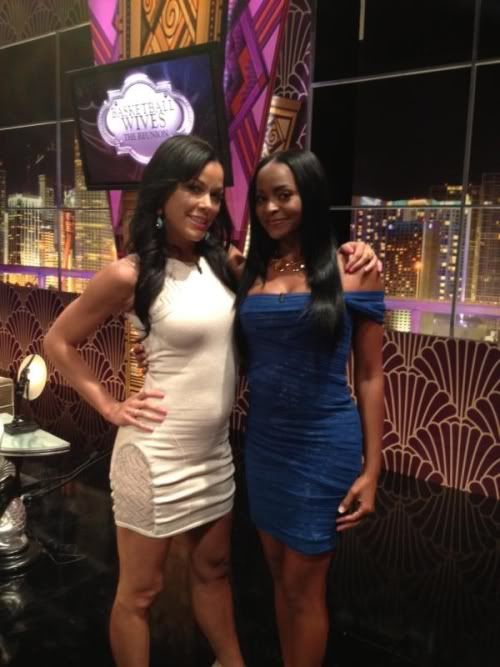 And newly single Royce Reed got chummy with castmate Kesha Nichols.
But where was Tami Roman?  In a tweet posted a few days ago, it seemed as though Tami might not be coming back next year.  It has not been confirmed....but we know missing a reunion taping is a big "contract" no-no.
And perhaps the most shocking moment was Shaunie O'Neal coming clean and basically apologizing for the way the women were portrayed on the show. She owned up to the "bad" outweighing the "good" but did highlight that there were some positive things shown this year. But the question is.....do you buy it?
Watch Shaunie express her disappointment here:
And her ful statement issued today:
"This has definitely been a heated season. "Basketball Wives" is filled with a lot of strong personalities with months, weeks, days and hours condensed into about 45 minutes each episode. Unfortunately, a lot of these personalities have clashed and let their opinions and emotions overwhelm them which has at times gotten the best of them, escalating into physical confrontations.

As this group has been blessed with strong, smart, independent, sassy women with as much passion as vocabulary, there's NO excuse for physical violence. So the cast, SHED Media and Vh1 have done a gut check, to stop allowing physical violence demoralize the show and impose a no-physical violence policy.

Personally, I almost didn't come back to the show but I thought it was important for this to be said as some of the past actions this season I have not agreed with, it's not what I stand for and never have. So moving forward, we have agreed to better the show, still with plenty of drama and fun (how can we help that?!) but with a more responsible attitude all around. This is important for me specifically as an executive and what I do and don't attach my name to, as a grown woman, and as a positive role model to my kids. "
Also, Shed Media and VH1 both released statements about the negative feedback the show has gotten.  
Shed Media said, 
"Shed Media US is fully committed to telling the compelling stories of the Basketball Wives in a balanced way. Our producing partner Shaunie O'Neal feels strongly about this, and we fully agree with this stance. We support her as she encourages the cast members to work out issues in a non-violent fashion. We look forward to working with her and the rest of the cast on conveying more balance in the next season."
And VH1 said,
"Our viewers opinions always matter a great deal to us at VH1. Lately, there has been a lot of conversation about Basketball Wives, a series featuring strong, intelligent women with very passionate viewpoints, which can sometimes escalate.

We at VH1 agree with and support Shaunie and the show producers' "no excessive physical confrontations" policy on the series moving forward. We are all committed to balancing the candid, bold excitement that the viewers have come to love in the series with storylines and representations they can be proud of. Shaunie has been a strong advocate for a more balanced approach to the show and we, along with our producing partners at Shed Media, are all in agreement about moving forward with that goal."
Do you think "BBW" will survive without the fighting and drinking tossing so many have come to love or loathe?
SPEAK ON IT