Straight from the hallowed halls of her kitchen, Janet Hubert -- the original Aunt Viv from "Fresh Prince of Bel Air" -- is popping off (again) about the Smiths. Find out how she snapped inside...
"I find it ironic that somebody who has made their living and has made millions and millions of dollars from the very people that you're talking about boycotting just because you didn't get a nomination...? That's not the way life works," said Janet Hubert in response to Jada Pinkett Smith's call to boycott the Oscars.
Bloop.
It's no secret Janet Hubert isn't checking for anything close to Will Smith.  She has blasted him on numerous occasions for his alleged actions she found unforgivable when they both starred on "Fresh Prince."  Apparently, she wanted the cast to band together to hold out for more money - just like the "Friends" cast did a few years later.   Will wasn't having it, according to her, and took his coin and went on about his business.  She also once accused him of being part of the reason she was replaced by Daphne Reid.
Fast forward to Monday night when Janet caught wind of Jada's Oscar boycott video.  She posted a rant, as well as her own video, in response.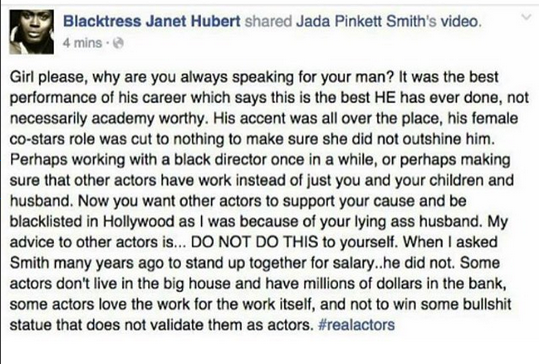 Chile. There's more. 
When someone in the comments of her below video accused her of just being a bitter Betty, she popped back with this:
Lordt.  Check out her full video response below where she reads for filth:
BONUS: Academy President Cheryl Boone Isaacs put out a statement Monday night to address the uproar about the lack of diversity among the Oscar nominations:
I'd like to acknowledge the wonderful work of this year's nominees. While we celebrate their extraordinary achievements, I am both heartbroken and frustrated about the lack of inclusion. This is a difficult but important conversation, and it's time for big changes. The Academy is taking dramatic steps to alter the makeup of our membership. In the coming days and weeks we will conduct a review of our membership recruitment in order to bring about much-needed diversity in our 2016 class and beyond.

As many of you know, we have implemented changes to diversify our membership in the last four years. But the change is not coming as fast as we would like. We need to do more, and better and more quickly.

This isn't unprecedented for the Academy. In the '60s and '70s it was about recruiting younger members to stay vital and relevant. In 2016, the mandate is inclusion in all of its facets: gender, race, ethnicity and sexual orientation. We recognize the very real concerns of our community, and I so appreciate all of you who have reached out to me in our effort to move forward together.
Photo: Janet's FB page