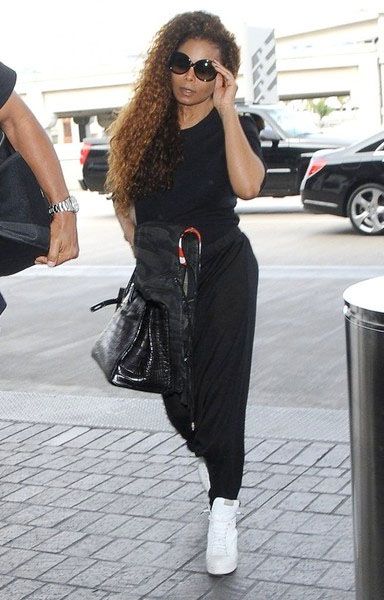 Janet's back!  Get the deets on her return after her medical emergency, plus a major Bill Cosby update involving him escaping two of his criminal charges.  Deets inside...
Well this will certainly put a smile on some Janet Jackson fans' faces.
According to EXTRA, doctors have cleared the "No Sleeep" singer to continue her tour in Europe! A few days ago, rumors began circulating online that Janet was suffering from a throat tumor that could possibly end her career causing her to postpone her worldwide tour.
While details of her actual prognosis are unclear, one thing is for sure, Janet will be returning to the stage overseas starting March 30th. She still has to have surgery soon though.
The 49-year-old released a statement saying,
"I learned today from my doctors that I must have surgery soon. It breaks my heart to tell you that I am forced to postpone the 'Unbreakable' tour until the spring. Please pray for me, my family and our entire company during this difficult time…There will be no further comment."
Luckily, she has her billionaire husband Wissam Al Mana to help nurse her back to health. Prayers up for Janet.
In other updates….
Well, Bill Cosby got some good news to start the year.
After being arrested and arraigned for a sexual assault case in Pennsylvania last month, new reports reveal the comedian will NOT be criminally charged in two other cases in L.A.
The Los Angeles County District Attorney's Office cited the statute of limitations is the reason charges will not be pursued in the first case. For the second case, the victim's story and details didn't match up.
The Wrap breaks down the details in both cases reporting:
In the case of the first sexual assault allegation, the DA's office cited the statute of limitations in its decision not to pursue charges. That accuser claimed that Cosby took her to a Hollywood jazz club in 1965 when she was 17 years old and bought her alcoholic beverages. The accuser had claimed that Cosby then took her to a private residence and forced her to have intercourse with him.

The second accuser claimed that she attended a party with a friend at the Playboy mansion in 2008 when she was 18 and was introduced to Cosby. She alleged that she began to feel dizzy and sick after drinking an alcoholic beverage that Cosby had given her. According to her accusations, Cosby then led her to an upstairs bedroom. When she awoke, the accuser claimed, her "clothes were off, her breasts felt moist, as if they were licked, and the suspect was at the foot of the bed biting her toe. He appeared to be masturbating," according to a charge evaluation worksheet issued by the district attorney's office on Wednesday.

In that case, the district attorney's office said, the unnamed accuser initially claimed that the incident took place at a Midsummer Night's Dream Party held at the mansion in August 2008. However, she later stated that she was unsure if the incident occurred at that event or another event held at the mansion that summer.

Investigators reviewed video footage from the Midsummer Night's Dream Party, none of which showed Cosby or the accuser present. They also obtained evidence that Cosby was in New York at the time of the party.
Well there's that.
In other Bill Cosby news, a judge has delayed the deposition of Bill Cosby's wife Camille Cosby in a defamation suit brought by seven women who have accused the comedian of sexual misconduct. The deposition was delayed to give her lawyers time to appeal an earlier ruling in the case.
Sighs to it all....
Photos: FameFlynet/Getty