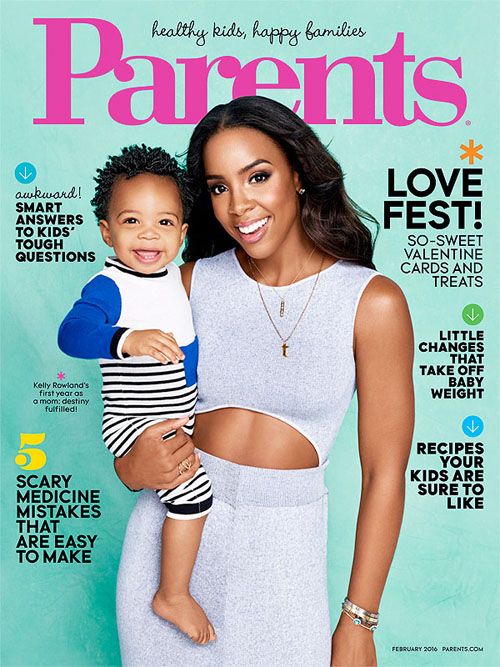 Kelly Rowland and her adorable son TitanWitherspoon are featured on Parents magazine newest issue. Come inside to see the mother-son cuteness, plus the first trailer for the upcoming Netflix series "The Get Down," starring Jaden Smith….
R&B singer Kelly Rowland and her precious baby boy Titan Witherspoon are gracing the cover of Parents magazine's February 2016 issue. And the mother-son duo is melting our hearts with their insanely cute cover and spread.
In the cover story, the fab mom talks about juggling her career all while being a hands-on mom to her 14-month old son, whom she shares with husband Tim Witherspoon. She reveals "patience and confidence" are the keys that have helped transition her into motherhood.
But, she wasn't always confident about stepping into motherhood. Like many first-time mothers, she felt super nervous about having enough patience to care for her baby boy.
"I was nervous that I didn't have the patience to be a good mom, because before Titan I had zero. But now I am very patient. The Bible verse 'love is patient' is real! I am much more laid-back now. I don't make the little things into big issues like I once did."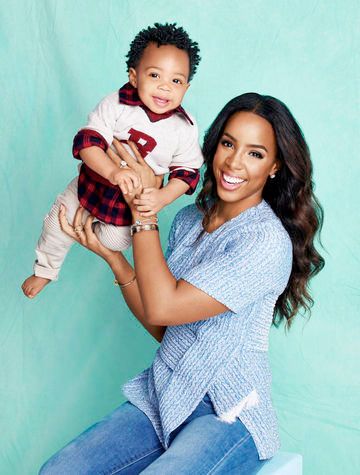 After giving birth to her first child, we watched Kelly morph back into her pre-baby bod. It didn't seem like it took her very long to bounce back (she kept up a healthy exercise routine while she was preggo) and she credits that to burning crazy calories in spin classes and working one-on-one with a fitness trainer.
While some new mothers can't afford a trainer, she offers up some great advice to new moms who are working diligently to drop the baby weight. First she advises,
"Write on your mirror in lipstick: 'I had a baby. I'm a superhero.'"
Then, she urges new mothers to not get discouraged when trying to lose weight. She motivates them to stay the course because losing the weight will take time, but you shouldn't beat yourself up over it. She drops some inspirational words saying,
"It takes about a year to get the weight off. Don't beat yourself up if it takes even longer."
Good advice!
On the television front...
Get ready! It looks like Netflix has another hit original series on its hands.
The Internet streaming service released the sizzle reel of Baz Luhrmann's musical drama series "The Get Down." And from the looks of it, the series will not disappoint giving viewers a peek at what it was like growing up in the 70's in New York City, specifically the South Bronx. The film will give an inside look at a group of teens running wild in the city as the beginnings of disco, funk, hip-hop, other innovative music exploded onto the scene.
Below is a synopsis of the series:
"The Get Down" focuses on 1970s New York — broken down and beaten up, violent, cash-strapped — dying. Consigned to rubble, a rag-tag crew of South Bronx teenagers are nothings and nobodies with no one to shelter them — except each other, armed only with verbal games, improvised dance steps, some magic markers and spray cans. From Bronx tenements, to the SoHo art scene; from CBGB to Studio 54 and even the glass towers of the just-built World Trade Center, The Get Down is a mythic saga of how New York at the brink of bankruptcy gave birth to hip-hop, punk and disco — as told through the lives and music of the South Bronx kids who changed the city and the world…forever."
Sounds good!
We showed you flicks of actor Jaden Smith and DOPE star Shameik Moore on the set of the new show over the summer. They will be joined by a set of newcomers, including "Paper Towns" actor Justice Smith, "Southpaw" actor Skylan Brooks, "Crescendo" star Yahya Abdul-Mateen II, Herizen Guardiola, Tremaine Browne, Jr. and more. We're so here for it. Peep the trailer above.
No official date for the release has been revealed yet, but we can expect it sometime this year.
In other Jaden Smith news...
The young actor's ex-rumored boo Kylie Jenner is stirring the pot after all of the drama surrounding her on-again off-again boyfriend Tyga texting a 14-year-old model. The reality star took to her SnapChat recently to rock out to a track. And it just so happens to be a song by Jaden titled, "Let It Be." The song is allegedly an ode to Kylie of some sort. Hmph.
Check it:
Looks like there may still be trouble in paradise....
Photos: Chris Craymer via Parents magazine