Tamar Braxton's sisters Toni Braxton, Towanda Braxton, Traci Braxton and Trina Braxton, along with their brother Michael Braxton, join her on "The Real" today where the ladies will see their characters in Toni's upcoming biopic Unbreak My Heart for the first time. And y'all know Tay Tay had SOMETHING to say about the chick playing her in the film. Check out her reaction and peep the first trailer for the film inside…
Christmas is all about spending time with family, so "The Real" co-host Tamar Braxton brought her famous family on the show to help celebrate the holidays.
Following Tamar's triumphant return to "The Real" yesterday, her famous sisters Toni, Towanda, Traci and Trina, along with brother Michael, came on the show to chop it up about Toni's new biopic, their favorite Christmas traditions and the ladies even hit the stage together to perform a few Christmas carols from their new Christmas album.
As they sisters chatted with the daytime talk show hosts, it was revealed none of the sisters have seen who will be playing them in Toni's upcoming LIFETIME biopic. So, here's the shot they put up on the big screen:
If you know Tamar then you KNOW she would have her two cents about who's playing her.
Once the picture was shown, Tamera Mowry Housley pointed out the young lady with blonde hair on the left was Tamar.  Tamar yelled out, "That's a lie!" Then she threw shade saying,"Who is that family? That's the Raxtons!" Bloop!
Toni defended the choice saying the young lady, whose name is Tiffany Hines, acts JUST like Tamar and then she started mimicking her little sister's neck rolls and head turns. Check it:
Following their chat....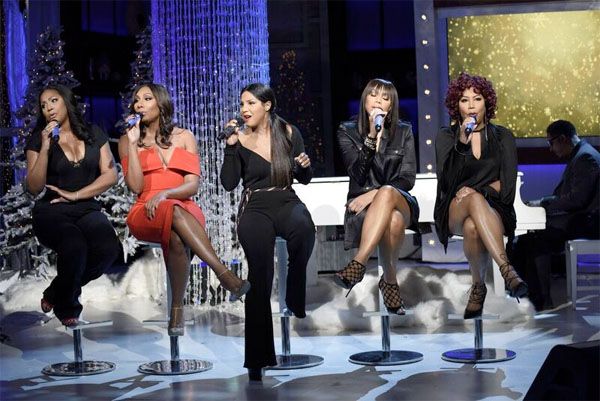 The famous sisters hit the stage to perform two tracks from their new Christmas album "Mary, Did You Know?" and "Under My Christmas Tree." And they nailed it.
Here's a clip of "Mary Did You?" below:
In a new trailer....
We showed you the first sneak peek at the cast. Now we have the first trailer for Toni's Unbreak My Heart biopic. The short clip gives a chilling look at Toni's life behind-the-scenes during the height of her career. It appears the clip gives a sneak peek at her health battle with lupus. Press play above.
Unbreak My Heart premieres Saturday, January 23, 2016 on LIFETIME.
Photos: Erica Parise /Warner Bros. Television/LIFETIME