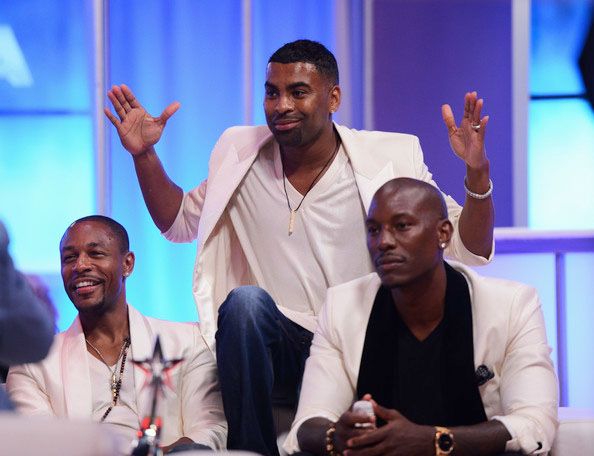 Tyrese and Ginuwine are at odds after the dismantling of their super group TGT. And they're airing their dirty laundry on social media. Get the tea on their situation, plus deets on a new reality series backed by Queen Latifah and Nicci Gilbert inside….
Well, it appears R&B super group TGT is dunzo! And now, two of the fellas are bickering on social media. Of course.
Yesterday, Ty hopped on his Instagram page to announce TGT is no longer a group and it's all Ginuwine's fault! He said he and Tank are still "moving," but G is out! Yep, Ty straight threw the "Pony" singer under the bus. Here's what he said (and deleted):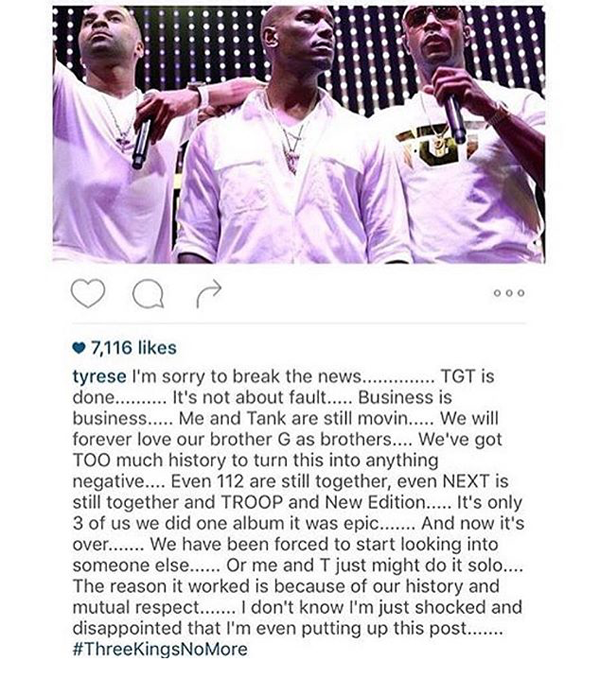 Sighs...why did he need to post this in the first place?  We're not doing phone calls anymore?
Well, Ginuwine caught wind of his post and decided to respond:
We have to agree with Ginuwine on this one. Ty definitely didn't need to air out their business like that on social media. Even if the "So Anxious" star was effin' up the coins, they could have just found a new guy (or not) and kept it moving.
By the way, a few weeks ago Tyrese and Tank had a mini falling out as well. The Fast & Furious star issued a R&B challenge to the R&B singers in the industry to produce a full album without any Hip Hop features. Oh…and he was standing in front of his Billboard Top 200 album plaque. Hmph.
Tank felt Ty was bragging, so he called him out on it via Instagram. Tank later erased his rant and apologized to Ty. Is Tyrese might be the common denominator of all the drama brewing in their group?
In reality TV news...
A new reality show is in the works and will be coming to a television screen near you very soon.
Queen Latifah and "R&B Divas" creator Nicci Gilbert have joined forces for a new reality series titled, "From The Bottom Up." And it's set to premiere January 16, 2016 at 10pm ET on Centric.
The new show will center around five women who were very successful in the past and lost everything due to substantial circumstances, ranging from controversy to jail time. Sounds interesting.
A synopsis about the show reveals:
Gilbert's show will follow the lives of Christina Beatty, Kimberly Smedley, Stacii Jae Johnson, Chrystale Wilson, and Sara Stokes. Beatty was at the center of the scandals with Mayor Kwame Kilpatrick and served jail time and probation for her crimes. Smedley was jailed for administering botched silicone buttocks injections. Johnson, an ex-event coordinator to Atlanta Mayor Kasim Reed, was arrested in 2012 on DUI charges. Wilson, also known as Ronnie from The Players Club, has struggled to excel in her career beyond the 1998 film. Stokes, singer from Sean "P Diddy" Combs'"Making The Band 2," was arrested and charged with domestic violence in July 2014.
We've been wondering what Sara was up to!
Nicci hopes the new show will empower women to stay strong and keep pushing no matter what life throws at you. She wants to show how these women have been humbled and how their decisions have impacted their lives, how they have learned from their mistakes and how they have rediscovered hope.
Check out the trailer below:
If the foolywang material is kept to a minimum, this could be the makings of a good show. We'll be tuning in. Will you?
Photos: Getty