Solange Knowles is damn near as real as it gets.  She's a super fab mom who isn't scared to pull back the curtain a bit on just how hard being a working mom can be, even for rich and famous celebrities.
Get her outpour of emotion about the stress of working-motherhood and being away from your child, plus her gorgeous look from the Bergdorf Goodman Jewelry salon opening, inside...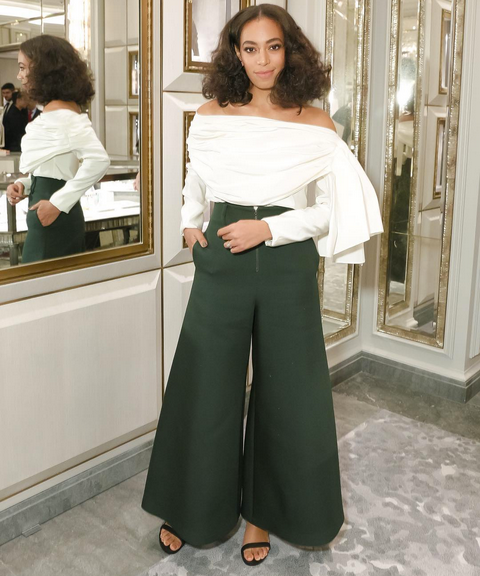 Last night in NYC, Solange burned down Bergdorf - as her brother-in-law Jay Z would say - in a pair of wide leg emerald green pants and a chic draped 'Rosetti' off the shoulder white blouse both from the Rosie Assoulin Fall '15 Collection.
The singer-songwriter was on hand to celebrate the opening of the Bergdorf Goodman luxury department store's first jewelry salon in partnership with Gemfields.  She rolled into the Ruby Room looking great, posing alongside fellow celebrity women like Ashley Olsen, Christina Hendricks and BG's Director of Women's Fashion Linda Fargo:
Yes, serve!
But that's not all Solo did yesterday.  As she works on her new album, travels nonstop doing appearances and DJ sets, it's getting harder and harder to be away from her 11-year-old son Julez and family for so long: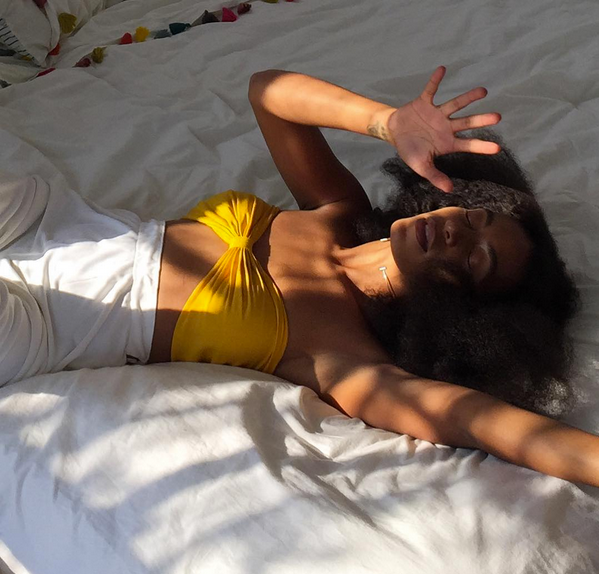 So she posted the above picture and let her emotions loose about the anxieties of motherhood saying:
8 gigs, 8 studio sessions, 6 flights, in 2 weeks....but got to sleep in my bed for 2 nights While I was home Julez pulled out my chair for me at lunch, said he'd sell his Nintendo so I could get a dress I loved when we went stopped by a store, and said he sees Chinese symbols when he listens to Alice Coltrane. He's phenomenal and I'm in love with he and it's really really hard to be away. I cried this morning because this is the longest we've been apart and my insides kind of split in half when I headed to the airport, but I'm working really really hard to finish this damn album and so grateful to have his and my hubby's support. I like to use IG to create and share a little color and laughter in my life, and to see the beauty and fun in things in the midst of a lot of hard ass work and sacrifice that goes along with it. Its just not fun to show the 18 hour studio days, even when I'm sick as hell, coughing all up on @audio_nino (sorry Nino) , and then getting up at 6am to tackle the 400 borriiinnng emails @johnbogaard and I exchange daily (sorry john, but you do make me lol for every 10 emails),while trying to balance running multiple businesses and still find time to dedicate to issues that are important to me. At the end of all, just when I think I'm going to do something crazy like get a face tat or shave my eyebrows off, or spray paint my hands metallic silver and then do the home alone scream, so I have permanently have shiny handprints on my cheeks, my heart just explodes with gratitude....that this is my life. I couldn't be more grateful, humbled, and really, God honestly, blessed. So suck it up bissh, and stop being emo and whiney on the insta, and get the fuck back to work.....cuz you knooooow you took this pictures weeeeeks ago when you actually were glowing like that, lol. (Although to be fair, I could've worn this in 80 degree Nola yesterday ) ok. bye.
She makes motherhood look fabulous, despite the difficulties.  So, carry on Solo.
Photos: Solange's Instagram/Bergdorf's IG