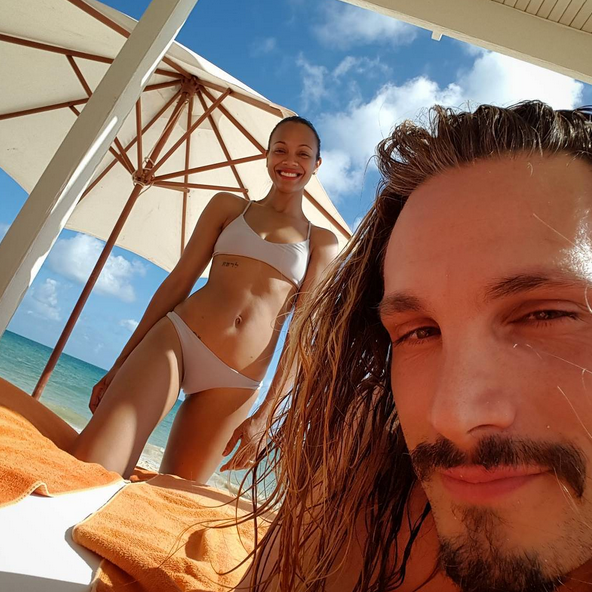 Zoe Saldana is showing off what hard work can produce, parading around the beach in a bikini with her husband Marco Perego in Mexico. Meanwhile, Tamar Braxton makes her triumphant return to "The Real" after suffering from blood clots in her lungs. Get it all inside…
Guardians of the Galaxy star Zoe Saldana is showing off her amazing post-baby bod 13 months after giving birth to twin boys Cy & Bowie. And it's clear, chick has put in major work to get back to her pre-baby bod.
Zoe and her husband Marco Perego (Saldana) are currently luxuriating in Mexico on a couples' getaway for some special alone time away from life's everyday duties right before the holidays.
The 37-year-old fab mom-of-two posted an Instagram flick of herself rocking a neutral colored bikini showing off her washboard abs. And life couldn't be better for the Hollywood actress. She captioned,"#currentlyfeeling happy and blessed. Wishing you all the same! Les deseamos unas felices navidades! Buone Feste di Natale!" It translates to "We wish you a Merry Christmas".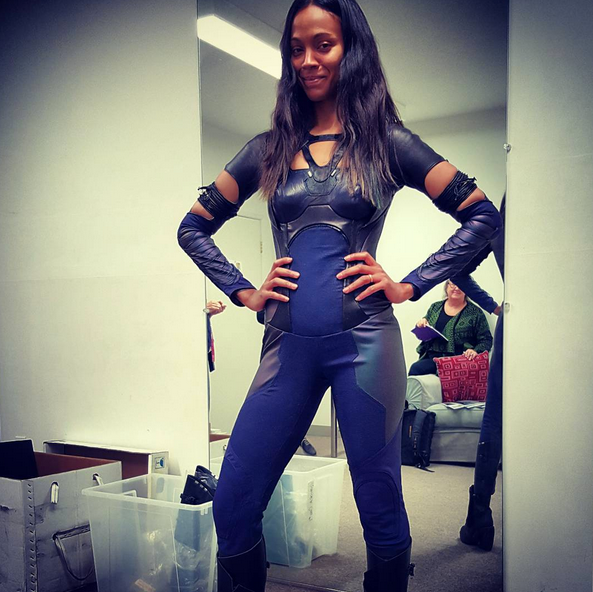 Just a few days ago, the Avatar star revealed she has gotten back to her pre-pregnancy weight/size. She posted up a shot of herself in her Guardians of the Galaxy costume. She wrote a caption encouraging other mothers that they too can snapback to their pre-pregnancy size with a little dedication and hard work. She said,
"Holy S---! You guys, I had to share this, this is one of the old #guardiansofthegalaxy costumes that I wore back in 2013. After twins I can't believe I was able to slip into this. @marvel and @jamesgunn don't be mad, I'm not showing anything that hasn't been seen before... besides, aren't we designing new stuff?.... It pays off to work hard! I mean it mommies of the world, if I did it you can too."
This getaway is just what Zoe needs before she gets back to work on a plethora of new projects. The Columbiana (the movie) star is gearing up to star in a couple of new flicks, including Star Trek Beyond, Live By Night, Guardians of the Galaxy Vol. 2 and a host of Avatar sequels. Looks like we'll be seeing a lot more of Zoe at the box office soon.
In other mommy news....
SHE is BACK!
R&B singer/reality star/television host Tamar Braxton made her triumphant return to daytime television today after suffering a major health scare.
You'll recall, Tay Tay had to drop out of the "Dancing With The Stars" dancing competition after falling ill. At the time, doctors thought she had come down with pneumonia, but she later found out it was something way more serious: pulmonary embolism. She had blood clots in BOTH of her lungs.
While she's on blood thinners to treat the blood clots, doctors were still concerned about the pain in her chest.
Further tests revealed she suffers from a condition called thoracic outlet syndrome.  So when she participated in strenuous activities, it caused the muscles around her ribs to become enlarged, blocking the blood from flowing to major veins and arteries in the arms.
After blood thinners removed the clots, she was released from the hospital. After a week of bed rest, doctors decided major surgery was in order and she underwent a procedure to remove her rib to help relieve the pressure. Wow! What a story.
Check it:
Like a true solider, Tamar pushed through and she's here with us today to continue being the fabulous mother, wife, television host and singer that she is.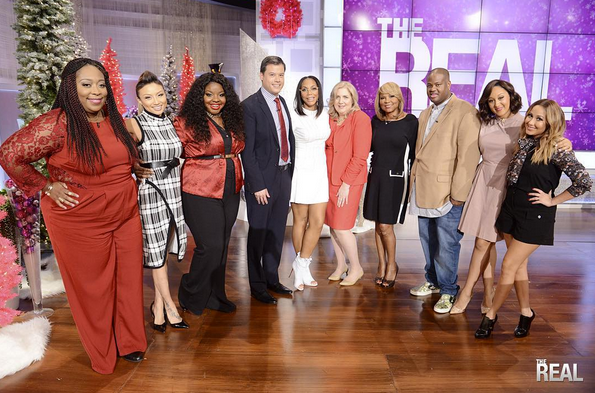 Today's show is dedicated to bringing awareness about the dangers of blood clots and how one can prevent them from happening. She is joined by her rock, her husband Vince Herbert, her adorable son Logan and her mom Evelyn, who have all been right by her side during this trying time.
"The Real" audience showed Tay Tay mad love for her return:
Nice!
We're happy to hear she's doing well.
Photos: Zoe's IG/Tamar's IG/The Real's IG