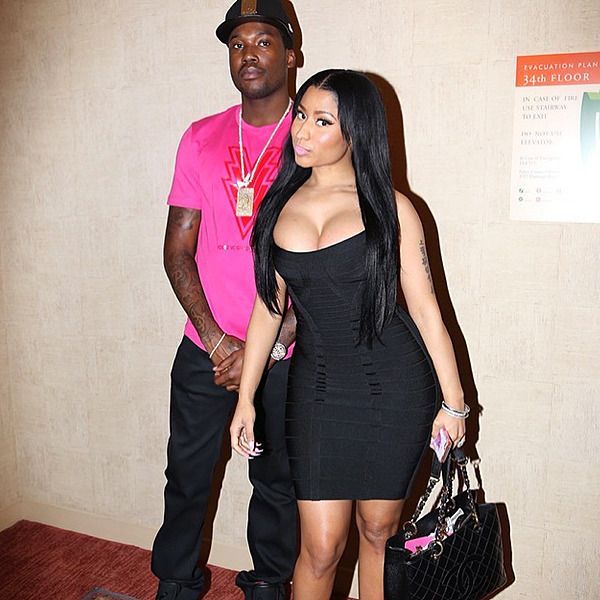 Now we know why Nicki Minaj rolled to court with Meek Mill yesterday for his probation violation hearing.  It wasn't just to support, chick TESTIFIED on his behalf.  But wait till you hear the story these two tried to tell the judge...
Nicki Minaj went to court yesterday to cut for her man Meek Mill.  Hard.  Now that the judge is threatening to throw Meek back in jail for probation violation, court records now document why.
Not only did he travel out of town when he wasn't supposed to, he seemingly submitted WATER for his latest urine drug test.  He said it was because he's been drinking so much water and protein drinks because....he's now a BODYBUILDER.  Chile...
Nicki co-signed for him.
TMZ reports:
According to legal docs, during a drug test Meek handed the lab tech a specimen that turned out to be cold water. Meek allegedly told the tech it looked that way because he had just consumed a lot of water, adding he was a bodybuilder and drank protein shakes that make his pee appear that way.

Nicki testified that Meek was telling the truth about his drug test, and said if she knew the protein shakes would make his urine appear like water, she would not have let him drink it.

And Nicki insisted to the judge, Meek doesn't do drugs and did not fake the test.
Nicki told the judge her thoughts about the accusations the prosecutors were throwing.
"She's not going to be the one sleeping alone if he goes to jail. I am," Minaj told the judge. "He's not perfect, but I can't believe how much he's changed."
She continued:
"He doesn't have a lot of structure. He can be irresponsible," said Minaj, who was sworn in under her birth name, Onika Maraj. "Since I've come in his life, I think I've been working on that a little bit. ... He's just getting accustomed to being an adult."
Meek's attorney says Meek and Nicki are seriously considering marriage.
Photo: Nicki's IG