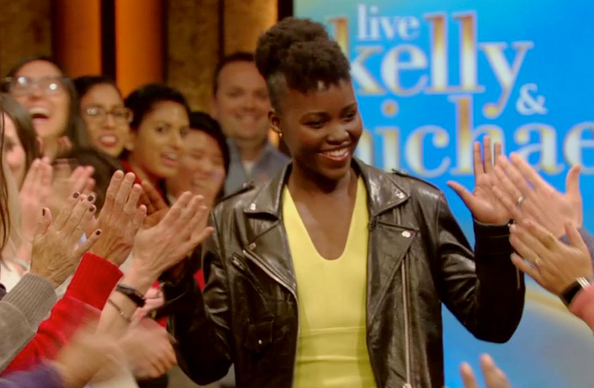 Lupita Nyong'o is heavy on the promo circuit for her upcoming film Star Wars film. Find out her most recent spottings inside…
One of our fave YBF chicks has been busy on the promo trail for her brand new sci-fi thriller, Star Wars: The Force Awakens. Oscar winner Lupita Nyong'o appeared on "Live with Kelly & Michael" this morning (that was pre-taped) to dish on her crafty side and, of course, her new film.
The 32-year-old starlet started off talking about these shot glasses she hand pained for her friends. Yes, chick is crafty with her hands. She said for her birthday one year, she wanted to give her friends gifts, so she decided she would paint these shot glasses and give them away as gifts. Lupita said she invited about 50 people over and by the time she got to her 5th glass, she wanted to jump ship and quit! Ha!
But, she ended up painting all 50 glasses and gifted them to her friends. Cute.
The 12 Years A Slave actress then went on to talk about Star Wars. Everyone has been really hush-hush about the film, so she didn't give much.
"Well, I'll tell you what I'm allowed to tell you," she said. "I play a pirate, Maz Kanata, who is a colorful character with an interesting background."
For her new role, Lupita had to use motion capture where she would have to get covered in dots everyday with cameras attached to her head. But she said, she enjoyed playing a character that didn't focus so much on her body and to transform into another being. She said,
"You know, it was really exciting for me. After doing 12 Years a Slave, which was so much about my body, it was a relief and new ground to do a character that was not about my body at all and to have that freedom to animate a character that is not limited by my physical circumstances. It was something I always wanted to do. It offered a very interesting acting challenge for me."
The Kenyan beauty said she was very familiar with Star Wars before doing the movie. In Kenya, Star Wars would come on when they were out of school for holiday, so she knew all the films.
Later, she engaged in the Wookiee sound challenge with Kelly & Michael. It's hilarious. Check it below:
Earlier...
The gorgeous YBF actress stopped by Good Morning America (which was also pre-taped) to chop it up with co-host Robin Roberts. Lupita is still keeping extra quiet about her role as Maz Kanata, only revealing that the character's eyes are very important. Check it:
Still on the promo trail...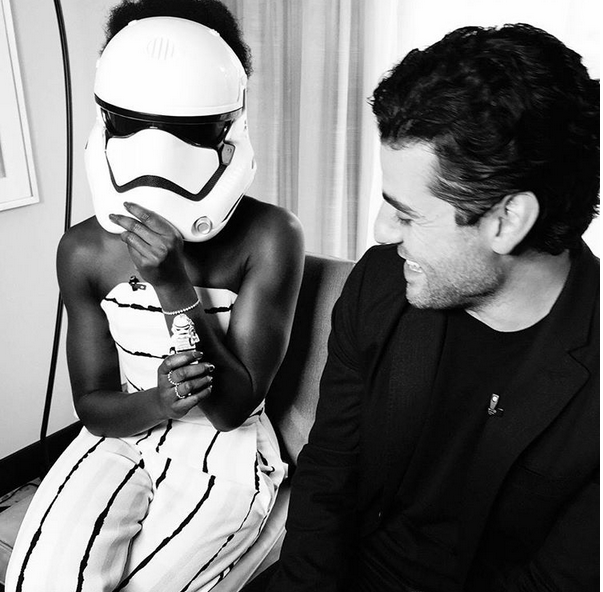 Yesterday, Lupita and her Star Wars co-star Oscar Isaac jetted to Miami and landed on the set of Univisuions 'Despierta America' to continue their Star Wars press run. The YBF chick had a little fun "getting into character" backstage. Fun times.
At an event on the west coast...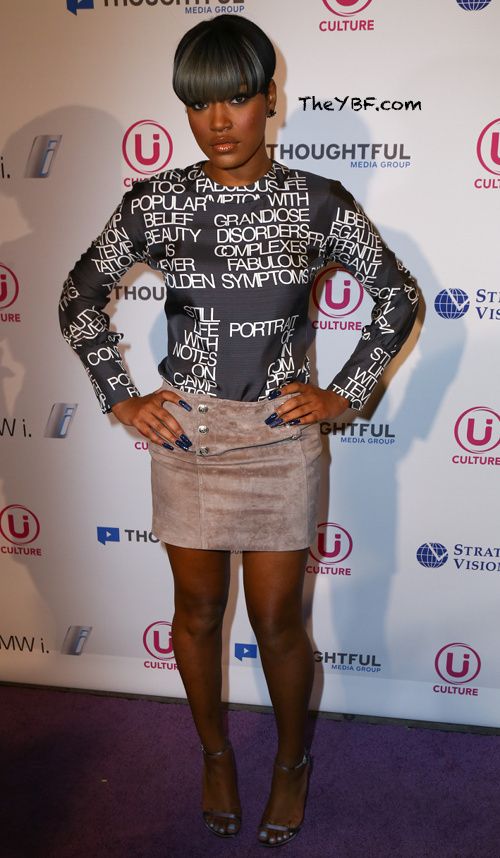 Keke Palmer debuted a new 'do last night. She has been rocking the cropped 'do for a while now, but for last night's event, the "Scream Queens" star added in a few gray streaks to make her bang pop on the purple carpet for the Ui CULTURE APP Launch Party at TCL Chinese Theater in Hollywood. She's kinda giving us a Porsha from "Empire" vibe. What y'all think?
The 22-year-old is gearing up to play Marty Maraschino in the live production musical  "Grease" set to air January 31st on FOX.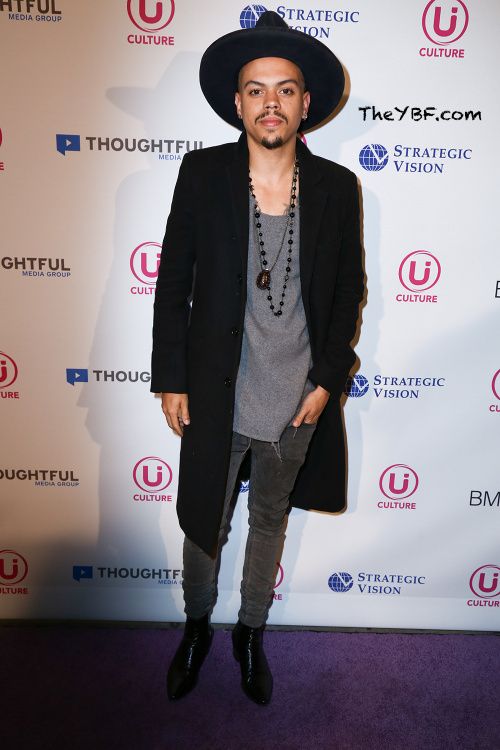 Hunger Games star and new dad Evan Ross was also in the mix rocking his usual signature style.
Photos: Kelly & Michael's IG/GMA's Twitter/Lupita's IG